Commentary: Sepp Kuss leadership controversy sours Jumbo-Visma's grand tour sweep
Tactical trauma and P.R. problems taint history-making grand tour sweep and could cause trouble for some time.
Photo: Tim de Waele/Getty Images
Heading out the door? Read this article on the new Outside+ app available now on iOS devices for members! Download the app.
After a social media backlash and a hasty team meeting, Sepp Kuss all-but sealed Jumbo-Visma the history-making feat of winning all three grand tours of the season with three different riders when he crossed the line of the Vuelta a España on Thursday.
The Coloradan led home teammates Jonas Vingegaard and Primož Roglič on stage 18's Cruz de Linares summit to leave him poised to win his first grand tour, and mark the zenith of Jumbo-Visma' nine-year rise.
The team emerged out of the charred ashes of the Rabobank squad in 2015 and charted an exponential upcurve that will reach a highpoint if, or when, Kuss pulls on the final maillot rojo Sunday in Madrid.
Also read:
No team in history even came close to pulling a "grand tour grand slam". In 2023, Jumbo-Visma almost made it look like a procession.
But Jumbo-Visma's unique sweep could be soured for some time by the Kuss-troversy that played out in ugly fashion in the Vuelta's final week.
'No gifts'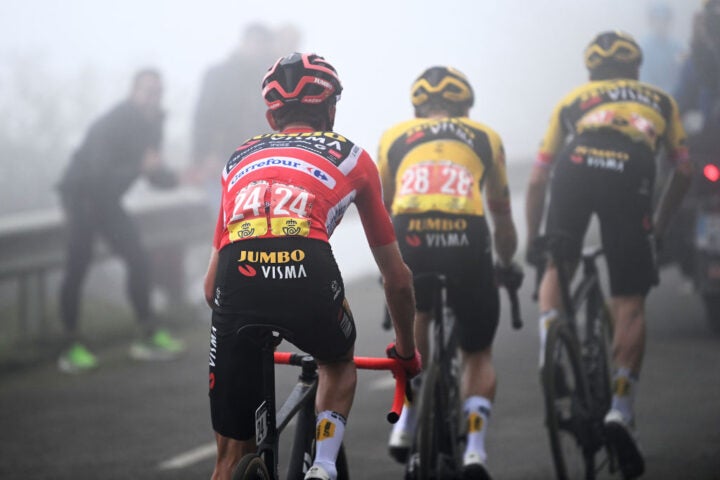 After 48 hours of leaving superdomestique Sepp out to dry with stage-winning attacks founded on a "road will decide" agreement, Jumbo-Visma returned to the traditional playbook Thursday on the gruelling ride up Cruz de Linares.
Roglič and Vingegaard tapped into orders hastily issued in an emergency team meeting Wednesday night: Kuss is the protected leader in the swarm of "killer bees".
The two reigning grand tour winners guarded their long-time servant to the summit, and the world of cycling returned to its axis.
"It was a successful day. Everything stayed the way it should," Roglič said at the line. "Everything went to plan, we made a plan and yesterday evening they said the GC should stay the way it is. So we tried to keep it like that."
For a team to defend its grand tour leader is the most indelibly inked "unwritten rule" of pro cycling. But after Kuss made clear he didn't want to be "gifted" his first grand tour victory, the result Thursday feels unsatisfactory.
Vingegaard perhaps all-too conveniently dropped the wheel in the final meters to leave his Coloradan teammate a 17-second gap on GC. For now at least, the team seems intent to defend Kuss' lead through the complex final phase of racing Friday and Saturday.
Whether Vingegaard "dropped" or not, Kuss seemed supreme on the gnarled Cruz de Linares climb Thursday. And after what has so far a career-topping Vuelta that saw Kuss smash P.Bs all through Spain, the Coloradan is at the top of Jumbo-Visma's Vuelta hierarchy by right.
Barring disaster, Kuss should be on the top step in Madrid on Sunday night. If it's not Kuss, then Roglič or Vingegaard will certainly be in the spotlight.
Whichever way, Jumbo-Visma will have achieved its unparalleled grand tour sweep. But it might not feel a satisfactory result for anyone involved.
#samewinnen?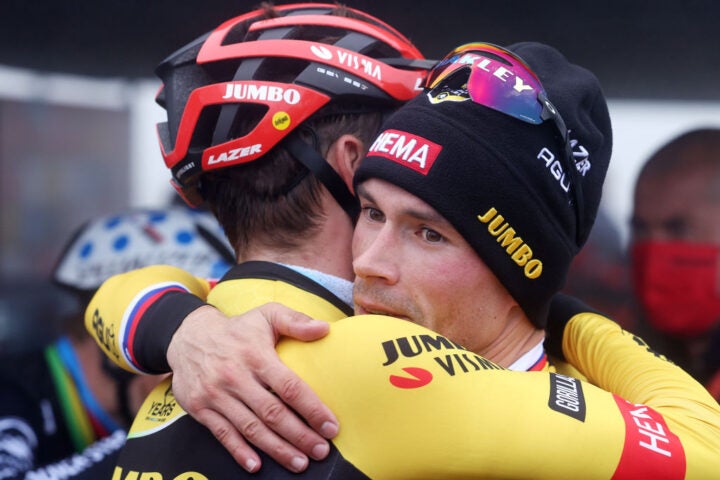 Jumbo-Visma forged its identity around the #samewinnen hashtag that's slapped across its marketing output.
Winning together: It's the ethos demonstrated when Kuss towed Roglič and Vingegaard to the team's six grand tour victories, that led to Roglič helping Vingegaard detonate Pogačar in the Tour de France, and had Wout Van Aert sharing victories around his classics crew.
When Jumbo-Visma wins, every rider on the roster and every staffer in the service course wins.
#samewinnen somehow doesn't strike the same note now.
Jumbo-Visma's decision to take the season's two reigning grand tour champions – athletes driven by results – to the same three-weeker was perhaps toying with intra-team tantrums. Add Kuss into the mix after his big day in the break on stage 6 and things spiralled out of control.
It seemed an elephant-size oversight by team management to agree on the race's second rest day to let Kuss, Roglič, and Vingegaard race for supremacy.
Watching the two-time Tour de France champion and triple Vuelta and Giro d'Italia champion ride away from their red jersey teammate on the Angliru made for through-the-fingers optics that bought the team few plaudits.
"There was a lot of negativity surrounding those two stages, which was hard to read from the outside because of what we agreed on our before the Angliru," Kuss said Thursday. "Especially watching on TV, it might have been difficult to understand.
"We could have never imagined that all three of us would be the strongest in the race, and that complicated things," he said. "After [Wednesday] we had to reel things in."
Staffers and riders restored a semblance of sense when team directive ensured Kuss padded his GC lead Thursday, meaning the maillot rojo should be his in Madrid on Sunday.
Yet, beyond the question of a "gifted" or team-mandated grand tour winner, the past week may reverberate around the Jumbo-Visma team bus some time.
Kuss seems the most mild-mannered and self-sacrificial rider in the peloton. But how might he feel if he's asked to pull for Vingegaard and Roglič when Pogačar or Remco Evenepoel are in their wheels in 2024?
And how will Vingegaard and Roglič, both who want to go back to the Tour de France, feel sharing a grand tour next season?
Rewind and adjust a few management decisions both before and during this Vuelta, and things could have been a lot different.
Long-term legend soured by short-term controversy?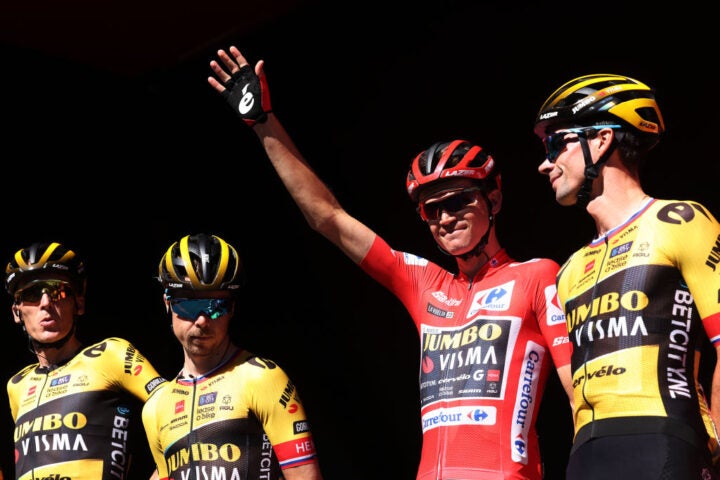 Jumbo-Visma is all-but assured its historical grand tour sweep. Fourth-place Juan Ayuso is three-minutes away from Roglič's slot on the podium and doomed to race for fourth.
If it's Kuss that brings home red rather than his two grand tour-topper teammates, Jumbo-Visma's blockbuster 2023 season will seem almost beyond-reach for any other team in the modern pro peloton.
In the long-term history books, the bare facts will play homage to Jumbo-Visma's staggering achievement.
"Roglič-Giro, Vingegaard-Tour, Kuss-Vuelta" will paint the picture of the forward-thinking approach and sharp rider-scouting system that thrust Jumbo-Visma to the top of the pro peloton.
If there's any team that doesn't need to worry about its future loss of a title sponsor, it's this one.
But the stats won't reflect the mostly-avoidable public backlash and team tensions that will put a sour note on what should have been an overwhelmingly sweet Tour of Spain for Jumbo-Visma.