Vuelta a España power analysis: Jumbo-Visma goes 1-2-3 on the Col du Tourmalet
Vingegaard, Kuss, Roglič decimated the Vuelta a España in the Pyrenees – we look at the numbers behind their rides.
Photo: Alexander Hassenstein/Getty Images
Heading out the door? Read this article on the new Outside+ app available now on iOS devices for members! Download the app.
In this column, we dive into the power numbers of Sepp Kuss, Jonas Vingegaard, and Primož Roglič at the Vuelta a España.
At the beginning of Stage 13, just nine minutes separated the top 20 riders in GC. Sepp Kuss wore the leader's red jersey, while Marc Soler and Remco Evenepoel were ranked second and third overall. But after Stage 13, which finished atop the Col du Tourmalet, Kuss led the GC ahead of his teammates Primož Roglič and Jonas Vingegaard, with fourth-place Juan Ayuso two minutes and 37 seconds behind. 
To say that Jumbo-Visma dominated Stage 13 of the Vuelta a España would be an understatement. The Dutch outfit played the team card to perfection, with Vingegaard going up the road first, Kuss attacking in the final kilometer, and Roglič dropping the rest in the final few hundred meters. But Jumbo-Visma's performance is more than just the raw power numbers from the Tourmalet. 
This goes all the way back to the Tour de France, and planning a 1-2-3 like this goes even further back to months (and even years) of preparation meant to boost their riders' strengths and expose others' weaknesses. 
In this article, we're going to explain how Jumbo-Visma dominated Stage 13 of the Vuelta, and rank their riders' performances against power numbers from Vingegaard and Tadej Pogačar at the Tour de France. 
Many were shocked by Jumbo-Visma's complete superiority in stage 13, but it all makes sense if you look at the data. Jumbo-Visma riders have a history of performing well on the stage after a rest day. Vingegaard's "best time trial ever" at this year's Tour de France was one of those days. Roglič had two fantastic performances the day after a rest day during the 2022 Vuelta, for example.
You may have noticed that the day before Stage 13 wasn't actually a rest day — instead, it was one of the easiest Grand Tour stages I've ever seen. 
Let's take a look at Steff Cras' power file from Stage 12. We don't have the power files of Kuss, Vingegaard, or Roglič, but we do have Cras', a GC rider who has essentially been riding next to the Jumbo-Visma trio for 99.9 percent of the Vuelta.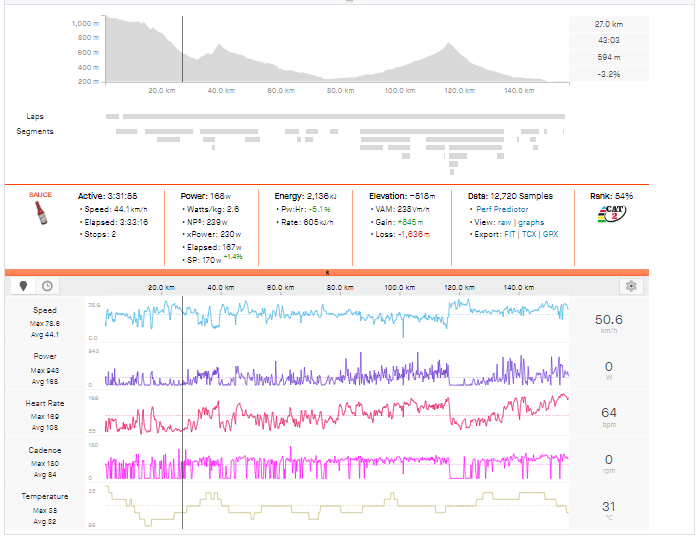 Cras – Stage 12
Time: 3:31:55
Average power: 168w (2.6 w/kg)
Normalized power: 239w (3.7 w/kg)
Average heart rate: 108 bpm
For professional cyclists, this level of effort is almost nothing. In fact, Cras' heart rate hit 55 bpm in the first 13 kilometers of the stage, which is lower than the resting heart rate of a normal human.  
With their recovery ride out of the way, Jumbo-Visma prepared for what many called the "Queen Stage" of this year's Vuelta. At 134.7 km with 4,266 meters of elevation gain, Stage 13 had the highest amount of climbing per kilometer of any grand tour stage in 2023. 
Stage 13 could be broken down into five distinct parts:
Puerto de Portalet (4.4km at 5.4 percent) into a 29 km descent

Col d'Aubisque (16.6km at 7 percent) into a rolling 23km descent

Col de Spandelles (10.4km at 8.1 percent) into a 16km descent

18km valley

Col du Tourmalet (18.8km at 7.4 percent), finishing at 2,115 meters
The reason that so many riders cracked on this stage is that every climb was paced hard (5.6 to 6 w/kg) from start to finish. There was respite until the 18km valley, but by then, most riders had already been dropped. Heat and high altitude at the finish further increased the stage's difficulty. 
It all began on the Puerto de Portalet, where the fight for the breakaway meant a ferocious pace from kilometer 0. The entire stage was also hot, with temperatures reaching 35-40 degrees C (95-104 degrees Fahrenheit). Cras averaged 6.1 w/kg for 10 minutes out of the neutral zone. It was a pace that would blow the doors off most amateur cyclists, but this was only the warm-up climb for Stage 13 of the Vuelta.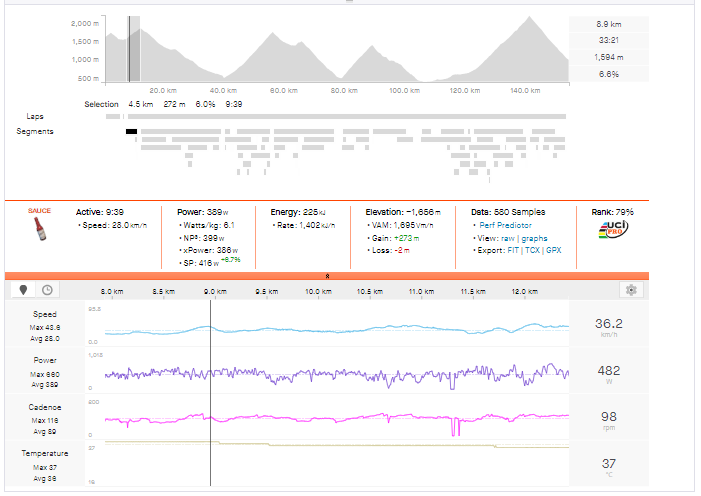 Cras – Puerto de Portalet
Time: 9:39
Average power: 389w (6.1w/kg)
Based on our climbing estimates, Cras' power meter may have been over-reading by ~0.1w/kg. But in the middle of a grand tour, it is impossible to calculate power output with 100 percent accuracy because of calibration factors, rider weight, wind conditions, drafting, and more. 
Nevertheless, Cras held onto the front group as Jumbo-Visma climbed the Col d'Aubisque at 6 w/kg. Holding the pace for three-quarters of an hour, it's no wonder that Almeida and Evenepoel were dropped with over 90 km to go.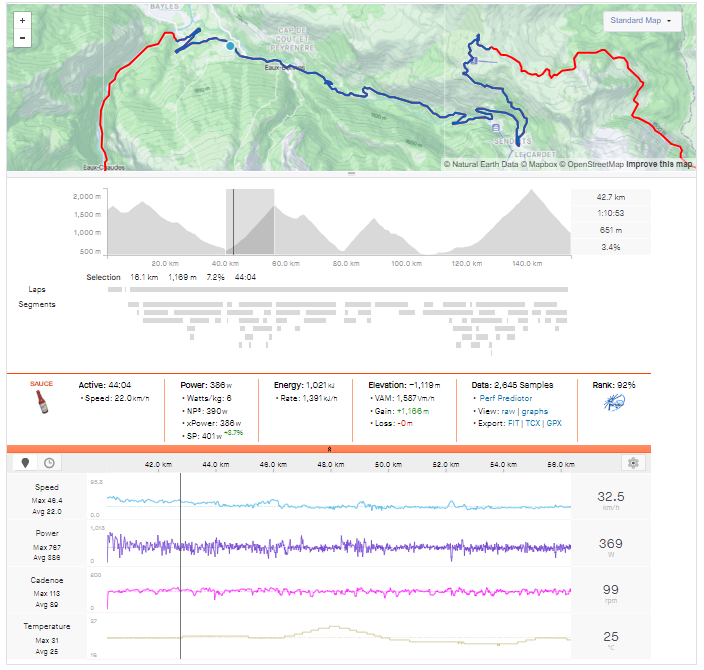 Cras – Col d'Aubisque
Time: 44:04
Average power: 389w (6 w/kg)
First 5km: 10:08 at 412w (6.4 w/kg)
Most professional riders would be on their hands and knees after 45 minutes at 6 w/kg, but the Vuelta GC contenders still had two climbs to go. Next up was the steepest climb of the day, the Col de Spandelles. Attacks came and went, but nothing fortified itself off the front. Instead, Jumbo-Visma took over the pacemaking at…you guessed it: 6 w/kg. 
By the way, 6 w/kg is what it takes to sit in the draft on these climbs. Anyone who is pulling (e.g. Robert Gesink) is doing at least 6.2 w/kg, and anyone who is attacking (e.g. Mikel Landa) has to do at least 7 w/kg to get off the front. Cras is doing the bare minimum, never touching the wind and following as few attacks as possible.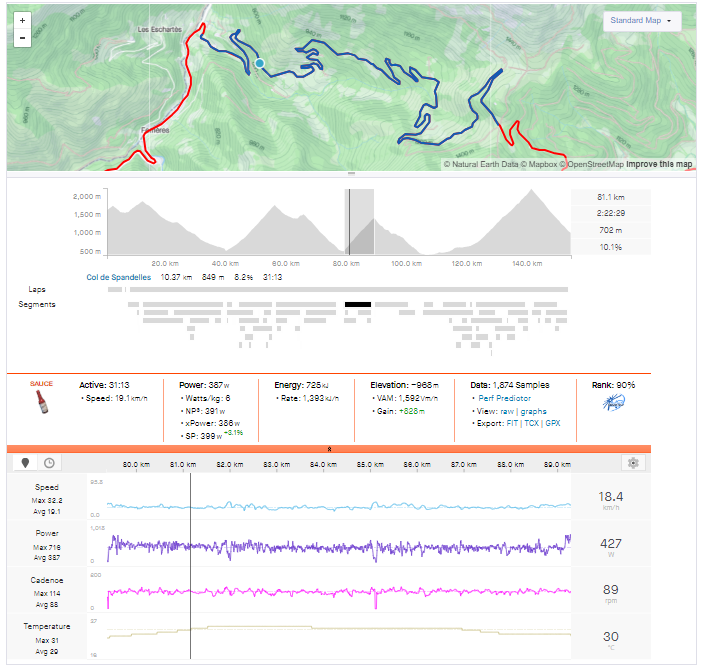 Cras – Col de Spandelles
Time: 31:13
Average power: 387w (6 w/kg)
First 2.5km: 7:49 at 431w (6.7 w/kg)
Last and certainly not least was the Col du Tourmalet. For this stage, the Vuelta climbed the lesser-used western side, which you may recognize from the 2022 Tour de France as the descent where Vingegaard waited for Pogačar after the Slovenian slid out in a corner. 
Jumbo-Visma paced the first half of the climb until attacks started flying. With 8 km to go, Vingegaard finally got away from the rest of the GC group. Kuss and Roglič marked the other riders as Vingegaard drew ever closer to the stage win. With less than 2 km to go, Vingegaard climbed above 2,000 meters and onto the steepest section of the Tourmalet. 
Kuss attacked a kilometer later, eating up half of Vingegaard's gap, but still finishing 30 seconds behind the Dane. Roglič left the other GC contenders in the dust in the final few hundred meters, sewing up a Jumbo-Visma 1-2-3 on the stage, and finishing off one of his best-ever climbing performances. 
Cras crossed the line in ninth, 2:32 behind Vingegaard at the end of the sub-four-hour stage. Using Cras' power data, we can estimate the top three riders' power on the Col du Tourmalet.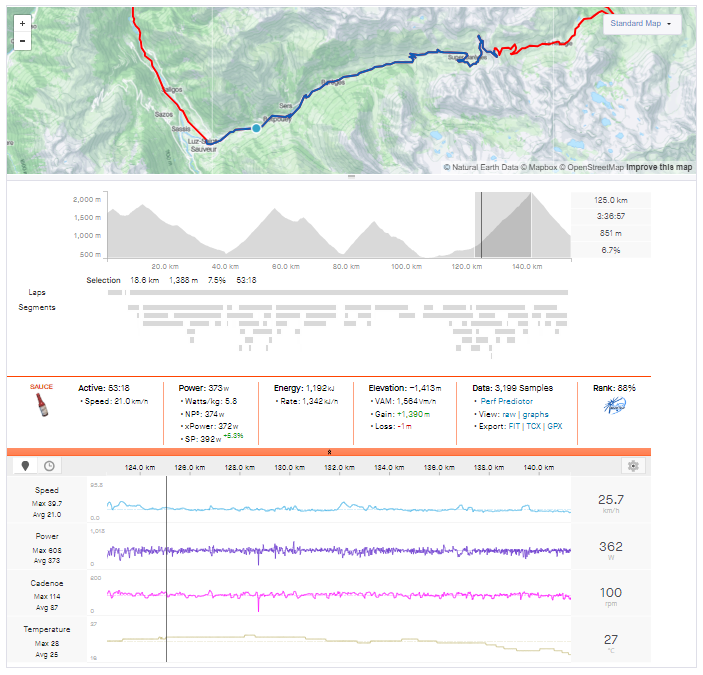 Cras – Col du Tourmalet
Time: 53:18
Average power: 373w (5.8 w/kg)
First 9.3km (before getting dropped): 25:29 at 379w (5.9 w/kg)
Vingegaard: 50:47 at ~6.1 w/kg
Kuss and Roglič: 51:17 and 51:20 at ~5.9 w/kg
How do these numbers compare to the Tour de France? 
In the 2023 TDF, we analyzed the best climbing performances in cycling's modern era. At this year's Tour, it was a two-horse race on the climbs between Vingegaard and Pogačar. The TDF even climbed the Col du Tourmalet (the other side), where Vingegaard attacked Pogačar on Stage 6. But when it comes to comparable climbs, we have to look at Stage 17 of the 2023 Tour. 
Known as the day that Pogačar cracked, Stage 17 finished atop the Col de la Loze (28.3km at 6 percent). It is the closest comparison we'll get to the Vuelta's ascension of the Tourmalet: a very long climb preceded by three major climbs, deep into a grand tour, in hot conditions, and finishing at high altitude (2,000-2,200 meters). 
Vingegaard did an estimated 6.3 w/kg for 33 minutes on the second half of the Col de la Loze this year, while Kuss did 6 w/kg for 1:04:21 (with actual power data) back in the 2020 Tour de France. 
Vuelta a España vs Tour de France Power
Vingegaard on the Col du Tourmalet (2023 Vuelta): 50:47 at ~6.1 w/kg
Vingegaard on the Col de la Loze (2023 Tour): 33:00 at ~6.3 w/kg
Kuss on the Col de la Loze (2020 Tour): 1:04:21 at 6 w/kg
Without a doubt, the raw power numbers have been higher at the Tour de France. But the Vuelta's Tourmalet stage was super hard before the final climb — Steff Cras did a total of 90 minutes at 6 w/kg before the start of the Tourmalet. Let that sink in. 
While it's impossible to say for certain, it seems like the Vuelta a España is slightly slower than the Tour de France. In peak Tour de France form, I believe Vingegaard and Pogačar would've gone a minute faster on the Tourmalet than Vingegaard did on stage 13. 
Let's hope that I am wrong and we see a Kuss–Vingegaard–Pogačar GC battle at next year's Tour de France. 
***
Power Analysis data courtesy of Strava
Strava sauce extension 
Riders: