What is happening at Jumbo-Visma? Roglič and Vingegaard drop Sepp Kuss, but both say they want him to win
With Jumbo-Visma management not holding them back, Roglič and Vingegaard keep racing to win: 'It's man-on-man.'
Photo: Tim de Waele/Getty Images
Heading out the door? Read this article on the new Outside+ app available now on iOS devices for members! Download the app.
RIOSA, Spain (Velo) — Sepp Kuss barely kept the red leader's jersey from enemies within Wednesday at the Vuelta a España after his Jumbo-Visma teammates dropped him for the second day in a row.
The team's puzzling tactics see the leaders racing to win at Kuss's expense, with Jonas Vingegaard and Primož Roglič both leaving the popular American climber behind on Spain's steepest climb on the Angliru.
Despite seeing the nearest GC threat at four minutes in arrears, Jumbo-Visma refuses to ride to defend Kuss and his leader's jersey.
In that vacuum, Roglič and Vingegaard are racing for stage wins at the expense of Kuss's ever-shrinking grip on the leader's jersey, now reduced to just eight seconds.
"I am really happy. When I crossed the finish line, I thought I had lost the jersey," Kuss said. "I did the best I could on the climb, and when I heard I still had the jersey, I was a bit surprised."
Also read:
Some cannot understand why the team won't ride to support Kuss, a loyal domestique and popular rider who's helped the team win all six of its grand tours over the past few years.
Both Vingegaard and Roglič said they'd like to see Kuss win the Vuelta, yet they continue to drop him.
Here's what Roglič said moments after sprinting ahead of Vingegaard to win his second stage at this Vuelta:
"To win? I wish for me," Roglič said. "For the moment, Sepp is in the red. I wish for him to finish like that, but it also my responsibility to do my best. And in the end, the road will tell who will be in red."
Speaking to Velo before the start of Wednesday's stage, team manager Richard Plugge confirmed that all three leaders have freedom to race to win.
That dynamic and lack of clear leadership hierarchy is seeing the leaders pull apart in the most decisive moments as the team pummels its direct GC competition late in the third week.
Vingegaard also had contradictory comments Wednesday after he joined Roglič to ride clear of Kuss on the upper reaches of the Angliru.
"The win today was our main goal and to keep the situation 1-2-3 on GC, so everything went how we wanted. We can be happy," Vingegaard said. "For me, I am still happy that Sepp is still in the jersey. To be honest, I hoped he would keep the jersey. I would love to see Sepp win this Vuelta a España."
Kuss returned the favor, and said Vingegaard and Roglič "both deserved to win" the stages on Tuesday and Wednesday.
Kuss: 'It was a crazy day'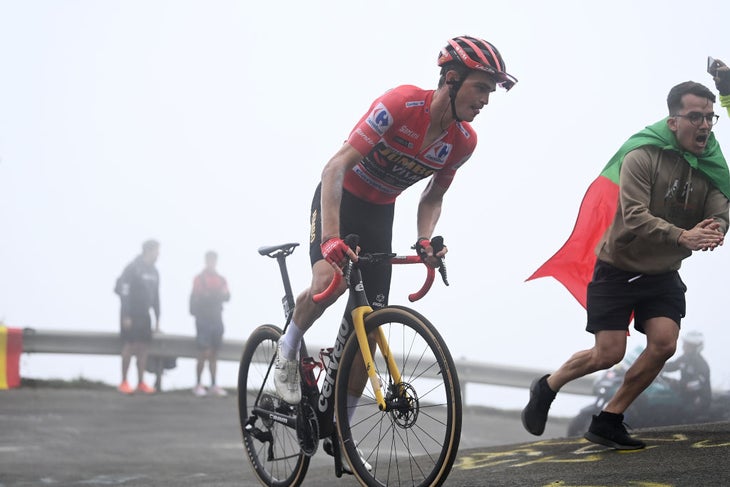 So far, the team's comments and their actions are not adding up.
If the team wanted to win the Vuelta with Kuss, the team dynamic would be dramatically different.
On Tuesday, Vingegaard surged clear with 4km to go, and immediately put the GC group, and Kuss, into trouble. Rather than ease up, Vingegaard powered all the way to the line to trim Kuss's lead to 29 seconds.
High on the Angliru, all the direct GC rivals were dropped, and only Mikel Landa (Bahrain Victorious), fifth overall at more than four minutes back, was even close.
Roglič surged with 3km to go, and then Vingegaard followed. When Kuss was gapped with just under 2km to go, neither slowed down.
Kuss was forced to sprint ahead of Landa, who helped pace Kuss to the line, because he needed time bonuses to stay close to his two Jumbo-Visma teammates.
"I have to thank Landa and Bahrain," Kuss said. "They rode a perfect stage, and Landa did a very brave attack, and at the finish, I told him he deserved more the third place than me, but he knew that I had to fight for the time bonuses."
What is going on?
Jumbo-Visma keeps dancing around the question.
Speaking at the start, Plugge told Velo that so long as one of Jumbo-Visma's riders wins, the team will be happy.
Juan Ayuso (UAE Team Emirates) is the team's most direct rival at four minutes back, but he was also dropped Wednesday.
Yet Roglič and Vingegaard attacked and gapped Kuss again.
"Strange feelings today, but not in a bad way. Another day with my two strong teammates, my friends as well," Kuss said. "I think we had a nice time. as good as a time as you can racing up the Angliru. It was a crazy day."
Crazy is right.
Finish-line reactions were ambiguous at best as everyone scrambled to figure out what Jumbo-Visma is up to.
Jumbo-Visma could ride to support Kuss all the way to Madrid, but so far, team brass is allowing all three riders race against each other to chase stage wins.
It's another Jumbo day 🤯

Primož Roglič wins Stage 17 on the mighty Altu de L'Angliru with another Team Jumbo-Visma 1-2-3 as Vingegaard follows in the wheel and Kuss a little further behind 💪
_______
🇪🇸 #LaVuelta23 pic.twitter.com/svOzet0IfP

— Velon CC (@VelonCC) September 13, 2023
With a lack of clear messaging coming out of the team bus, it's clearly now every rider for themselves.
Roglič said as much in another finish-line interview.
"The place where I went it was man on man," Roglič said of his attack on the Angliru. "I was doing my pace going up, and we will see what it means.
"I'm just riding my pace. The moment Sepp is dropped, it was a bit of a strange feeling," he said. "In this race, we have freedom to go for it. On these steep climbs, everyone can do their best."
Roglič and Kuss swapped words at the finish line, and it was difficult to hear exactly what was said.
Roglič said he is hoping Kuss will win, but at the same time, said he is still racing to win.
"I already spoke with him. It's a strange feeling, If I am honest, on one hand, you want to keep it going, but on the other hand, you don't want it to keep going," Roglič said. "In the end, I just kept going."
After stage wins, will Kuss finally see support?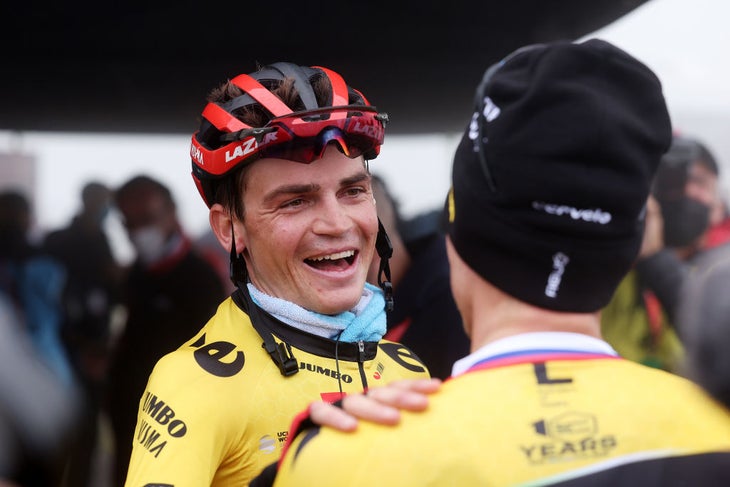 After back-to-back stage wins, Jumbo-Visma stands atop the leaderboard unrivaled with only four stages to go.
Will the team finally rally around Kuss?
Sometimes riders will race against each other when there are contract issues, but Kuss is under contract through 2024, Roglič until 2025, and Vingegaard until 2027.
The path could be clear for Kuss.
Roglič and Vingegaard now have two stage wins each, including the prestigious wins at the Col du Tourmalet and the Angliru, respectively, as well as assured podium spots.
"There are no bad feelings between us," Kuss said. "We all realize we have desires in this race, and now those are all satisfied. In my opinion, we can go into the next stages in a more defensive way.
"I don't want them to put the brakes on and push me across the finish line," Kuss said. "I also want to win this Vuelta."
And all the drama happened on Kuss's 29th birthday.
"One day closer," Kuss said. "Halfway up the climb, Jonas told me, 'Sepp, you're going to win.' I said, we'll see. Roglič felt super good, and just rode amazing. I tried to stay with him as long as I could, and then just limit the damage in the end.
"Another 1-2-3 in the end," Kuss said. "It was an interesting day. It was a happy birthday."