Wahoo Elemnt Roam GPS cycling computer
Wahoo's Elemnt Roam offers nifty navigation features and a selective color screen. But that's not enough to make it better than the smaller Elemnt Bolt.
---
Basics
Turn by turn navigation; global maps; easy, intuitive phone app
---
Pros
Easy setup and pairing, intuitive layout and screen navigation
Cons
Route navigation features weren't reliable overseas; mount breaks easily; screen could be brighter
---
Our Thoughts
Wahoo's newest GPS creation, the Elemnt Roam,  features selective color and a big screen to make it quick and easy to read. Turn-by-turn navigation and global maps are complemented by neat nav features like Take Me To, Retrace Route, Get Me Started, Back on Track, and Route to Start. If you'll need directions on your ride, the Roam's got you covered. But the unit struggles with reliability, and the mount is low quality.
---
---
Heading out the door? Read this article on the new Outside+ app available now on iOS devices for members! Download the app.
In a hard fought battle, Wahoo made itself into a contender in the GPS cycling computer space against the giant, Garmin. That success began with the Elemnt, Wahoo's first foray into the space. It continued with the smaller but equally powerful Elemnt Bolt, and Wahoo hoped to build on those successes with the Elemnt Roam, a GPS cycling computer that packs in all the features of the Elemnt Bolt but with the addition of selective color and advanced mapping features, among other things.
Related:
I got a first ride with the Elemnt Roam last April at Sea Otter, which you can read all about here. Since then, I have had the opportunity to use the Elemnt Roam both in the US and abroad, which means I have had ample opportunity to use the unit as I would on daily rides, and on special rides on which navigation becomes crucial.
I've had mixed results; the larger screen doesn't add much readability over the Elemnt Bolt, and the navigation has been unreliable. While the overall experience capitalizes on Wahoo's user-friendliness and intuitive setup and layout, there don't seem to be enough robust features to make the Elemnt Roam a better choice than the superb Elemnt Bolt.
Elemnt Roam, first test unit
Yep, I went through two of them. This happens often: I'm given an early, pre-production unit that doesn't quite have all the bugs worked out yet. Wahoo warned me that might be the case with the first Elemnt Roam they gave me, and indeed I did have difficulties with it. For starters, the included mount vibrated so much that it was difficult to read the screen. Lo and behold, Wahoo was on it: A redesigned mount showed up shortly thereafter, and it was far more stable.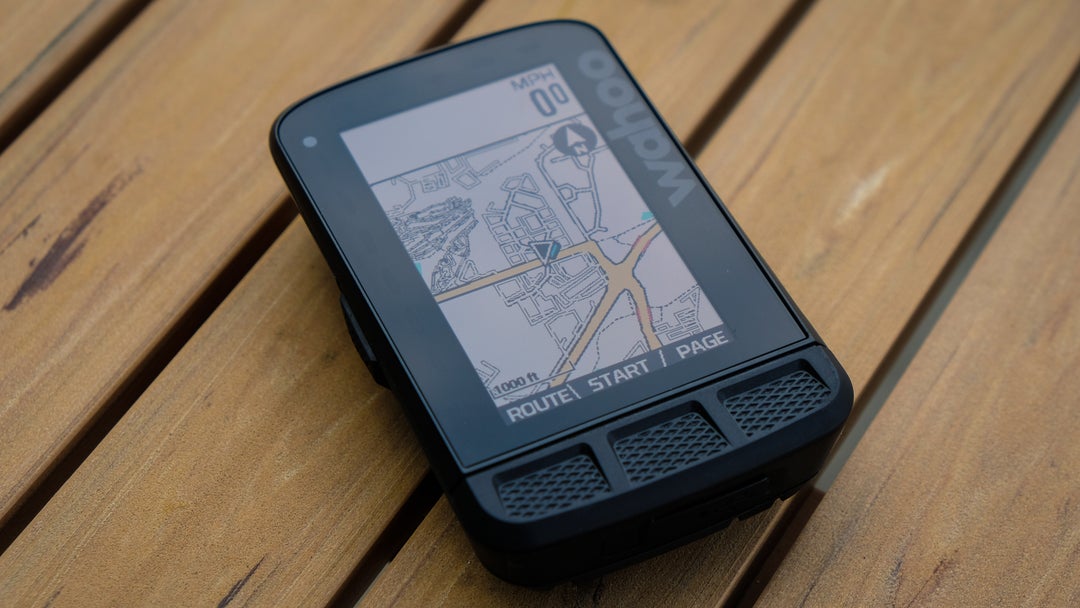 But I cracked it installing it on my handlebars. The mount is a weakness here, and I've since opted to use the much more rugged and durable K-Edge Elemnt Roam mount. Wahoo could certainly stand to invest more in its mount; the company is on the right track in terms of shape (the computer integrates nicely into the mount to create a sleek visual), but materials could stand to improve.
But that wasn't the real problem. The unit paired up easily with my phone and all of my sensors; Wahoo uses a QR code to complete the pairing process, and it takes seconds. All of my info from my Elemnt Bolt transferred to my Elemnt Roam, and I was ready to roll. Connecting to power meters and heart rate monitors was a cinch, too. Wahoo has nailed the pairing and setup process.
Once I got the unit paired and rolling, I made sure to update my firmware, as well as the maps. This can all be done through the phone app. I did so before I left on a trip to Italy, so I made sure that all the Italy maps were downloaded and current. This was my first opportunity to test the Elemnt Roam's unique navigation features.
Unfortunately, when I got to Italy and began using features like Take Me To, I got error messages and could not seem to work around them. This happened again when I traveled to Switzerland. I double checked to make sure everything had been updated properly, but that wasn't the issue. I was left without reliable navigation when I needed it most.
Elemnt Roam, second test unit
Naturally, I was disappointed. So I contacted Wahoo, and they sent a new unit that worked far better. The error messages did not reappear when I tried to use the navigation features, and the new mount was also more stable (though I cracked this one too).
That's the unit I'm using now, and I can say with some certainty that whatever bugs plagued the original unit were nowhere to be found on the new one. The navigation features work far more reliably — both the new features like Take Me To and Route to Start, which I used frequently on a recent trip to Bentonville, Arkansas, and also breadcrumb navigation on pre-loaded courses.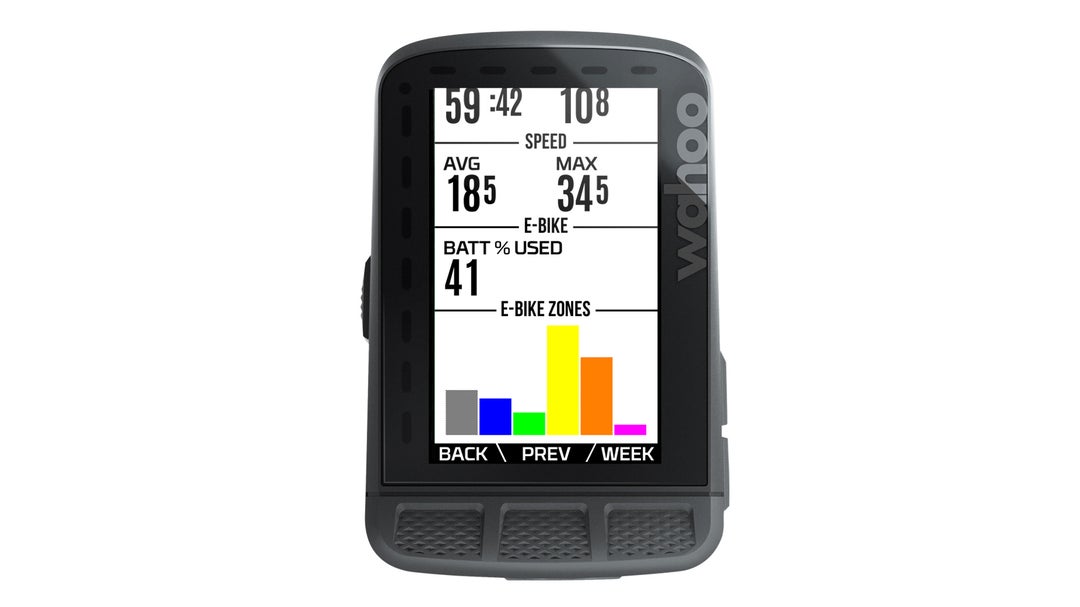 Using the navigation features made me appreciate turn by turn capabilities. The Elemnt Roam usually lists upcoming street names, which was useful for confirming my turns when they came up quickly. If you miss a turn, the Elemnt Roam will attempt to get you back on course, but I had mixed results with this feature. Sometimes the unit simply wanted to get me back to where I left the course, and sometimes it rerouted. Sometimes it just let me wander. This is definitely an area Wahoo can improve.
Since I wasn't fighting with error messages, it was far easier to appreciate the selective color screen, which helps highlight major roads and other features you'll want to see quickly. This wasn't exactly a make or break feature for me, but if your eyesight isn't sharp and you need a bit of help to pick out features on your screen, the Elemnt Roam certainly offers easy to spot navigation cues. Still, the colors do display a bit dim; it would be nice if the screen displayed colors a bit more crisply and bright.
All the rides after
At home, I don't use the navigation features all that much, so I was able to test the Elemnt Roam for its virtues as a daily unit. In that regard, it's just as reliable and easy to use as the Elemnt Bolt. Everything pairs easily and quickly, rides upload to Strava with ease, and I can customize my screens in seconds.
The selective color doesn't add much to the daily experience. It doesn't hinder anything either, but I would love to see Wahoo incorporate the color elements into more aspects of the computer.
Wahoo claims a 17-hour battery life. I used the Elemnt Roam in all sorts of conditions, with and without navigation, and I had no issues with battery life overall. I don't think I let it go all the way through 17 hours of use without charging it, but it certainly didn't seem to drain down quickly, even after I used the navigation feature over the course of three long days of riding.
The big sell for the Elemnt Roam over the Elemnt Bolt is the color screen and the navigation capabilities. I found both of those features somewhat underwhelming, though once I got the navigation to work properly on the second unit, it certainly had the potential to become an excellent GPS computer for those jaunts into the unknown. But it wasn't enough to convince me that the Elemnt Roam is a better purchase than the Elemnt Bolt — which can also be had for $150 less.