Wrenched and Ridden Review: Selle Italia SLR Monolink saddle and Monolink seatpost
A look at the Selle Italia SLR Monolink saddle. Smart design, at a price
Heading out the door? Read this article on the new Outside+ app available now on iOS devices for members! Download the app.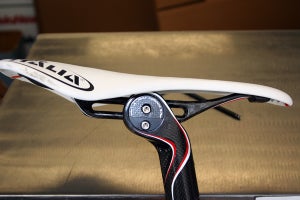 Saddle doping? A bit hard to believe, we think.
Selle Italia's SLR Monolink saddle and Monolink seatpost are a fantastically expensive but mechanically wonderful evolution in saddle/seatpost attachment. The system is light, outstandingly adjustable and secure, and has no negative effect on saddle comfort.
The system also allowed Selle Italia to engineer their new "Friction Free" saddles, which use a narrower nose and refined shape to eliminate friction between the thighs and the saddle itself. Selle Italia claims that these saddles can save 10-15 seconds at "full speed" (45km/hour) over 5km by reducing friction between a rider's thighs and the saddle. That's 35-40 watts. From a saddle.
We're more than a little incredulous of those claims, and regardless only got our hands on the classically shaped SLR Monolink for testing. Look for a "Friction Free" review somewhere down the line.
Wrenched
The Monolink saddle clamp is similar to SDG's I-Beam system. Both use a single central rail to mount the saddle to seatpost, creating what both companies claim is a lighter, more secure and durable structure. I have to agree with them there.
Our 350mm long, 31.6-diameter post weighed 212g with the Monolink mounting hardware. The SLR Monolink saddle came in at 144g, making it about 15g lighter than standard SLRs on our scale (or 4g heavier than a standard SLR's claimed weight).
The single carbon bar is much narrower than traditional rails, which means it can be attached further forward on the nose while retaining a slim shell profile. That's what allowed Selle Italia to develop their Friction Free saddles.
The Monolink seatpost can be used with either a Monolink or standard-railed saddle, depending on which of the included hardware is used. Two classic-rail clamps are provided, one designed to be compatible with classic round rails, the other for oversized carbon rails. We confirmed the oversize version works with the large rails on a carbon fi'zi:k Arione. Weight with the classic clamps is 237g.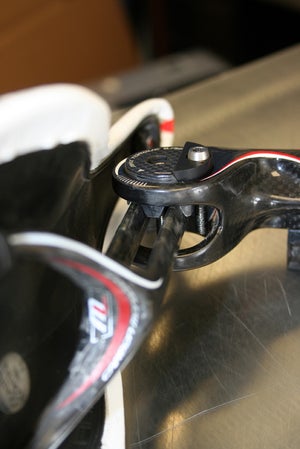 Onto the Monolink clamp itself. The mechanism has three teeth on each side that notch into the saddle's single beam. Setting position is a two-step (or bolt) process. The top bolt clamps the rail itself, locking down the hyper-adjustable fore/aft. With only the top bolt tightened, the saddle will not more forward or back, but can still be tilted freely. The second bolt acts as a wedge, pushing the rest of the clamp upwards and locking tilt into place. Both bolts are titanium to help save weight.
I dislike seatposts that use teeth to lock either fore/aft of tilt into place. My optimal saddle angle always seems to be in between two of the available options. Thankfully, Selle Italia's Monolink allows for easy micro-adjustment in every direction. The design is brilliant — light, easy to use and quite secure.
The Monolink system also increases rail length, allowing for about 3cm more fore/aft adjustment than standard rails. That's good news for those with abnormally long or short femurs.
The seatpost is available in both 27.2 and 31.6 diameters, either 300 or 350mm long. The SLR is the only Monolink saddle option available.
Ridden
Early single-rail saddles often bonded or molded the attachment beam along the entire length of the saddle. While this produced an extremely strong connection, it removed an element of saddle design that is vital for comfort: flex. Selle Italia's Monolink bar retains three distinct attachment points, allowing for as much (or more) flex as any traditionally railed carbon saddle. Under my backside, the Monolink felt very similar to the titanium-railed SLR that has been on my road bikes for half a decade.
Selle Italia SLR Monolink and Monolink seatpost
MSRP: $320 (seatpost), $310 (saddle)
Pros: Great design, infinite adjustment, solid clamping mechanism
Cons: Proprietary, expensive
The Scoop: For wealthy SLR lovers only
Since the single rail attaches at the very tip of the saddle's nose, flex when "on the rivet" does seem to have been reduced. I still can't decide whether this is good or bad. The greater distance between the two rail mounts does add some flex in the middle of the saddle, though, which my underside appreciated.
I never experienced any tilt or fore/aft slippage, despite turning the saddle into quite a lever by running it relatively far back on the rail. I also ran the setup on my mountain bike quite a bit and never had any issues. The Monolink was rock solid.
The Scoop
The engineers did some great work, but whoever sets prices missed the mark. I loved Selle Italia's Monolink system, but it is insanely expensive — $320 for the seatpost and $310 for the saddle. That's just ghastly.
At 357g combined, it's light, but not the lightest. The attachment mechanism is secure and easy to use, and frankly makes more sense than traditional two-rail systems. But that standard has been set, and I don't see us going back now. Plus Monolink remains proprietary, so you better like Selle Italia saddles.
For this price, the carbon rail ought to be bonded straight to a real carbon fiber shell. It should weigh in 50 grams lighter, and possibly come with directions to your local soup kitchen so you can eat for the rest of the month.
If the price doesn't bother you, you love SLR saddles, and you want a light, set-and-forget seatpost with easy tilt adjustment and a huge fore/aft range, the Monolink is for you. Otherwise, look elsewhere.