Wrenched & Ridden: 'Cross stoppers from Campagnolo and Shimano
Nick Legan and Lennard Zinn review a pair of late-season offerings from Campagnolo and Shimano.
Heading out the door? Read this article on the new Outside+ app available now on iOS devices for members! Download the app.
It's getting late in the cyclocross season, but we've only just had time to review the latest 'cross brakes from Shimano and Campagnolo. Both were a little late in getting production up and running for the season. But if you're looking for a last-minute upgrade before you finish your season, check these out.
Campagnolo CX cantilever brakes
Price: $200 per pair (front and rear)
VN weight: 130 grams per wheel
Pros: Lightweight; quick setup; easy cable adjustment; multiple centering adjustments; powerful return springs; good braking power and modulation; great mud clearance
Cons: Laborious pad change to Campagnolo carbon pads, finicky pad adjustment
These are wide-stance brakes, which offer more mud clearance and less heel clearance than narrow-stance cantilevers. Wide-stance brakes also offer less absolute braking power than narrow-stance brakes of the same arm stiffness. However, I find these brakes to be plenty powerful for anything I've found necessary in cyclocross, and the greater pad-to-rim clearance that the reduced mechanical advantage provides is welcome in muddy conditions.
The Campagnolo CX cantilever has the same type of yoke and barrel adjuster on the straddle cable as a TRP EuroX. But where the EuroX takes advantage of its innovative yoke to forgo spring tension adjustment screws for brake centering, the Campy CX still offers an adjustment screw on each arm. While that offers greater adjustment range, it's redundant and unnecessary in the case of in-spec wheels and cantilever bosses, since the yoke provides all of the centering necessary.
Belgian 'cross season wraps, Nys, Albert, Vos on top
The yoke has two cable-clamp setscrews to secure its position on the straddle cable, whereas most yokes are free to slide laterally on the straddle cable. That means that you can center the pads by simply moving the yoke to one side or the other before tightening the setscrews down against the straddle cable to lock it in place.
The concave/convex washers on the threaded pad posts are simple and effective, and interchanging them allows a broad variation in pad offset to fit differing rim widths. That said, final tightening tends to throw off the adjustment, so they do require more tries than some other brakes to establish precise pad toe-in.
Campagnolo's powerful return springs are to be appreciated when mired in freezing mud. Combined with the brake's open shape giving lots of tire clearance, when all the mud building up on your bike is freezing and clutching your wheel, at least your brake pads are not!
One would have thought that for cyclocross, Campagnolo would have sized its pad holders exactly like others on the market, and I had high hopes when the original pads slid out of the holders easily, in very un-Campy-like fashion. However, if you're changing to the black-cored red carbon pads that Campagnolo supplies with its Bora One CX wheelset, be prepared for a battle to get them in that makes past struggles with insertion and removal of Campy road pads feel like a walk in the park.
I'm convinced that the problem is not that the pads that came with the Bora One CX wheels were sized to fit Campy road pad holders. I put the second set that came with the wheels into a set of TRP 'cross brakes, and they slid in easy as pie. Long story short, it took a lot of whittling to get Campy's own carbon brake pads to fit in its CX pad holders. And don't even think about using a different pad with those wheels, because Campagnolo is explicit in stating that it will void the warranty.
The CX is a brake Campagnolo can be proud of, especially if it gets its pads and holders to fit like everyone else's. It stops well, is simple, lightweight, out of the way of mud, and straightforward to set up. They are not as elegant as Campagnolo's shapely, highly polished Record OR cantilevers from the early 1990s (during its brief foray into mountain bike groups), but the new CX brake weighs only two-thirds as much (70g/wheel lighter) and is much quicker to set up. Available in black (tested) or silver. —Lennard Zinn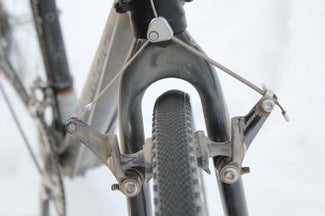 Shimano's CX70 cantilevers
Price: $128 per pair (front and rear)
VN weight: 160 grams per wheel
Pros: A great value in a high-quality cantilever, good modulation
Cons: Swapping between different rim widths isn't so easy. Could be more powerful.
Shimano recently unveiled its CX70 and CX50 cyclocross brakes. Also on offer are 'cross-specific cranks and front derailleur. The former are approximately Ultegra-level, while the latter fall somewhere between Tiagra and 105 in terms of build quality. As soon as the CX70 brakes were available we installed them on a test bike.
Immediately the difference between Shimano's older cantilever offerings and the new CX brakes became apparent. Setup is a bit involved, but performance is much better. They certainly improve upon Shimano's BR550 cantilevers.
With the use of different spacers between the brake arm and the brake pad, Shimano has keyed into the increasing widths of both carbon and alloy rims used on 'cross bikes.
Setup takes a little time. First you measure the width of the brake posts on your frame and fork. Then measure the width of your rim. With those measurements, refer to Shimano's table (included on the instruction sheet) to determine which spacers are appropriate.
Road inserts are used for the brake pads, making swapping out for carbon compound pads easy. The only sticking point in fast wheel changes is if your alloy training wheels are much narrower or wider than your carbon wheels. This might require a change in spacers on the brake — not ideal.
Shimano's crossover cable is nothing new, but it does make obsessing over hanger heights a thing of the past. It is what it is. You can certainly forgo Shimano's crossover cable and use a separate hanger and cable, but the brakes performed well with them.
The CX70s and the soon-to-follow CX50s share the same geometry and features. The CX70 is a bit lighter and has a nicer finish. Both are designed for use with Shimano's 5700 (105), 6700 (Ultegra) and 7900 (Dura-Ace) brake levers. Di2 levers have the same cable pull as Shimano's mechanical STI levers and are therefore also compatible with the new 'cross brakes.
Compared to Avid's $100 Shorty Ultimate, the CX70s lose out on sheer stopping power. But at $64 each, the Shimanos certainly save you a bit of money.
For cyclocross racing, commuting and dirt-road riding the CX70s are a good bet. If you're riding long dirt descents or singletrack, you might be underwhelmed by anything but Avid's Shorty Ultimate or TRP's CX9.0 linear-pull brakes.
That said, it's always good to have more, quality options on the market. —Nick Legan