Zach McDonald 3rd at Zolder U23 race; Marianne Vos continues winning streak
Marianne Vos continues her World Cup winning streak as American Zach McDonald (Rapha-Focus) takes a strong third place at a very muddy UCI under-23 race at Heusden-Zolder
Heading out the door? Read this article on the new Outside+ app available now on iOS devices for members! Download the app.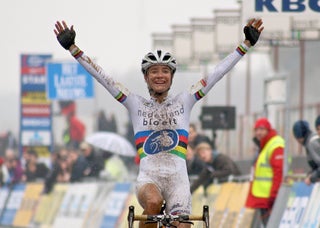 ZOLDER, Belgium (VN) — If there was any doubt that reigning world champion Marianne Vos remains the favorite to repeat for a fourth straight title, the 24-year-old Dutchwoman brushed them away on Monday with a decisive win over two countrywomen in the fifth round of the UCI World Cup.
The win — Vos' fifth in a row since returning from a South African training trip in mid-December — was perhaps her first opportunity of the season to show has the form to match her technical prowess, as she powered away from World Cup leader Daphny Van Den Brand during the fourth of the race's five laps.
Vos and Van Den Brand took over control of the race from early leader Helen Wyman near the end of the first lap. By the end of the second trip around the course, which blended long stretches of power riding on the Formula One track here with a series of steep, off-camber climbs and descents, the pair had built a lead of some 30 seconds over the trio of Sanne Cant, Sanne Van Paassen and Pauline Ferrand-Prévot.
By the end of the third lap, the pair had stretched their lead to nearly a minute, and it was clear that the race belonged to the two Dutch riders. But Van Den Brand, who out-dueled Vos in the dunes of Koksijde during the third round of the World Cup, was overmatched on the fast, slick course. Though she matched Vos turn for turn in the more technical sections, she simply couldn't summon the power to stay with the Olympic track gold medalist through the long, straight section of road that punctuated each lap of the race.
"Last week I was not good enough. I had problems with my lungs and I had a little bit of a cold," Van Den Brand said afterwards. "So last week I kept my pulse high and you could see it in the race, I was eighth, and for me that wasn't good. But today it was totally different. I was very good, but the last lap Marianne was better. Her condition is a bit better than my condition (right now)."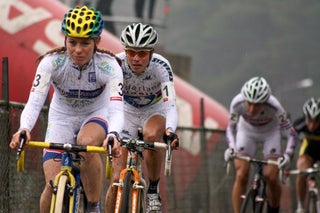 Despite Monday's second-place finish and last week's stumble in Namur, Van Den Brand was good enough to hang on to the overall lead in the World Cup standings. With only a single World Cup win this year, it is a lead she earned more through consistency than exceptional results — but in a year where few riders have even been able to be consistently good, let alone great, her slow and steady approach has been enough.
"I didn't expect to be second before the race. But I think each week it's getting better and better, so that's (a good sign) for the world championships," said Van Den Brand, who told reporters the World Cup lead is a bonus in a year when she has focused everything on winning a final world championship before retiring at the end of this season.
"The whole season, for every race, my only goal is the championship. You can't pick everything, so you have to choose one thing. This is my last world championships and I hope it'll be my race."
Vos, meanwhile, said she was glad for a chance to test her legs in a more tactical race than those earlier in December.
"Today was something really different than the last few races," she said afterwards. "They were all mud and pushing as hard as possible. Today was fast and, of course, a little technical with the descents. It was fun and it was good competition from Daphny. I knew I had a chance when I got a gap in the uphill section, and then use the fast section on the road to build an advantage."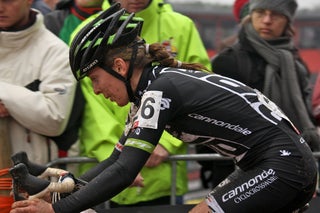 Vos, like Van Den Brand, said the unusually muddy tests — even for Belgium — of this busy holiday season served as an excellent launching pad for the upcoming championship season.
"From my training on the road I always have the advantage when speed is important. I struggle more in the mud," she said. "But recently I've gained some power there. But nothing is ever guaranteed in sports, and definitely not in cyclocross, so I can only hope to keep this form for the Dutch and world championships."
While Vos and Van Den Brand traded jabs and hooks up front, a series of secondary tussles was unfolding behind them. Van Paassen was able to break open the race for third when a mechanical forced Cant into the pits. Though the Belgian champion would recover for a fourth-place finish, she failed to reconnect with Van Paassen, setting up an all-Netherlands podium and boosting Van Paassen into second in the World Cup overall.
Further back, 19-year-old American Katie Antonneau followed up her impressive 10th place finish last week with a 16th this week. Recovering from a slow start, she climbed at one point to within striking distance for a second top 10, riding in a big group racing behind the two big battles in the front.
Despite fading slightly near the end of the race, the rising star of American 'cross said she was satisfied with the day's efforts.
"That was a really hard race," she said. "My goal was a top 15 again, and I was close for a little bit. But those last two laps really hurt. I was just hanging on. I started to get tired at the end of the race and started making some mistakes. I crashed twice on the downhills, but I rode as hard as I could and I'm mostly happy with the results."
With national champion Katie Compton opting to skip Monday's race in favor of training time at home in the United States, Antonneau's was the top American result of the day.
Behind her, Europe-based Amy Dombroski, who has struggled in recent weeks, managed something of a return to form in 25th pace, while Maureen Bruno Roy and Christine Vardaros finished 27th and 28th respectively.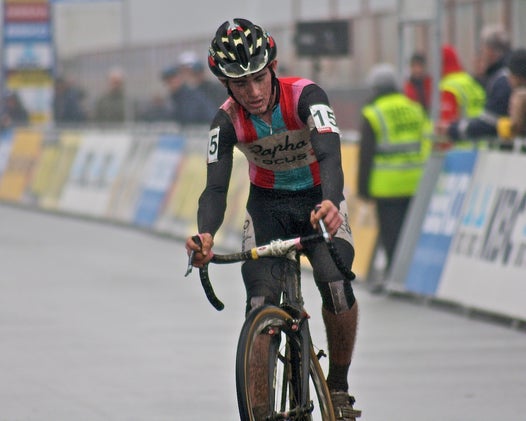 Antonneau's near top-15 was not the only American bright spot, however. Under-23 racer Zach McDonald took an impressive third place in a non-World Cup event earlier in the day.
McDonald spent most of the day dangling behind Belgians Witse Bosmans and Tim Merlier before fading into fourth with two laps to go. But McDonald managed to power his way back on to the podium in the final lap of the race, popping a celebratory wheelie on the finish line.
"I wouldn't say I was at my strongest today," said McDonald, who is one of several riders spending the holidays in Belgium as part of the American Euro 'Cross Camp. "So it was good to be able to kind of hammer it out and do my own thing for the race. Things will hopefully come around for January, for nationals and worlds now. I wouldn't say I'm thrilled, but I'm definitely really happy with today's result."
Though several Americans will head home following Monday's race, European cyclocross continues after just one day off with the fifth round of the GVA Trofee in Loenhout on Wednesday.
Quick results
Women
1. Marianne Vos (NED), Nederland Bloeit, at :39:45
2. Brand Daphny Van Den (NED), AA Drink-Leontien.nl Cycling Team, at 0:29
3. Sanne Van Paassen (NED), Brainwash Wielerploeg, at 1:11
4. Sanne Cant (BEL), Boxx Veldritacademie, at 1:21
5. Pauline Ferrand Prevot (FRA), Lapierre International, at 1:30

1. Wietse Bosmans (Bel), 50:21
2. Tim Merlier (Bel), 50:39
3. Zach McDonald (USA), 51:10
4. Laurens Sweeck (Bel), 51:14
5. Jens Adams (Bel), 51:15

U23 men