A Holiday of Rest and Heckles
Georgia Gould shares her secrets for knowing when you've pushed your off-season too far
Heading out the door? Read this article on the new Outside+ app available now on iOS devices for members! Download the app.

"Maybe in war nobody gets left behind, but this is cyclocross!"
"The only way you manage to hold off racers is by blowing snot rockets!"
"You're so slow you should ride the short bus to CX races!"
"The only time you've ever been called fast was by your prom date!"
"Maybe you could swim through the mud and call it a triathlon. Then you could be dead last and still win."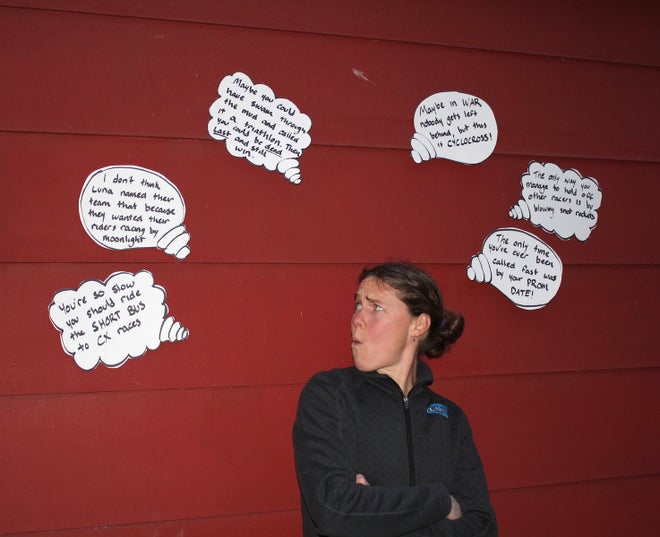 Halfway through the cyclocross season, 2008 Olympian, Georgia Gould, found herself so deep in the hurt locker she was finding gym socks from the sixth grade. When the Luna rider couldn't pull her results out of the pit, she started a campaign encouraging friends, fans, enemies and other riders to hit her with their hardest heckles, even offering prizes for the best. Heckles like these brought joy back to racing and helped her get perspective on her goals for her cyclocross season. The heckles helped her realize that she raced cyclocross for fun, and if she got results all the better.
You would do well to take note of Gould's approach. Admittedly, few of us could launch a viral heckling campaign, but with cyclocross season coming to an end and nationals approaching, it's the ideal time to take a moment to take stock of your priorities and adjust how hard you push yourself in the off-season accordingly.
Gould has pushed her off-season past her limits on several occasions, and every time she was reminded of the value of rest and respecting the sanctity of her off-season. She has learned from her mistakes at a high cost. Fortunately for you, she shared those mistakes with Singletrack.com and you can learn from them the easy way.
The effort of going from a strenuous cross country season directly into cyclocross season has taken the wind out of Gould's sails repeatedly. Like many athletes, Gould spent much of her career resistant to taking time off from training, with visions of muscle atrophy dancing through her head.
Her first major experience of expecting too much from herself for too long came in the fall of '05, the season before Gould joined Luna. "Halfway through the season, I was being beaten by people that I felt I should be beating," she explained. Gould knew she wasn't performing to her potential, but pushing harder wasn't producing results. "I felt like I was trying harder than I'd ever tried, and I just kept getting worse. I got to a point where I was thinking that cyclocross just wasn't for me."
At that point, Gould took a full rest week. Allowing herself the space to recover from an intense season turned her performance around entirely. "The following week was my first podium," she explained.
"Sometimes when you're sucking, your first inclination is to train more," said Gould. Her advice: be aware of your body, because often your training will be counter-productive. Trying to go straight from cross country season into winter racing without a substantial break is a recipe for disaster — but kind of like Grandma's holiday fruitcake, disaster is one of those recipes you would be better off without. More importantly, going from a strenuous off-season without taking a break before cross country season will prevent you from achieving your goals for the upcoming cross country season.
Rest is imperative to replenishing your glycogen and fluids, and gives your muscles a chance to repair themselves from the strain they are put under. You may not feel the exhaustion set in right away, but when it hits, expect it to come with a vengeance. Be observant to your body's demands for rest before the need for extended rest is unavoidable during key points in your season.

Beyond the general need to include periods of rest into your training schedule, there is the potential that you are straining your body more than you know. Gould nearly experienced reaching her breaking point in the fall of '08 because she wasn't resting sufficiently for her condition. She went to Europe for an intense cyclocross season and then went directly into cross country season without ever really taking a break between seasons. Then, when 2009 cross country season began, she felt like her form was a mess. She told Singletrack.com, "I really suffered. I had no punch."
Gould would take easy days and still feel that overwhelming fatigue. She explained that she began to feel like every day should be an easy day. "I would get on the bike and feel flat." She was unaware of how excessive her expectations were compared to her capabilities. "Then I got some blood work done," she explained, that showed that she had had mononucleosis for the last 3-5 months.
The results came as a huge shock, despite her extended fatigue, because of her assumption that mono was always incapacitating. She had to come to terms with how unrealistic it was to expect herself to continue performing when her system was so weakened, and how badly her body had been craving rest while she denied providing it.
At this point, Gould did what many racers are too afraid to do for fear of losing form. She reluctantly took a month off during her season. Over that time, she says she felt that she had never lost so much fitness. Over the following two weeks, her nerves were high as she continued to feel sluggish every ride. "Then suddenly I started feeling fresh every day," she explained. Taking advantage of a substantial rest period was invaluable to Gould and her body thanked her by performing above the level before the mono.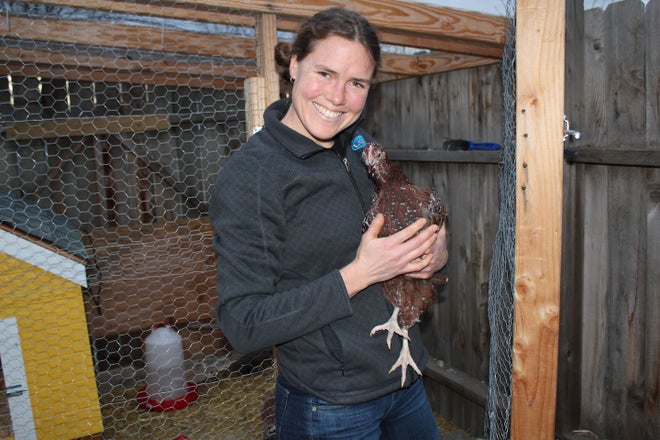 Rest assured that the riders at the top, such as Gould, lament hanging up their helmets also, probably more than you do. And it is a lesson that she has learned repeatedly but still struggles with. This cyclocross season, Gould yet again went straight into cyclocross season rather than taking extended time off, and like the times before, her racing suffered because of it.
Gould told Singletrack.com that she began this cyclocross season "dug into a hole already," but that she hates to skip CrossVegas. She went into 'cross season guns blazing, but perhaps not loaded.
Gould tried resting most of the week and racing on the weekends, but without taking a substantial break between seasons, her results plateaued and then fell. After an exhausting effort that didn't produce pleasing results, Gould decided to take the rest of the 2011 cyclocross season off in order to have a proper off-season before the cross country season begins.
"When things are going well, you think you can keep it up," Gould explained, "but when things start to go downhill, they go downhill pretty fast. It's easy to ride yourself into the ground. It's easy to overtrain." In order to avoid that, she suggested to "keep in mind what the most important things to you are … and adjust your goals and expectations accordingly."
Recuperate before it's too late, because Gould's advice is that you can't "keep it up" indefinitely. You can learn from her struggles, though, and take an off-season before the lethargy hits. Expect to lose fitness in the short run, but ultimately the recovery will enhance your performance.

One of the key aspects to the rejuvenation of rest is the mental rejuvenation you experience when you relax your expectations of yourself and turn off the nagging, competitive personality that sits on your left shoulder whispering, or shouting, in your ear.
You may find tuning that voice out the most challenging aspect of rest, but it is one of the most valuable. Eventually, if you try to race at peak fitness year-round, the fatigue up top will become as overpowering as the fatigue in your thighs. In Gould's experience, "to keep the same pressure on myself all year is as unsustainable mentally as it is physically."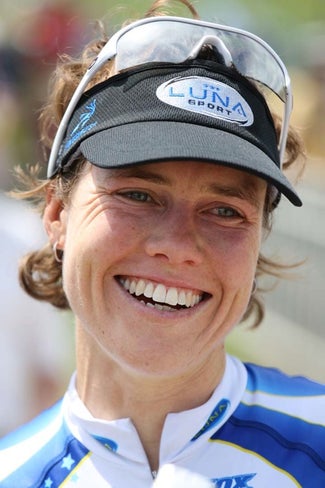 When Gould was suffering from mono, she explained, "I started thinking, 'maybe I just ran out of fast.'" That inner voice caused her to push her body past its capacity in an effort to be faster. In the end, what actually paid off was relaxing her inner monologue and her body. When Gould podiumed for the first time after a week of rest, her outlook went from believing cyclocross would never be for her to feeling like "suddenly racing became fun again." Having a fresh outlook on the start line will add kick to your stroke, while dwelling on past performances will drag you down.
"A lot of racers tend to be very Type-A and can be really hard on themselves," said Gould. When asked how to combat the inclination to push past our own breaking point, Gould suggested that it helps to have a mentor to help bring you down and encourage you to take more of a break. Even if you don't have a coach, sometimes it pays to listen to the people around you trying to tell you to back off the training for a moment.
Furthermore, keep that voice in check at all times by maintaining a sense of humor. Whether you are in your off-season or in the heat of your most important race, lighten the mood. "Heckling was about having fun with it," said Gould. "It felt in the spirit of 'cross. It's miserable and hard, and I wanted to have something to keep the race exciting no matter how I was feeling or doing," Gould told Singletrack.com. She found that the heckles allowed her to laugh in the worst of times, even while running her bike an entire lap.
Gould began the #heckleme campaign in the hopes that an attitude adjustment would improve her performance. In actual fact, her standings did not improve as a result of the jokes the campaign inspired, such as inflatable doll "cop-a-feel-ups" and choirs serenading "All by myself," but it helped her keep perspective on her true motivations for racing by keeping it fun, and gave other racers and spectators a new level of permission to enjoy themselves, as well.