Bad numbers, bad vibes: Could heart rate variability data 'block' performance?
'There's a risk the data outweighs the subjective feel.' Is HRV just another thing for pro cyclists to get paranoid about?
Heading out the door? Read this article on the new Outside+ app available now on iOS devices for members! Download the app.
This is the final instalment of a three-part series diving into heart rate variability, and how the recovery-focused metric has busted into the high-stakes world of pro cycling.
Can ignorance be bliss in the growing "data-fication" of elite-level training and racing?
The rising use of heart rate variability (HRV) trackers by pros and amateurs alike comes with both the upside of knowledge and the downside of potential performance paranoia.
"Any time you track something longitudinally and pay very close attention to it, there's a risk the data outweighs the subjective feel," EF Education-EasyPost head of medicine Dr. Kevin Sprouse said.
"We've seen it with power meters – you can ask a rider how their training was, and they just give you power data rather than saying how they were actually feeling. HRV has that same danger."
Also read:
Wearables like WHOOP and Oura pinpoint how a rider supposedly feels by tracking sleep and HRV, a data point offering a window into neurological health and an indicator of performance and recovery.
But recovery percentages and sleep stats don't always tell the true story when applied through the pedals.
"You wake up feeling great, and you look down and the numbers don't look as good as you feel. And it changes your perception, right?" Sprouse said.
"There is a real risk that numbers about recovery or HRV can 'block,' a rider or impact their performance in some way – they ride how they 'think' they are feeling."
So how does the pro peloton handle the latest layer of data diffusing through their daily lives?
Bad numbers, bad vibes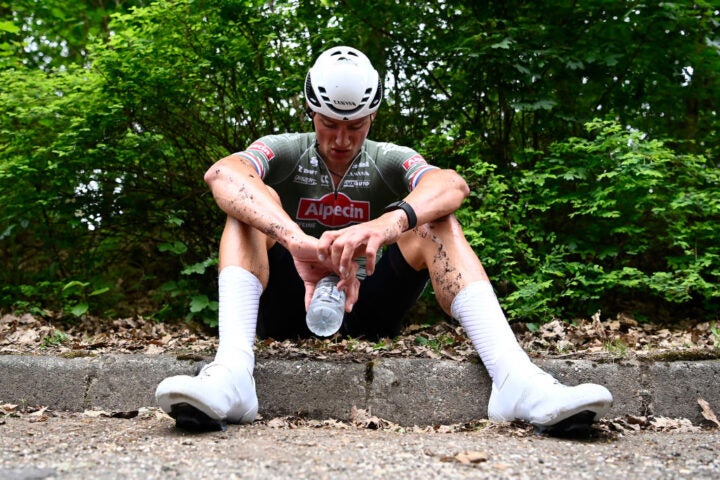 Racers in the WorldTour are already overloaded with an anxiety-inducing stack of stats – from power and cadence to hydration and resting heart rate.
Is the addition of heart rate variability – a number that could be impacted by one late night or one beer too many as much as it could by overtraining or illness – too much to bear?
"I know some guys don't really look at numbers from WHOOP and just send their data into the team. I think they feel like it could just become one more thing to worry about or stress over," said Neilson Powless, who rides for the sponsored EF Education-EasyPost team.
"But then there are other guys that are really into it, and they're doing all they can to improve their bedtime routines and recovery and whatnot."
For every numbers nerd in the peloton pouring over daily data, there's an old-school devotee that sticks to "body knows best."
VeloNews spoke to some that don't put confidence in HRV data and don't let a bad stat get them down.
"I think WHOOP can be a useful tool, maybe. But I think when you're a pro and you've been racing however many years you get quite in tune with how you're feeling every day. I'd prefer to focus on that, rather than a 'score'," Ineos Grenadiers racer Ethan Hayter said.
"You could almost write down your own readiness score every day, just by feeling," he continued.
It's common for riders to turn off their power and heart rate numbers when road racing for fear of imposing a self-limiting ceiling.
Waking up to a "recovery score" or HRV number giving a direct window into wellness could have the same down-regulating impact.
"I find WHOOP really useful for sleeping patterns, and it definitely helps me focus on getting quality sleep and seeing what I can do to improve it," said newly crowned Tour Down Under champion Jay Vine, who used the wearable during his time with Alpecin-Deceuninck.
"But I try not to get bogged down in thinking about all the numbers," Vine continued. "There's already a lot to worry about. And if it's race day, do you want to know if you're not recovered?"
'It's just an added tool, but maybe not everybody likes that'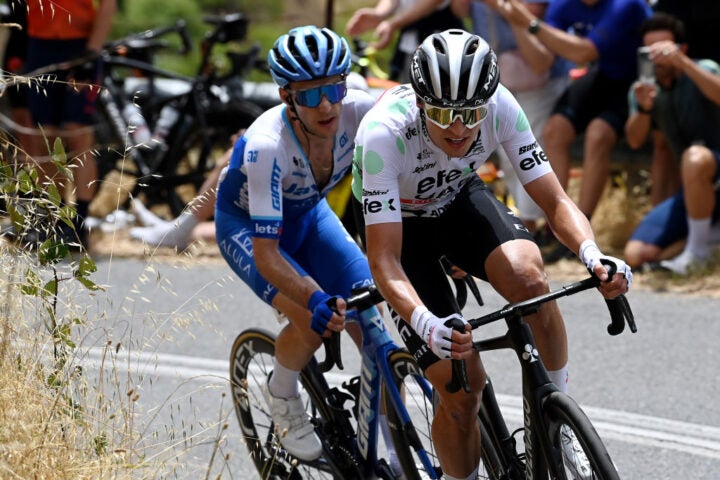 Advocates for tracking HRV, whether through WHOOP and Oura or via Garmin and Wahoo functions, insist it's all about knowing how – and when – to use the data.
EF Education-EasyPost and Alpecin-Deceuninck are both partnered by WHOOP.
The two teams' medics have oversight over their squad's daily numbers and have learned to act only when negative trends emerge over several days. Likewise, their riders know to consider both subjective feel and objective data.
EF team physician Sprouse told VeloNews WHOOP data can shoot a crucial early warning of illness or fatigue that can prompt the team to dive deeper. It's helped forecast COVID and helped prevent burnout.
"Where I sit as the team doctor, it's been really useful because it stimulates a conversation sooner than would have been the case previously," he said.
But it seems, for now, not every rider wants to know every possible portent of doom themselves.
For every racer that monitors their power mid-race and closely monitors HRV, there will be one who just prefers not to know. Many sponsored riders ignore the numbers and instead leave it for staffers to dig into the stats.
"I think it's just an added tool, but maybe not everybody likes that," Powless said. "But I definitely am the type of person that feels like if they can do something 'more,' I want to do it. I've never been afraid to use something or shied away from using something because I think it's going to be too invasive or something."
The use of HRV monitors by both sponsored and independent riders grew exponentially in the past season.
Whether the trend continues to turn upward may depend on how many of the peloton's data fiends are yet to dive into pro cycling's hippest metric.