Coaches Panel: Fixing a 'dropped hip'
How can bike fit fix a 'dropping hip'?
Heading out the door? Read this article on the new Outside+ app available now on iOS devices for members! Download the app.
Hi Kit,
I am a bike fitter in a shop working with a cyclist that has a lot of issues with his low back.
I noticed that he sits on his bike with his right hip dropped significantly and rotated forward. He also looks quite low and stretched out to me.
According to his physical therapist, his hips are square when not on the bike and he doesn't have a leg length difference. He also said that he has pressure on his sciatic nerve causing sensation/tingling down the outside of his leg down to the arch of his foot.

Where do I start?
You start with the basics. Your responsibility as the fitter is to make his mechanics as efficient and comfortable as possible. Per his description of symptoms, he is definitely a candidate for physical therapy care in conjunction to ongoing adaptations with his bike fit. He is apparently functioning with a significant pelvic obliquity that results in a "functional leg length difference" on the bike.
Bike Fit Recommendations: The handlebar and stem position need to change.  The goal is to create a shoulder angle of 90° or less to "stack" the spine and take pressure off the low back. The stem angle needs to be higher with a shorter stem length.  The best way to find the ideal angle and length is with a fully adjustable fitting stem. Let the cyclist tell you where he is most comfortable as you move through the various angles and lengths. Handlebars with a shorter reach and drop may also be beneficial if he spends a lot of time on his hoods and/or drops.
The seat can also be tipped down in front 1-2 degrees to create a little more anterior rotation of the entire pelvis thus helping to further stack the spine from below. Don't go too far with this because it can improperly load sensitive tissues and/or the front of the knees.
Knee flexion angle should be dictated by pelvic mechanics. His seat may need to be raised but only to a height with minimal or no pelvic rocking. I'd recommend keeping the knee flexion angle about 35°. The "ideal" of 30° knee flexion may be too high for him.
I also strongly recommend that you look at his cycling mechanics from the front. He likely has asymmetrical motion of the legs (ie, excessive internal rotation on one side, lateral knee at the top of the upstroke, etc). This also needs to be addressed with proper changes to the foot-pedal interface to decrease the asymmetrical motion of the pelvis.
Bottom Line: Create a stable base for the pelvis and feet. The mechanics look funky on the right side but the problem is on the left.  Fix the lower extremity mechanics and stack the spine … and the right side mechanics will improve.
-Kit
Submit your question to the coaches panel by emailing coachespanel@competitorgroup.com
---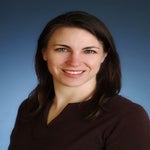 Katrina Z. Vogel was described as one of the "rock stars of cycling science" in VeloNews in 2007. She earned her Doctorate in Physical Therapy at USC and MS in Biomechanics/Human Movement & Performance at WWU. She is the Director of Education for Bike Fit Systems, teaches clinically-based bike fitting classes and guest lectures in Biomechanics for the Univ of Wash PT Department. She is a Cat 2 track cyclist.