Fast Talk podcast: The secrets to staying strong as you age, with Ned Overend
Is aging as bad as everyone thinks it is? Are our rides doomed to slowness and pain after 35? Don't despair, we have some answers.
Heading out the door? Read this article on the new Outside+ app available now on iOS devices for members! Download the app.
[related title="More episodes of Fast Talk" align="right" tag="Fast-Talk-podcast"]
The VeloNews Fast Talk podcast is your source for the best advice and most interesting insight on what it takes to become a better cyclist. Listen in as VeloNews managing editor Chris Case and columnist Trevor Connor discuss a range of topics, including training, physiology, technology, and more.
In this episode, we discuss something that's a factor for many of us right now, but will ultimately be a factor for all of us sooner than we'd like: the effects of aging. We've all said or heard it before: "I'm not what I was in my 20s!" Popular media would have us believe that after the age of 35 we will plunge off a precipitous cliff of decline, from which there's no escape. Run out and buy your joint medication and back brace soon!
Or not. Is it really as grim as it's made out to be? Today we'll first address what the research says, and why even past research painted a much grimmer picture than reality. In simple terms, it's hard to conduct a study tracking athletes over the course of 50 years, and there are many inherent issues with comparing current older athletes to current young athletes. We'll explore.
Second, we will delineate what age effects truly exist — for example, a drop in maximum heart rate — and others that have been traditionally attributed to aging that now appear to be trainable, such as a loss in fast-twitch muscle fiber strength.
Finally, we'll look at the changes that have taken place in cycling legend Ned Overend, and how he's been able to remain strong through the years, with an emphasis on recovery and staying healthy. Overend was the first world champion of mountain biking, but more relevant to this podcast, he was still winning pro races, including the Mount Washington Hill Climb, into his 50s. Now in his 60s, Overend still rips with the local pros in Durango almost every week.
We have some fascinating data to analyze, including a lactate test that Overend performed when he was 53 (see below). We'll also talk about how he trains, how he stays "young," and what has slowly changed over the years despite his best efforts. He has some great advice not just for older athletes, but for anyone trying to stay strong on the bike.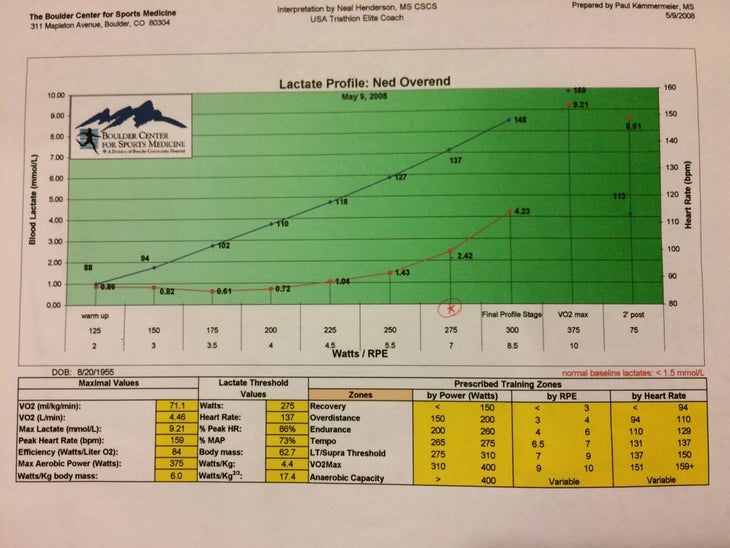 In addition, we'll hear from Dr. Jason Glowney, head of medicine at the University of Colorado Sports Medicine and Performance Center, who has plenty of real-world experience keeping older athletes on top form.
We'll also hear from Fast Talk regular Frank Overton, owner of FasCat coaching, who has worked with many masters athletes over the years and races as a master himself.
Finally, we'll hear from Glenn Swan, a three-time masters national champion and world champion about how he was able to scare the pros on the East Coast into his 50s.
So don't despair. Age is just a number, right? With that, let's make you fast!
Fast Talk is available on all your favorite podcast services, including iTunes, Stitcher, Google Play, and Soundcloud. If you enjoy the podcast, please take a moment to rate and comment on iTunes after listening. Also, check out the VeloNews Cycling Podcast, our weekly discussion of the sport's hottest topics, trends, and controversies.
References
Borges, N., Reaburn, P., Driller, M., & Argus, C. (2016). Age-Related Changes in Performance and Recovery Kinetics in Masters Athletes: A Narrative Review. J Aging Phys Act, 24(1), 149-157. doi: 10.1123/japa.2015-0021
Lepers, R., & Stapley, P. J. (2016). Master Athletes Are Extending the Limits of Human Endurance. Front Physiol, 7, 613. doi: 10.3389/fphys.2016.00613
Louis, J., Hausswirth, C., Easthope, C., & Brisswalter, J. (2012). Strength training improves cycling efficiency in master endurance athletes. Eur J Appl Physiol, 112(2), 631-640. doi: 10.1007/s00421-011-2013-1
Ozemek, C., Whaley, M. H., Finch, W. H., & Kaminsky, L. A. (2016). High Cardiorespiratory Fitness Levels Slow the Decline in Peak Heart Rate with Age. Med Sci Sports Exerc, 48(1), 73-81. doi: 10.1249/MSS.0000000000000745
Ozemek, C., Whaley, M. H., Finch, W. H., & Kaminsky, L. A. (2017). Maximal heart rate declines linearly with age independent of cardiorespiratory fitness levels. Eur J Sport Sci, 17(5), 563-570. doi: 10.1080/17461391.2016.1275042
Reaburn, P., & Dascombe, B. (2008). Endurance performance in masters athletes. [Review]. European Review of Aging and Physical Activity, 5(1), 31-42. doi: 10.1007/s11556-008-0029-2
Storen, O., Helgerud, J., Saebo, M., Stoa, E. M., Bratland-Sanda, S., Unhjem, R. J., et al. (2017). The Effect of Age on the V O2max Response to High-Intensity Interval Training. Med Sci Sports Exerc, 49(1), 78-85. doi: 10.1249/MSS.0000000000001070