Get Fit for Going Long
Marathon and endurance events are becoming more popular. Read on to find out how to train for these mountain bike races with either a power meter or heart rate monitor.
Heading out the door? Read this article on the new Outside+ app available now on iOS devices for members! Download the app.
By Jason Hilimire
Endurance mountain bike racing is rapidly rising in popularity. From the USA Cycling sanctioned marathon to the National Ultra Endurance Series (NUE) to 24 hour racing, going long is getting big.
In this article I'll analyze a power file from a 6-hour mountain bike race. Then dissect it out and show you how to use the information for your training. When it's all said and done you'll know how to use the science to optimize your mountain bike endurance race preparation.
6-hour endurance race power file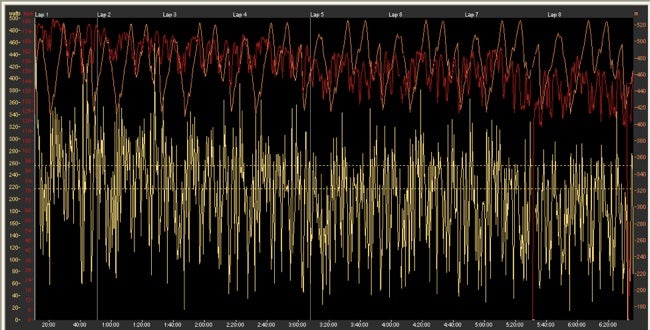 As you can see in a mountain bike race, power fluctuates quite a bit due to the nature of the terrain. The lower yellow lines represents zone 3 (tempo) for this athlete, the athlete's functional threshold training power (FTP) is 285 watts.  Reviewing this particular file you can see that the athlete started out a little harder than he probably should have.
What's harder than he should have? At the beginning of the race, this athlete's normalized power was 270 watts for the first hour or .9 intensity factor. There are also several extended efforts noted by the high power spikes (and higher heart rate) above the athlete's FTP. You can see this visually in the graph above that the first hour of the race is noticeably higher than the rest of the event. The aim here would be to have a more even power chart without the slight drop off that you see after the first hour.
Power Demands
From the power graph above, we can see that most of the race is spent predominately sub-threshold and slightly above zone 3 (tempo). The normalized power average was 235 watts, right in the upper-tempo range. I've reviewed several endurance race power files and pretty much all of them fall right into this area. I'm sure if you've ever done an endurance event you can attest!
This doesn't mean the power is always steady, though there are plenty of times where you are charging at a steady pace and have to raise your effort for 30 seconds on up to a few minutes to match the pace or terrain. You could have to tackle a climb, take charge of a pace line on a fire-road or simply step on the gas to close a gap.
However, since you usually have a few more hours and miles ahead of you, you'll typically want to stay away from VO2 max or anaerobic-type efforts. I'm referring to wattages for this athlete, for example, no greater than 345 watts for a minute or so, especially at the start of a race. Burning too many matches too often during an endurance race can leave you slogging along at a crawling pace trying to recover. By racing just under your threshold you'll perform better and race faster over the course of the event, getting you to your fastest course times.
While there are efforts above threshold, these are short, burst-like efforts (and if you'd like to learn more on how to train for those, read this).
No Meter? Use Your Heart
For those who don't have the ability to race or train with a power meter, you can still utilize your heart rate monitor. It's quite clear from the heart rate distribution chart shown below where the effort levels during an endurance race occur. The majority of the time, as we noted from the power graph, is spent at tempo, with frequent forays into threshold territory.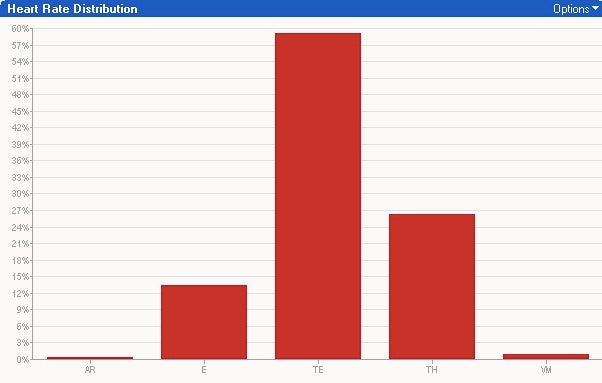 How to Improve your Endurance Power
Endurance racing often criss-crosses from tempo to threshold as seen above by the heart rate distribution graph. The better you are at crossing into threshold the better you'll be able to handle the physiological demands of the race.  By keeping your forward momentum going you'll race faster.
As a coach, I like to have mountain bike athletes perform criss-cross intervals.  These structured intervals are performed at normal tempo wattages (or heart rate if you are using your heart rate monitor), "cross" into and hold or threshold power for 60-180 seconds, every 2-5 minutes. Then return to tempo wattage until the next criss-cross.  Here is an example criss cross workout
Criss-cross: 3 x 10 minutes ON 10 minutes OFF b/w 217-258 watts,  with 1 minute @ 285 watts at 2, 6 & 9 minutes
As the athlete progresses, you can increase both the length of the interval and the time at threshold
Criss-cross: 3 x 12 minutes ON 10 minutes OFF b/w 217-258 watts,  with 90 seconds @ 285 watts at 2, 7 & 10.5 minutes

Example Advanced Criss Cross Workout: 3 x 18 min on10 off, with 2 min @ Threshold @ 4, 8, 12, 16 minutes. Once you've done the above workouts you can really step it up by mixing in Sweet Spot Wattage. It's a much more advanced workout than the above examples. It's about going harder, when you are already going hard.
Sweet Spot Criss Crosses: 3 x 15 minutes ON 10 minutes OFF b/w 237-276 watts,  with 2 minutes @ 285 watts at 3, 7 & 13 minutes
These criss-cross intervals help mimic the physiological adaptations of an endurance mountain bike race, and therefore will prepare you optimally.
Don't Forget!
It's also important to not forget the basics of endurance racing; you need to be able to ride your bike for a long period of time. Some races can stretch many hours long, over what's a reasonable amount of time to train during your weekly workouts.
If you're training for a 24 hour solo, it wouldn't be advised to go out and ride for 24 hours. However, putting in a 5- to 6-hour long ride two to three times a month for an endurance mountain bike athlete is not unreasonable. Work up to these longer hours slowly, and set aside the time to complete them. They will help raise your overall fitness level and can also be used to dial in equipment and nutrition, the other key elements of an endurance race.
Summary
In summary, for an endurance mountain bike race it's critical to be able to spend plenty of time at your tempo and sweet-spot pace, but also able to cross over into your threshold as needed for the demands of the race. The more time you can prepare the better adapted you will be, so don't just spend time at tempo/sweet spot during training. Include criss-crosses as they help mimic the physical adaptations needed for the race.
You can structure your training to do up to several hours at tempo and sweet spot pace to prepare, and then add these workouts inside of a long ride. Once you're able to merge these workouts into your training program you're on your way to being prepared for mountain bike endurance events.
Jason Hilimire is an Associate Coach with FasCat Coaching. He can be found out on the trails and roads around Upstate New York working on his "criss-cross" efforts. To find out more, please contact him by email Jason@fascatcoaching.com or on the web at www.fascatcoaching.com.
Copyright 2009-10, FasCat Coaching
Homepage photo at 2009 La Ruta by J. Andrés Vargas