How pro teams use HRV: Health alarms, burnout buzzers, rest day deciders
Top-level teams are paying increasing attention to heart rate variability data in the bid to safeguard health and improve performance.
Heading out the door? Read this article on the new Outside+ app available now on iOS devices for members! Download the app.
This is the second part of a three-part series diving into heart rate variability, and how the recovery-focused metric has busted into the high-stakes world of pro cycling.
A health alarm. A burnout buzzer. A red flag for a rider ready for rest.
Those are just some of the ways the WorldTour is interpreting the data spilling out of the heart rate variability and sleep trackers increasingly sported by cycling's biggest stars.
The booming use of HRV-tracking wearables like WHOOP and Oura is casting fresh light on rider health and readiness to race. It's a whole new data dimension that could dictate racer fortune and longevity in a way long-monitored and micromanaged metrics like VO2 Max, calories, or CdA never could.
"There are so many tools already to track performance and expenditure on the bike," retired cyclocross star and WHOOP head of endurance Jeremy Powers told VeloNews. "But WHOOP can paint a picture for the team and for the athlete anytime that they're not exerting themselves on the bike."
Also read:
"Riders and teams are finding it really eye-opening in identifying things that might help get the extra percent or two out of overall performance," Powers said. "And it's really crucial at pointing out potential illness or someone over-doing things."
A new data dimension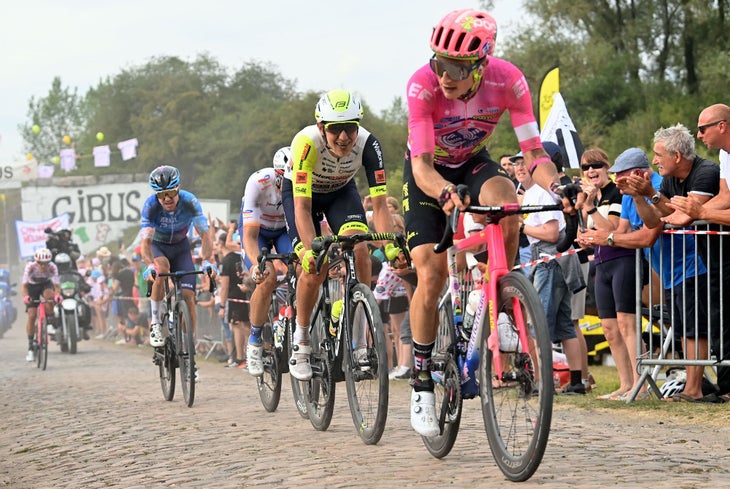 Training, nutrition, and recovery have long been seen as the three pillars of athletic performance.
Power meters and heart rate monitors have been helping track and optimize performance all century. The more recent introduction of nutritionists, team chefs, and glucose monitors means riders eat the perfect diet for their own needs, measured to the gram.
Also read: Are continuous glucose monitors poised to reshape pro racing?
But until recently, recovery measurement was relegated to resting heart rate and subjective feel. Sicknesses, overtraining, or overburdening life stresses didn't always get detected until it was too late.
That's where top-tier teams are hoping a recovery and wellness-rating metric like heart rate variability and the accompanying sleep data produced by gadgets like WHOOP can make the difference.
"It gets you to focus on sleeping more, and sleeping better. And it makes you realize when you do too much away from the bike," said Neilson Powless, whose EF Education-EasyPost team partners with WHOOP.
"I feel like if you have something reminding you to focus on recovery, it noticeably helps you get that much more out of your workouts. It's helped me change lots of smaller habits."
Trends vs one-offs, objective vs subjective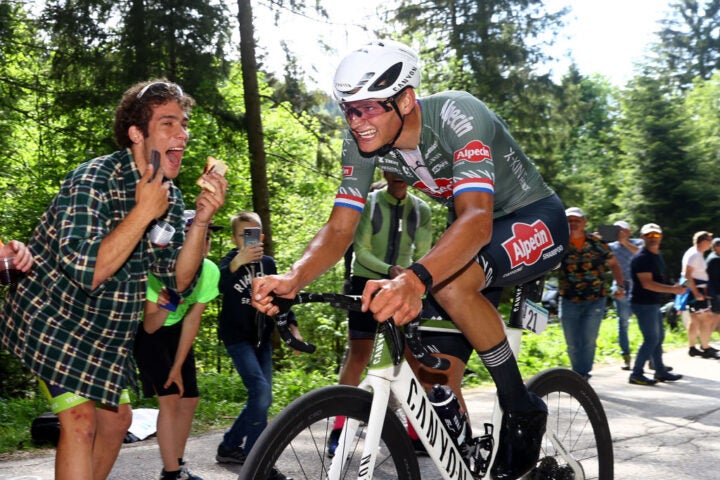 Teams like EF Education-EasyPost and the similarly WHOOP-sponsored Deceuninck-Alpecin are learning to harness HRV and sleep data in more ways than might be expected.
Poor scores for a rider out of competition might indicate to medics a need for rest or warn of ill health. For athletes deep in a stage race, it might give staffers cause to let a rider hide in the peloton rather than being sent into a breakaway.
But like most things, the numbers don't always tell the full story.
Those decisions about rest or race, attack or conserve, are a blend of hard science and intuitive art.
"Objective data from WHOOP and subjective factors both have about 50 percent importance with making decisions about a rider," EF Education-EasyPost head medic Dr. Kevin Sprouse told VeloNews.
"So if the objective data is trending one way, but I talked to a rider, and they feel great, are putting out good numbers, and feel like they're sleeping well and are rested, then I'm not going to stress about it.
"I may just keep an eye on them in the background or check in with them a few days later. But I'm certainly not going to have them change course in training if they're feeling really good. But it's rare that the data and how a rider feels is so discordant."
Sprouse checks in daily on an online "dashboard" that reports his team's numbers and indicates upward or downward trends.
Any ongoing decline gives cause for concern and the opportunity for intervention.
"From where I sit as the team doctor, HRV is really useful because it stimulates a conversation sooner than would have been the case previously," Sprouse said.
When less can be more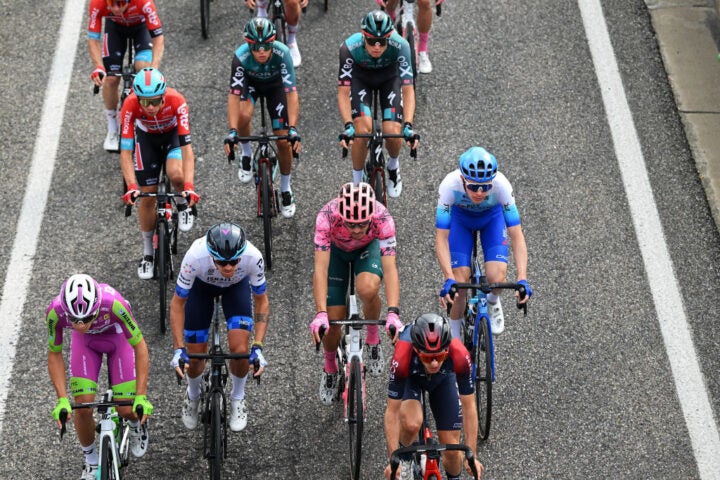 Pro athletes know their bodies better than most.
Powless and a number more WHOOP-wearing WorldTour racers told VeloNews they follow the approach that "body knows best."
"For the most part, I see my HRV number just as a guide for how I should act or if I need to be worried about training and health," Powless said. "But I use just like my internal feelings more than anything else."
But even the most experienced racers are all-too-guilty of doing too much to guarantee squad selection or peak for a priority race. Stories of overtraining at the top of the sport are still common, despite the proliferation of team medics and performance data.
That's where insiders hope heart rate variability data could make the difference.
"Riders have figured out is that WHOOP can keep them honest and make it really clear when they need to back off," said Powers, who works directly with his sponsored teams. "It's also helping the people that can't stay with them 24/7 know when to tell them to pull back, because riders are so ambitious."
Racers will never have an excuse to be sick again.