Rolf Aldag on Tour de France record: 'I am pretty sure Mark Cavendish can win one'
The Manxman's former sport director says that Cavendish and team manager Alexander Vinorkurov can form a strong partnership.
Photo: Alex Broadway/Getty Images
Heading out the door? Read this article on the new Outside+ app available now on iOS devices for members! Download the app.
MUSCAT, Oman (VN) — Mark Cavendish's former sport director Rolf Aldag is a true believer that the Manxman could set a new record for Tour de France victories this summer.
Cavendish is currently tied with Eddy Merckx on 34 stage wins, the all-time record for any rider in race history. With at least one more season to go in his illustrious career, if not more, Cavendish is standing on the precipice of history.
Aldag, now the lead sport director at Bora-Hansgrohe, worked with Cavendish several times during his career, at T-Mobile, Quick-Step, and Dimension Data.
While the "Manx Missile" may no longer be the fastest man in the bunch, the German director believes that he has the smarts to get one over on some of his younger rivals.
"Purely physically, of course he can do that. I mean, especially with this Tour. If we think conservatively, there might be six sprints, but if we think optimistically there could even be eight sprints. I do think that will change a little bit with the balance within the teams," Aldag told VeloNews at the Tour of Oman, where Cavendish is making his debut for Astana.
"Last year, a lot of people looked at the course and said 'we're not bringing our sprinter, and if we do we leave them alone.' Then they wouldn't control those stages where you could have a sprint."
Also read:
"Those stages ended in breakaways and stuff like that. If everybody looks at it as 'our sprinter can potentially win six times, so, we bring him, and we also bring support,' then I think ends up in a more controlled race on the flat stages," Aldag said. "Breakaways will have more difficulties and out of six stages, I'm pretty sure Cav can win one because, with all respect there for sure are faster guys in the bunch, but with the experience that he has it's hard to beat sometimes. A lot of the young kids still do mistakes.
"It's not that Cav never makes a mistake, but you know, they will be there one day when he gets it perfect and others don't get it perfect, and then he has a chance to win for sure."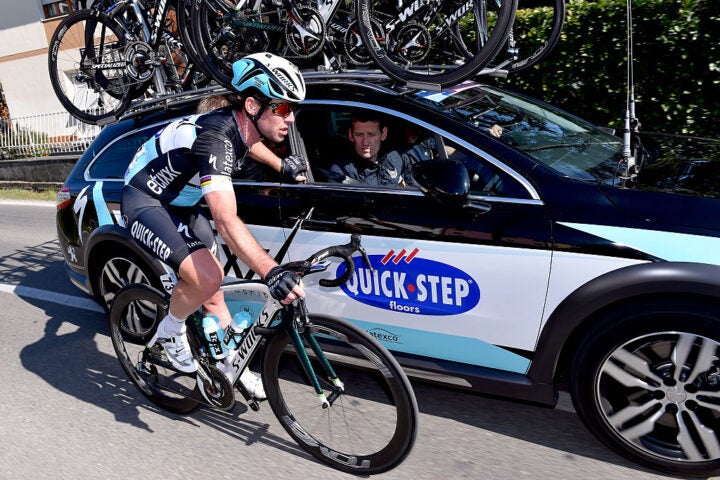 Cavendish's chances at getting an opportunity to go for a record-breaking 35th Tour de France stage hit the ropes toward the end of last year when his proposed move to B&B Hotels didn't work out after the team folded. It meant a late dash for a new contract with most top teams already full to quota.
The departure of Miguel Ángel López from Astana in mid-December opened the door for Cavendish to join, and a later reshuffle in the roster made room for fellow sprinter Cees Bol to join. Bol was always meant to be riding with Cavendish this season, but the existing Astana roster has had to reshape itself to form a train for the Manxman.
Aldag on Cavendish: 'He looks super fit and motivated'
The first attempt at a leadout didn't go to plan on the opening day of the Tour of Oman, but there will be ample opportunities to have a go at the UAE Tour next week.
Aldag believes that Astana can provide a good home for Cavendish and that he and, team manager, Alexander Vinokurov can forge a strong partnership.
"He made that late decision to move to Astana and for sure, there was some turbulence, but if you look at him right now here one thing is for sure we never gave up," he said. "He looks really super fit and he looks motivated. That's already the base for him to have a good year. They have to get the lead out together and they have some guys who can do that.
"He and Vino are two strong characters. If they do get along, and if he gets the support and he pays it back to the team for that opportunity then I think it's a super strong couple. I was racing with Vino and he's a hard man, so you don't want to end up in a personal fight with Vino, that's for sure.
"You want to have his support, but if you do have his unlimited limited support, then you can call him at four o'clock in the morning, and he will be there for you. If that works out for Mark, then he's definitely in a position that he's able to break that record."
The Tour de France stage record has long been held by Eddy Merckx and it is still sometimes referred to as the "Merckx record," despite Cavendish equaling it in 2021. If Cavendish can win at least one more stage this summer, or before he retires, it will be his alone.
Aldag was quick to add that he doesn't think that the Manxman will want to compare himself to Merckx, whose victories came across a range of terrain and disciplines. Rather, taking the record would be about proving others wrong.
"People will always discuss, but Eddy also won time trials and Eddy won mountain stages, Eddy won this and that. I don't think it's the aim for Cav to say, 'well, now, I can say I'm better than Eddy Merckx at the Tour,' I don't really think that it's anything that he wants to prove, it's different times," Aldag said. "You can also argue that these days, you had teams of 12 riders and seven teams, so you had to compete against seven guys not 21 sprinters potentially.
"There are pros and cons and he remains the greatest cycling cyclist on the planet. I think that's undoubtable," he said. "That record would probably be nice, but I do think for him, it's more important to show people that, 'every time you wrote me off, I prove you wrong.' I think that is much more of a story for him, then I hold the record now and now I compare myself to Eddy Merckx."