Suisse roundtable: Tejay's big comeback
After yesterday's disaster, Tejay van Garderen bounced back today. Here's our take on the ride.
Heading out the door? Read this article on the new Outside+ app available now on iOS devices for members! Download the app.
Today's stage of the Tour de Suisse had everything: snow, sunshine, and an impressive comeback by Tejay van Garderen. Multiple fans tweeted their anguish to me on Thursday after van Garderen lost two minutes on the final climb to Amden. Calm down, everybody, he was chilly! But on Friday, van Garderen attacked on the final climb to the Solden ski area to take the stage win and show doubters that he's ready for the Tour de France.
There were some other noteworthy tidbits during the stage. In case you missed it, we've got you covered. Let's roundtable!
Who had the most impressive ride today?
Andrew Hood @Eurohoody: Andrew Talansky. He kept digging in, and now he's poised to take yellow if he can uncork a good time trial tomorrow.
Fred Dreier @freddreier: Vasil Kiryienka. I think Sky programmed him to the "Crush" setting for the final climb. He throttled the group and didn't even look tired. A close second place goes to the wacky fans who wore inflatable snowman/Stay Puft Marshmallow Man outfits at the finish line (see photo).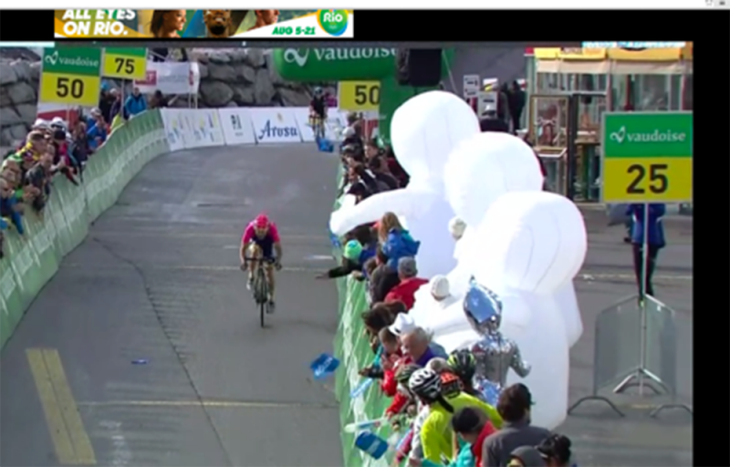 Caley Fretz @CaleyFretz: Tejay. I like seeing any rider come back strong from a bad day.
Spencer Powlison @spino_powerlegs: Warren Barguil. Miguel Angel Lopez is a really strong climber, so to hang with him on the finish showed the little Frenchman's grit, and it also indicates he's serious about GC.
Chris Case @chrisjustincase: Tejay. It's hard to say what goes on inside the mind of a Zen Warrior, but he obviously meditated after yesterday's devastating stage (or Och ripped him a new one) and came out swinging today. True warriors never die!
Does Tejay's win change your impression of his Tour chances?
Andy: The win is arguably the biggest of his career, and it speaks volumes about his drive and fitness. If it doesn't snow in July, his Tour chances are white hot.
Fred: I'm not gonna lie, I was ready to sell my Tejay stock yesterday. The fact that he rebounded is really encouraging. The Solden climb looks like the Tour's stage 19 climb to Mont Blanc, so Tejay could definitely do well there.
Caley: Even with the win, I still think his falter on Thursday will put him in a backup roll to Richie Porte. Perhaps that's better for Tejay, though. He'll be under less pressure in the Tour's early weeks.
Spencer: I don't think it changes much. This is not a deep field of favorites, and I believe they also were willing to give Tejay some leash because he was out of the GC picture.
Chris: (Ponders question, does not answer.)
Tejay or Porte: who are you building your Tour team around and why?
Andy: Throwing two darts at the dartboard isn't a bad call, especially against the likes of Froome and Quintana. Neither Tejay nor Porte have been on a grand tour podium, but both have potential, so why not let them both ride and see what happens?
Fred: Tejay. As a self-proclaimed ugly American, I ride or die with my countryman.
[related title="More Roundtables" align="left" tag="Roundtable"]
Caley: Porte. He could stick with Froome (for a bit) at the Critérium du Dauphiné. But it's close. Really, both riders are prone to bad days in week two, so the leader will probably be whoever can avoid un jour sans.
Spencer: Wow, not great options! Both have pretty serious red flags, but I'm going to say Porte. Even though he's still yet to put together a consistent grand tour, he looked great riding with Froome at the Dauphiné.
Chris: Jeez, do I really have to? Both of these guys have a history of caving during crunch time. But Tejay seems to have a little less historical crunch. Still, the guy you put in the Dauphiné is the guy you want leading the Tour team, right?
What did today tell us about another Tour rider's level?
Andy: Barguil keeps impressing, and Superman Miguel Angel Lopez is poised for great things. He's only 22 and will race the Vuelta instead of the Tour.
Fred: Talansky yo-yo'd briefly today, but then hung in there and attacked that group. That type of toughness is his calling card, and will help him come July.
Caley: Warren Barguil is the real deal. He's just 24, remember. A Tour stage win is imminent, and he could finish top-10.
Spencer: I agree with Fred and Caley on the Pit Bull and Barguil. On the flip side, I was surprised to see Wilco Kelderman get dropped and lose the GC. He's probably hoping that was an anomaly and not a sign of things to come.
Chris: Geraint Thomas needs to get his butt back to Tenerife in the next weeks so he can lead Froome and his elbows and wobbly neck into the fray. Dropped in the final two days, Thomas seems to have peaked at Paris-Nice back in March.