Schleck: 'I want to win Amstel Gold'
Andy Schleck (Saxo Bank) has been one of the enigmas of the 2010 season.
Heading out the door? Read this article on the new Outside+ app available now on iOS devices for members! Download the app.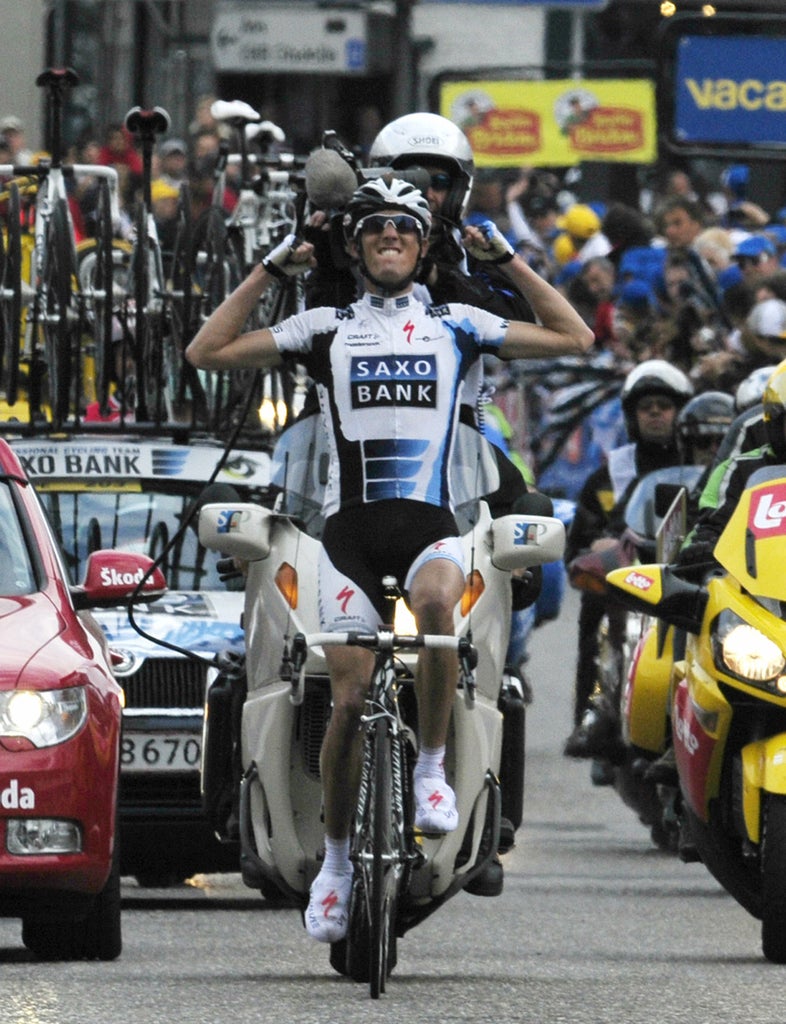 Andy Schleck (Saxo Bank) has been one of the enigmas of the 2010 season.
While arch-rival Alberto Contador is tearing up the early season races, the younger of the Schleck brothers has been beleaguered by knee problems, struggled with a winter cold and even got hit by a car during a winter training ride.
With the nagging knee pain, he delayed his season debut until Tirreno-Adriatico only to then succumb to fever and a stomach bug, abandoning Milan-San Remo and Volta a Catalunya.
Despite the setbacks, Schleck vows he's ready for the Ardennes classics, where he won his breakout Liège-Bastogne-Liège last year.
"Compared to last year, I am better. I want to be good in the block of the spring classics," he told VeloNews last week. "For sure, these three races are the goal. I am ready. The team doesn't care if I win Mallorca Challenge or the Volta a Catalunya. The goal is the classics and the big goal is the Tour."
After a late-night Spanish dinner, Schleck sat down with VeloNews and two other journalists for an interview. As always, he was candid, relaxed and expansive.
Surprisingly, there's another race he'd like to win rather than repeating at Liège. This Sunday's Amstel Gold Race is what he'd prefer, following his brother, Frank, who won in 2006, into the winner's column.
"I have a little preference for Amstel this year. I already won (Liège)," he says with a smile. "I have a special relationship with that race. I've always watched that race since I was a kid. I remember watching Armstrong with Boogerd in the final. I was there in the audience, since then I wanted to win that race."
Last year, Schleck was working for former teammate Karsten Kroon during Amstel Gold Race, but with Kroon now lining up for rival BMC, Schleck will have a free hand to go for the victory along with brother Frank. Kroon and Schleck remain good friends, so much so they've planned a trip to Antwerp the Monday after Liège to see a Tiësto concert.
That's in sharp contrast to last year. After Schleck won Liège, he was right back to work on the Monday following a team party, working on his time trial abilities with teammate Fabian Cancellara and Saxo Bank boss Bjarne Riis.
"Last year, Specialized came up to Luxembourg and we had planned to train with all the time trial bikes. Fabian was there, Bjarne was there," he said. "We had a small party, but I was on the bike at 10 a.m. the next morning after Liège, I did three hours behind the scooter on the time trial bike. It was hard the first hour, but then I think I sweated all of the beer out."
That Schleck is even ready for the spring classics is rather remarkable and a testament to his abilities to recover from setbacks.
His off-season training was going well enough when he crashed into a car in mid-December on snow-slickened roads in his native Luxembourg while returning from a training ride. It left him banged up, but he avoided serious injury only to later discover a nagging knee injury.
"I was going on a straight road and a car didn't see me and pulled out. I just smashed into it. I had two ribs bruised and I was black and blue on my whole right side. That was healed fast, but later we saw the cartilage on my kneecap had damage and there was water on it," he explained. "Now I have no problems. It's gone. Before I came to (Basque Country), I did a scan; there is no more swelling or water on the knee."
Last year, Schleck was untouchable at Liège and he hopes to have a repeat performance at any of the three upcoming classics.
His experiences in 2008, when he finished fourth out of a four-man group behind winner Alejandro Valverde, helped him deliver the knockout punch in 2009. Schleck knew the inclusion of the new climb at the Roche aux Faucons was just the place to make his winning move last year.
"I knew the before the race that I can only win if I attack on La Roche. Saint-Nicolas is hard too, but it is too close to the finish. I knew that was my chance to go there," he explained. "The year before, I went on the top of the Redoute. I went alone there, I dropped Schumacher, then Frank, Valverde and Rebellin came up to me. This year, it's not a secret. La Roche is the hardest climb. It's harder than Redoute. I think it's the hardest climb on the race, especially in the end. The Redoute is too early to decide the race."
With his searing attack at "Falcon's Rock," Schleck won in the best possible manner, alone across the line in the most important climber's classics of the year.
Ever a cool customer, Schleck admits that it means a lot to him to have won one of cycling's most treasured one-day races.
"I have my name in the history books and I am going to start with No. 1, so that's nice. It's my biggest victory. It was a dream for me to win that race one day. I didn't expect it to come that quick," he said. "Last year, after Amstel, I felt really good. Flèche gave me the last little bit of confidence. When I went into Liège, I think I was the favorite to win. For me, Liège is the hardest one-day race of the year. Lombardy is hard, too, but you cannot compare it."
And Lombardy remains Schleck's biggest goal after the Tour this year. But first come the classics and Schleck promises to step out of his early season anonymity and be a player.
VeloNews.com will provide live coverage of this Sunday's Amstel Gold Race, Wednesday's Fleche Wallonne and next Sunday's Liège-Bastogne-Liège. You can reach the live coverage at velonews.com/live. On mobile, go to mobile.velonews.com and follow the link at the top of the page to the live player.