Sky highs and Sky lows: Looking at Team Sky's first year in the pro peloton
"We got all the peas just right, but neglected the steak," says team partner Dave Brailsford on the British squad's first year.
Heading out the door? Read this article on the new Outside+ app available now on iOS devices for members! Download the app.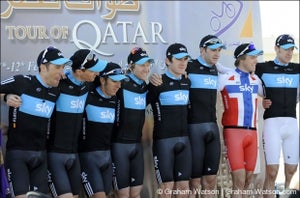 It was less than a year ago that Team Sky's riders and staff first got to meet each other; it was already late November, and by January the team was already riding the first ProTour race of the season (The Tour Down Under) and had scored its maiden victory. It was a dream start for the team that had effectively come into the pro peloton from scratch. Now it's the end of the season, and team principal Dave Brailsford is working hard on a first-season appraisal.
When the team launched it promised a whole lot of hope and refreshment to a tainted and recently jaded sport; it came out with all guns blazing in fanfare that took the commercial and promotional side of the sport by the scruff of the neck, effectively dragging pro cycling out of the 80's and into the world of multi-media.
"All of that side of things (the media and technology savvy) has been very driven by Sky (a satellite TV company owned by Rupert Murdoch's News International); that's what they do best. It's certainly been effective, and myself and the team really want to live up to all of this," explained Dave Brailsford, a team partner.
Sky Highs – Victories 2010
Tour Down Under stage 6 – Chris Sutton
Tour of Qatar TTT
Tour of Oman stags 3, 6 and points & young rider overall – Edvald Boasson Hagen
Omloop Het Nieuwsblad – Juan Antonio Flecha
Paris-Nice stage 1 – Greg Henderson
Tirreno-Adriatico stage 7 – Edvald Boasson Hagen
Critirium International stage 2 – Russell Downing
Giro d'Italia stage 1 – Bradley Wiggins
Tour de Picardie overall GC, points, and young rider – Ben Swift
Criterium du Dauphine stage 7 – Edvald Boasson Hagen
Star Elektrotoer stage 3 – Greg Henderson
Norwegian TT Championship – Edvald Boasson Hagen
British Road Race Championship – Geraint Thomas
Brixia Tour stage 3 – Chris Sutton
Tour de Wallonie stage 5 and overall GC – Russell Downing
Dutch Food Valley Classic – Edvald Boasson Hagen
Eneco Tour stage 4 – Greg Henderson
Eneco Tour points overall – Edvald Boasson Hagen
British TT Championship – Bradley Wiggins
Tour of Britain stage and points overall – Greg Henderson
Sky has been supporting British cycling and its Olympic programs for some time, and with a huge amount of success at world championship and Olympic level. Brailsford is also performance director of the national program.
"The plan for all of us is to get more people cycling in Britain … We wanted to create a team that people respect and love, something for them to follow and to inspire them to ride bikes. In sport there are a lot of teams that people respect; like Real Madrid in soccer, but they respect and love a team like Brazil, and that's what we're aiming at."
From the outside it would seem that team achieved some of its goals, but maybe didn't quite get the big wins that many had anticipated.
"It depends on how you look at things; if you take the season as a whole we had about 23-24 wins; that will leave us about fourth or fifth in the victory rankings for ProTour teams, which is good. The season started well, better than we could of hoped for. Then came the Giro, where we got the leader's jersey, it was good for us. But if you just take the Tour de France, then yes it was disappointing; we were a little bit lost and out of it."
At the Tour the team had banked heavily of Bradley Wiggins, who had finished fourth the previous year, but things didn't work out. At one point at the Tour he joked that he would refund the travel expenses for team fans who had come to France to see him vie for the win. He ultimately finished 24th.
"We got it wrong. Brad himself will also hold his hands up here, but we're learning. The previous year Brad equalled the best-ever British ride, and was climbing great. This year it just didn't come together for him, or us, at the Tour. He is a phenomenal bike rider, but the parcours, the excessive heat, it just wasn't to be. For him to win the Tour it would need longer time trials, but we're assessing it all and working on it. There was a weight of pressure on the whole team at the Tour too, which didn't help."
Team roster 2011 – so far
Kurt-Asle Arvesen
John-Lee Augustyn
Michael Barry
Edvald Boasson Hagen
Kjell Carlstrom
Dario David Cioni
Steve Cummings
Russell Downing
Juan Antonio Felcha
Chris Froome
Simon Gerrans
Matthew Heyman
Peter Kennaugh
Thomas Lokvist
Lars-Petter Nordhaug
Serge Pauwels
Morris Possoni
Michael Rogers
Ian Stannard
Chris Sutton
Ben Swift
Geraint Thomas
Rigoberto Uran
Davide Vigano
Bradley Wiggins
Xabier Zandio
The team came into the ProTour with a very detailed and scientific approach, which has come in for some criticism, including from Frenchman Sylvain Calzati, who had a rather lackluster season and has not been re-signed by Sky for 2011.
Calzati will join the French continental team Bretagne-Schuller for 2011. Earlier this month he gave a rather bitter interview to l'Equipe. "(Team Sky) has a lot of theories but if you look at results, they have not lived up to their expectations," he told l'Équipe.
Brailsford said that while the team's approach didn't work for some, others responded well.
"The riders who have come through the British academy system (and the AIS) understood how it worked and fitted in well with it, while others didn't take to it so well. Take Geraint Thomas; he was one of the great success stories of the year. Then there was Morris Possoni; for the first half of the season he was riding in a trance, shell-shocked by the different approach. But half way through the season he grasped what it was about and really excelled — which was pleasing."
Managers like Bjarne Riis, Johan Bruyneel and Jonathan Vaughters are all ex-pro riders who have successfully led teams with a detailed and scientific approach. Brailsford's lack of pro racing experience might have been the difference, he concedes.
"I have a great deal of respect from the approach of these guys, and it shows that it works; it's not a completely new model. But I don't have that experience of riding as a top level pro, and it does make a difference. This year I spent a lot of time with the team in the first half of the season, getting my hands dirty and seeing how it worked. We came in with a lot of ideas; and then we had guys like Sean Yates who have ridden with and managed the best riders in the sport, so to an extent it was like two entities, and we had to combine them.
"Sean knows about bike racing, and I have to say it must have been tough for him to stand back and let us try some of these things when he really knew that they would not work. But he did, and we learned a lot that way. Some of these approaches did work, and things improved as the season went on. It's impossible for someone like me to sit next to Sean Yates in a team car and tell him what to do; he knows that inside out."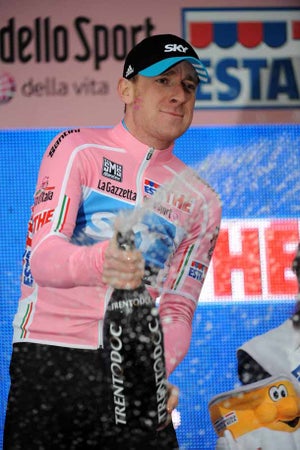 What kind of changes can be implemented to make sure next season brings more success? "The first thing is that we need to work a whole lot more on our race selection methods and team planning. For ProTour, and more important races, we really need to send teams with riders who are suited to that race, and with riders who can support them, and let them know that they will be going there with that support. This year we didn't get that quite right. Taking the approach we did also meant that we often focused so much on small things that we missed the big picture; "
"On the whole we managed the logistics well; but one more area we need to address is clarity of roles. People's exact roles, responsibilities and jobs need clarifying. It needs to be 100 percent clear to every rider and staff member what their role is, and who is there to support them. This was lacking this year. The team is very British, and I feel the attitude the staff brought to the team embedded this, which is what we want, and at the end of the day it's bike racing – it needs to be fun too."
Planning towards next season and new riders have already been signed and plans are well underway.
"We have more signings still to come. So far we've signed Alex Dowsett, who's a great prologue rider and has come through the British system, we have the Spaniards, Xabier Zondo and Rigoberto Uran and Mick Rogers, and we've offered an assistant DS join to Nicolas Portal, who rode with us this season. We really like Nicolas, and he knows the Spanish guys too, this could help with the work we need to do to make the integration process easier with many of the riders. Now is the time for us to straighten out the issues of the last season."