Skylar Schneider, Justin Williams and L39ion dominate in Boise
L39ion goes 1-2 in the women's race and 1-2-3 in the men's competition.
Photo: Connor Ryan/USA Crits
Heading out the door? Read this article on the new Outside+ app available now on iOS devices for members! Download the app.
L39ion of Los Angeles owned the second stop of the USA Crits series, handily winning the women's and men's races and filling five of the six podium spots on a hot night in Boise, Idaho.
In the women's race Kendall Ryan led out her L39ion teammate Skylar Schneider for the win at the 35th Bailey & Glasser Twilight Criterium, and kept the gas on to finish right behind her.
Harriet Owen (InstaFund), Maggie Coles-Lyster (DNA Pro Cycling), and Rachel Langdon (InstaFund) rounded out the top five.
In the men's race, Justin Williams, Cory Williams and Ty Magner came across the line in formation for a L39ion 1-2-3.
It was a repeat of the race winners from the first stop of USA Crits in Tulsa, Oklahoma, and a further strengthening of the leaders' positions for Schneider and Williams in the series.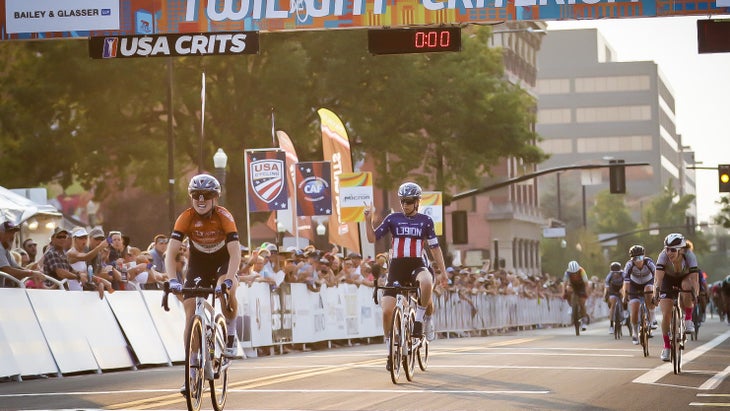 Schneider stomps the women's race
USA Crits feature mid-race sprints that go five deep on points. There are points sprints at 5 laps in, halfway through, and then five laps to go.
Coles-Lyster (DNA Pro Cycling) and Langdon (Instafund) came into the second round high on the overall, with Coles-Lyster tied for second with Ryan behind Schneider, and Langdon in fourth. Both Coles-Lyster and Langdon were active in the first two sprints, each grabbing 10 and 7 points for alternating coming first and second.
Laps averaged just over a minute on the flat, four-corner course, with the temperature over 100 degrees throughout the 60-minute contest.
With 19 laps to go, a little break went clear. But when Ryan tucked low and tried to get across, the field clamped onto her and brought it all back together.
A big crash just outside five laps to go forced a neutralization and then a complete stop and restart of the race.  Riders unclipped and lined up at the start line for a minute, before race commissaires restarted the race with 5 laps to go.
From there, Madeline Bemis (Rally Cycling) went to the front to string it out. DNA Pro Cycling massed at the front and dictated the pace through the bell lap.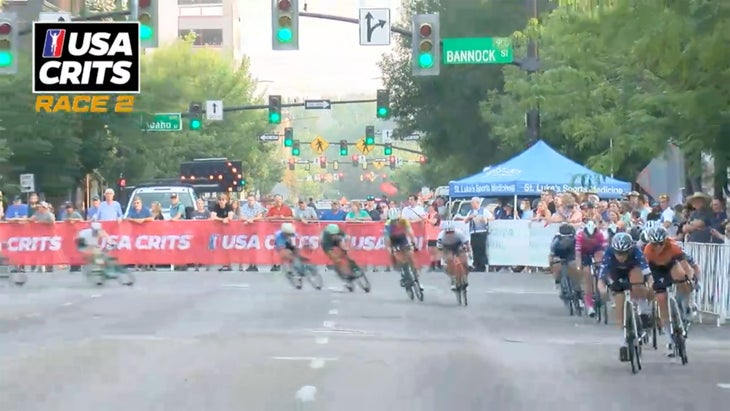 But with two corners to go, Ryan took control, with Schneider in the orange series leader jersey in second wheel.
Ryan escorted Schneider safely around the last corner, accelerated until the final few meters, and celebrated as Schneider punched the hot summer air with her second win in as many races at USA Crits.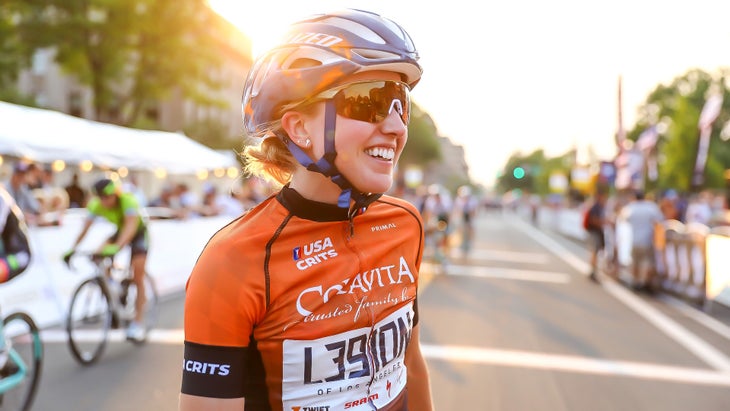 Bailey & Glasser Twilight Criterium Women's Results
Skylar Schneider (L39ion of Los Angeles)
Kendall Ryan (L39ion of Los Angeles)
Harriet Owen (InstaFund)
Maggie Coles-Lyster (DNA Pro Cycling)
Rachel Langdon (InstaFund)
L39ion blitzes the men's race
Although the temperatures cooled a bit for the 8:20 p.m. start, it was still near 100 degrees when the pro men took the course.
A number of breaks went throughout the hourlong race, with Aevolo, Hangar 15, Primal Audi Denver and others spending some time off the front. George Simpson (Project Echelon), the Colorado state time trial champion, spend six laps clear solo, pursed by the L39ion train.
With three laps to go, all six L39ion riders locked into singlefile formation, with Cory Williams and Justin Williams in the last protected positions.
Sam Boardman buried himself, followed by Alec Cowan, who did the same. Scott McGill and Sean McElroy of Aevolo were locked in behind L39gion.
Coming across the line, it was all L39ion.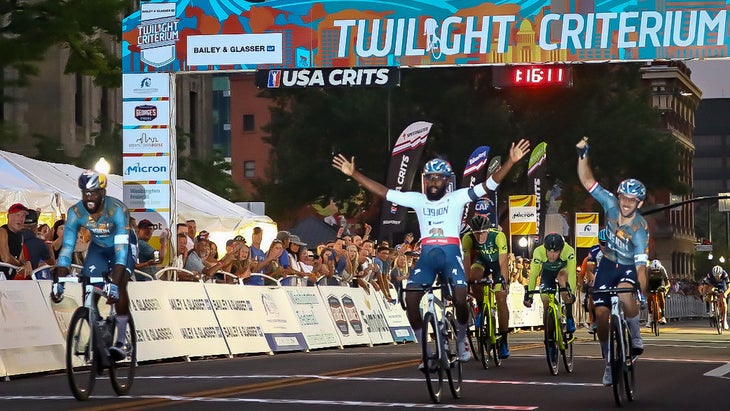 "It's all for one, and one for all," Justin Williams said after his win. "We have an incredible group of guys who have bought into what we are doing, and that goes beyond bike racing."
Williams said he and his team were happy to be back racing criteriums again.
"We are grateful for everyone who showed up," he said of the Boise crowd. "I couldn't hear anything on the last lap, and that's exactly what we want. With the capitol building to your left, lighting it up at 45mph [in the final sprint], it's an amazing feeling. Boise is good to us every year; it's one of our favorites on the tour."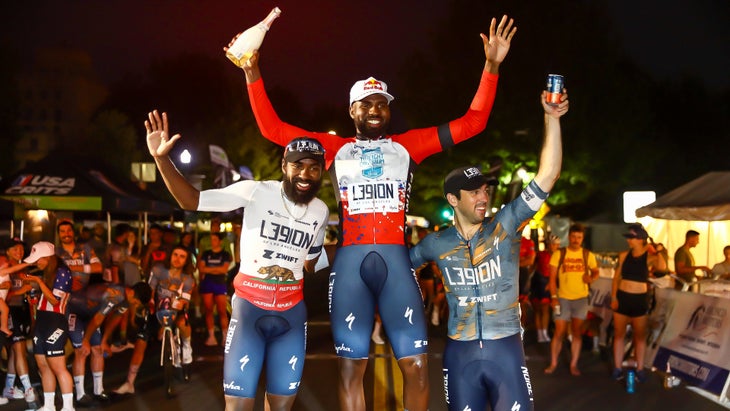 Bailey & Glasser Twilight Criterium Men's Results
Justin Williams (L39ion of Los Angeles)
Cory Williams (L39ion of Los Angeles)
Ty Magner (L39ion of Los Angeles)
Scott McGill (Aevolo)
Sean McElroy (Aevolo)