Stephen Roche and the chase for cycling's elusive 'triple crown'
Only two men and one woman have achieved cycling's hardest treble. We asked Stephe Roche why it's so hard.
Photo: NUTAN/Gamma-Rapho via Getty Images
Heading out the door? Read this article on the new Outside+ app available now on iOS devices for members! Download the app.
The 2023 season debuts this week with an interesting wrinkle in the calendar that could open the door for someone to take on cycling's most elusive milestone — the "triple crown."
For the first time since 1994, the elite road world championships will be contested in August. Glasgow will host the UCI's first "mega worlds," which will include world title races across 13 disciples August 3-13.
That calendar tweak — with the UCI promising to host the "mega worlds" every four years on the Olympic cycle — presents the unique possibility that someone might have a better chance to join cycling's most elite club.
The so-called "triple crown of cycling" is victory in the Giro d'Italia, Tour de France, and road worlds, a feat achieved only by two elite men and one woman across pro cycling's century-long history.
Also read: Pogačar likes what he sees in 2023 Tour route
Why is it so elusive? And could someone try to pull it off in 2023?
We decided to ask Stephen Roche, who along with Eddy Merckx, are the only two elite men to have achieved cycling's most elusive milestone.
"It's not that the riders haven't been capable of doing it, but so many things have to come in place at the right time," Roche told VeloNews. "There have been good riders capable of doing it. Things just haven't come together."
Roche, 63, has watched with interest over the years as the decades unfolded to see if anyone could come close. A few have tried. For one reason or another, each have fallen short.
"It's nice just being the two of us," Roche said in a telephone interview. "It's good company, to be honest. It's quite a nice feeling when I look back."
A private club of the elite few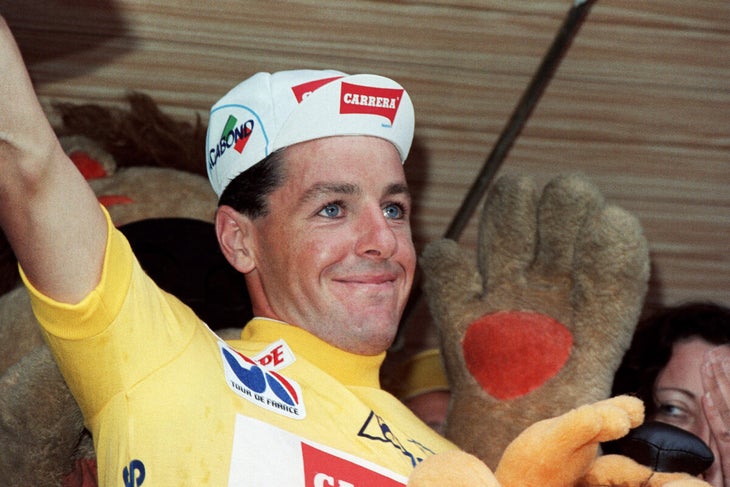 Across professional cycling, there are innumerable clubs with very elite memberships.
There's the Tour de France "five-win" club, the grand tour "triple crown" sweep, and the elite men's world championships "three-win" rainbow jersey club. And the one-day's "five-win" monument sweep.
Only the best of the best are invited. Eddy Merckx, Bernard Hinault, and Marianne Vos regularly fill out the ranks of these all-time lists.
Also read: Van Vleuten is the VeloNews rider of the year for 2022
There's one cycling milestone that defies almost everyone — cycling's elusive "triple crown."
That rare treble is victory in the Giro d'Italia, Tour de France, and world championship in the same season.
Only two elite male riders have pulled it off. Eddy Merckx first accomplished the feat in 1974. Stephen Roche made an even more unlikely entry in 1987.
"Often times a Tour rider isn't a great sprinter. Or if they're a decent sprinter, they're not climbing with the best to win a grand tour," Roche said. "And in many worlds courses because they're circuits, a true grand tour winner will have difficulty having a chance against the pure sprinters. Everything has to go just perfect."
Since then, only a few riders have come close, with Indurain winning the Giro and Tour in 1992 and 1993 to build two of the three legs. In the 1992 worlds, he was sixth, and none other than Lance Armstrong beat him in 1993 when the Spanish star finished second.
Annemiek van Vleuten equaled the mark in 2022 in women's racing, with wins at the Giro Rosa, the inaugural Tour de France Femmes, and the road title in Wollongong. In fact, she surpassed it, winning the Ceratizit Challenge by La Vuelta as well, creating her own one-member "Van Vleuten club."
Scheduling counts, and that's why 2023 could provide a chance for someone to pull it off.
Since the road worlds were moved to mid-October and now late September, conventional wisdom says that's simply too late for someone to rebuild form.
A worlds scheduled in August could mean someone could carry winning form from the Giro, through the Tour, and stagger into the road race with just enough gas in the legs to try for the treble.
Roche said a summertime worlds is the most realistic for a run at the treble.
"Some say they want more time for recovery, others say the season is over after the Tour, and you cannot keep that intense training up for the worlds again in the fall," Roche said. "Before the worlds were in August. Now they're in late September or October. Those extra few weeks make a difference."
Of course, first you have to win the Giro and the Tour — something that hasn't been done since Marco Pantani in 1998 — before arriving to the worlds.
That's the hardest part of the puzzle.
Indurain came close in 1993. After winning the Giro and Tour that season, he was a favorite for the stripes. A largely unknown Texan would have something to say about that.
"Indurain would have won in 1993, but Lance got away in that one and kept Miguel from winning the worlds," Roche said before joking, "That stopped Miguel, so thank you, Lance.
"Indurain would have been a deserving triple crown member."
Each treble tells a different story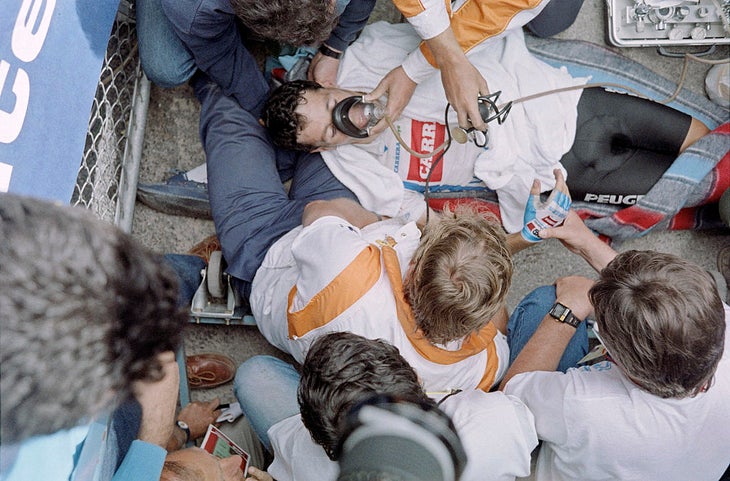 Each treble unfolds like a miracle story.
In 1974, Merckx was coming off a spring campaign without a "monument" victory to claim a Giro riddled with injury. In fact, 1974 would be the Cannibal's high-water mark, winning a fifth Giro and Tour, respectively, and then delivering cycling's first "triple crown" with his third and final rainbow jersey in Montréal. He never won another grand tour.
Van Vleuten became the first woman to do an official triple in 2022 in the first chance in modern cycling to equal the mark. French rider Catherine Marsal did a version of it in 1990, though it was not an official version of the Tour de France that she won.
In reality, there have only been three years where it has been possible to attempt an official women's triple, in 1988 — when the Giro d'Italia Donne was first raced — in 1989, and 2022.
Also read: Interview with King Merckx
No one ever won earlier carnations of the Tour de France Femmes or Giro Rosa back-to-back with the stripes as the cherry on the cake. After roaring to victory at the Giro and Tour, Van Vleuten defied the odds in Wollongong to shake off a freak injury in the time trial to win her second road title for women's racing's first "triple crown."
Perhaps Roche's is the most unlikely.
In 1987, Roche had a superb spring and came into the Giro with flying form. Nonetheless, he had to defy team orders and race for himself to beat back teammate and national favorite Roberto Visentini to win the Giro, a first for a non-European rider.
"The Italian public wanted to kill me," Roche said. "They were punching me on the hills, and yelling in my face, and spitting red wine at me.
"I only had Robert Millar and Eddy Schepers riding with me, because my own team were not riding with me. They helped me to keep the crowd away … It was quite complicated."
The Tour was even more unlikely. Defending champion Greg LeMond was recovering from his freakish hunting incident, meaning the yellow jersey was up for the taking.
Roche battled through a mountainous edition of the Tour to win in part thanks to monster TTs, including an 87.5km time trial that kept him close to the climbers. Roche used the final time trial to reverse a deficit to win by 40 seconds, then the smallest margin in Tour history until LeMond returned to beat Laurent Fignon by eight seconds in 1989.
"I decided very late to race the Tour," Roche said. "I was 100 percent mentally ready for it, but only 80 percent physically. I stayed in there going into the third week, and then I saw it was possible."
Roche went to the worlds, that year contested in early September in Austria, to help Irish national teammate Sean Kelly.
Fate turned his way once more. Roche covered late attacks to set up Kelly, and suddenly saw an opening he couldn't refuse. Everyone was playing cat-and-mouse both in the front group and the favorites' chasing group, and Roche pounced with 500m to go to deliver the miracle victory.
"I had no pressure and I had no thoughts of winning the worlds. We were there for Sean," Roche said. "When I got there, everyone was saying it was a sprinter's course, but it was a circuit with two climbs, and it was a wearing down process. It was only a few days before the race that I actually thought this could suit me.
"No one would be looking at me, because he's tired from the Giro-Tour, and I thought I can use that for my advantage," he recounted. "On the day of worlds, it raining and 4-5C, really Irish weather. Even if I was tired, with was my kind of weather.
"My mind was still to ride for Sean. I rode all day for him to make sure he was in a good position," Roche said. "A break went with two laps to go, and I covered it, and Sean wasn't there. The group was afraid of bringing Sean across, so I had to dig into my tactics book and come up with a plan.
"I had to wait tactically, and I did a clever thing in the end," Roche said. He jumped as the lead bunch was powering closer, and dove across the fences. He opened a gap, and held on to win ahead of the chasing Moreno Argentin by one second.
The treble was his.
Can anyone match history?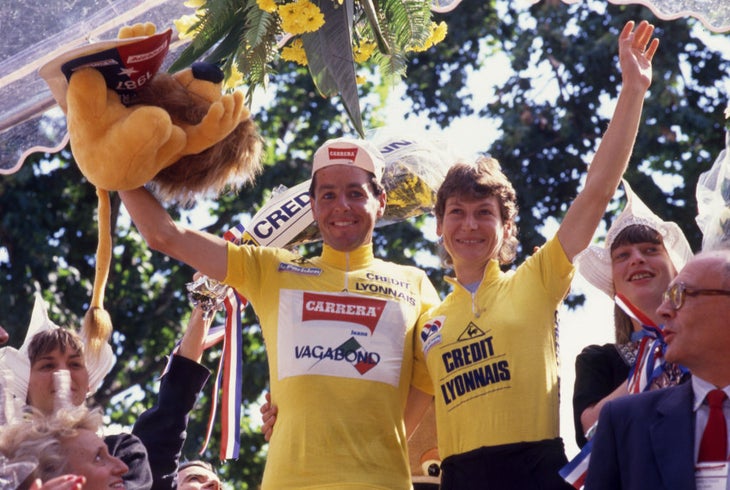 Roche thinks the elite men's club will remain with just two members for the time being.
"For the moment, I cannot see the big stars doing the Giro-Tour double anymore. It just takes so much out of them," Roche said. "Froome tried a few years ago, and he had to go so deep to win the Giro he couldn't win the Tour. Contador and Nibali tried. Cycling is just different now.
"Racing is so much more controlled these days. Teams sacrifice a lot of riders. Teams have these trains to set tempo on the climbs," Roche said. "I'd like to see a bit of more old-school tactics, some bluffing, and some long-distance attacks."
Also read: Evenepoel admits it will be hard to top 2022
Of today's pros, does Roche see anyone capable of pulling it off? He doesn't hesitate.
"Pogačar," he said. "He is a very good all-rounder. You see how fast he is in the finales, so he could easily win the worlds. But right now they're concentrating to win the Tour.
"Pogačar is attacking from far away, and we saw Remco, too, so that's good for the sport," Roche said. "I welcome that."
'Long may it last'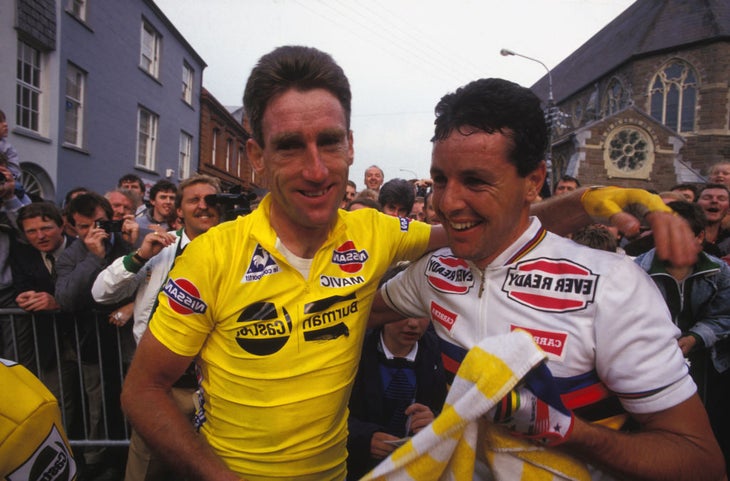 Will someone equal the mark in 2023?
The placement of the "mega worlds" in August provides perhaps the best opportunity in decades. The worlds are back in its "traditional" spot in the mid-summer date after the Tour.
On the men's side, it doesn't look likely, however. Neither Pogačar nor Jonas Vingegaard are racing the Giro. Remco Evenepoel is targeting the Giro and, so far at least, he hasn't shown any hints of racing the Tour.
Van Vleuten could repeat her own seasonal sweep and will be the favorite in every race she starts.
Roche is just fine to see himself alone alongside Merckx in the men's record book.
"It's nice to have that mark on your CV," Roche said. "It's nice to be first English-speaking rider to have won the Tour and to win the triple. All these things are very special.
"I'm the only guy with Eddy Merckx to have won the triple," Roche said. "It's nice to hold it, and long may it last."