Stuart O'Grady shakes up the Santos Tour Down Under blueprint
Australia's biggest race returned following a two-year COVID absence – new race boss O'Grady faced the challenge of not messing up a good thing.
Photo: Tim de Waele/Getty Images
Heading out the door? Read this article on the new Outside+ app available now on iOS devices for members! Download the app.
ADELAIDE, Australia (VN) — Riders woke up Sunday ahead of the final stage of the Santos Tour Down Under not knowing how the race was going to unfold.
That was music to the ears of new race director Stuart O'Grady.
Ex-pro O'Grady took over the reins of race director after the 2020 edition. A two-year COVID stop put a kink into his plans, but he was determined to change the script.
"I was talking to Matty Hayman this morning, and he said he has no idea what will happen," O'Grady said of the Jayco-AlUla sport director. "And I think that's perfect, that's exactly what I wanted to hear and see.
"I didn't want to hear guys say, well, we know Richie [Porte] is going to attack at the same corner he always attacks at up Willunga."
That uncertainty was in sharp contrast to the recent editions of the men's WorldTour opener, when everyone knew exactly how the week was going to unfold.
For years, the Australian race traced through some familiar stages and ended with a final romp up Old Willunga Hill. And for six out of seven years in a row, Porte won with a race-ending exclamation point, usually attacking at the exact point on the final climb.
For 2023, the deck was reshuffled, and Old Willunga Hill wasn't even featured in the six-day  course.
Instead, the men's pack pedaled into the final showdown on Mount Lofty, the highest point in the Adelaide Hills, with five ascents and everything in play.
"We don't know what's going to happen today, and that wasn't always the case at the Tour Down Under," said two-time Tour Down Under winner Daryl Impey on Sunday. "Change is good. Not that any race is predictable, but it's nice to see the race take on a new look."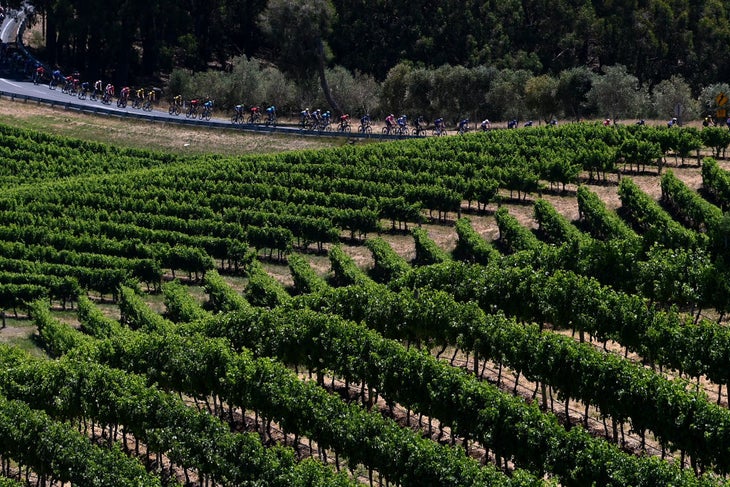 For 2023, there was plenty of "new" at Australia's most important stage race.
The women's race was elevated to WorldTour status, delivering an exciting showdown and a high-profile platform.
The men's race not only saw Old Willunga Hill out of the race, but the route also included its first time trial — in the form of a 5.5km prologue — in race history.
Riders and teams noticed the changes, and there was exciting racing across both men's and women's races.
"I've done a few races now here at Down Under, and Sunday is the hardest stage we've ever done in the history of the race," said George Bennett (UAE Team Emirates). "It's not like we're riding laps around, with the champagne on ice. It's been hard racing every day and anything can happen."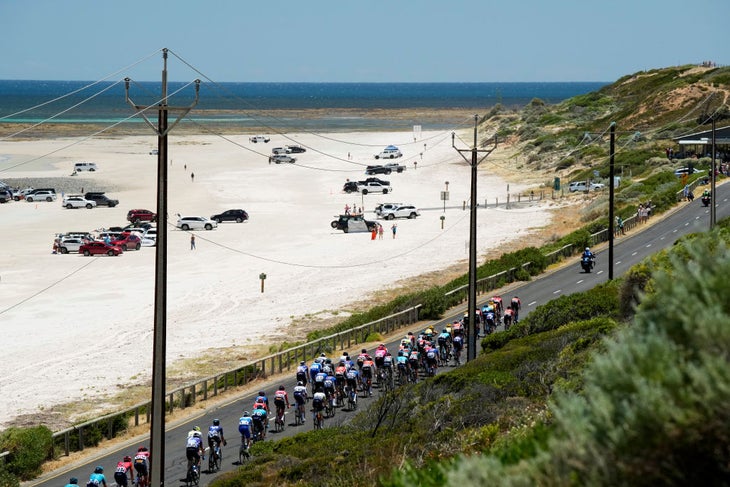 O'Grady took over the top spot on the race following the retirement of race founder Mike Turtur. O'Grady grew up in Adelaide and trained and raced on the local roads his entire life.
When he slotted into the race director's role, he wanted to tweak what's already been a popular format for both racers and teams as well as fans, who often fly in for the week to cycle and watch the racing.
There was also the challenge of not ruining a good thing.
The TDU is one of the most popular races on the WorldTour circuit, with its unique "clover-leaf" format and its Australian-summer dates that draw in fans.
O'Grady admitted it was a balancing act, but was determined to leave his stamp on the race.
"We put in a lot of thought to build a race that is exciting and challenging, but with the balancing act that it's January," O'Grady said. "We wanted to create launchpads for attacks, but not do the same thing year-in and year-out.
"We're trying different things in the race. The riders will climb up anything. Everyone always associated the race with Willunga, and that's exactly why I wanted to change it," O'Grady said. "Willunga was great, but Mount Lofty will bring different tactics because it's new.
"It's been a blank canvas for us in many ways this year," O'Grady said. "The weather had an impact on the prologue, but from a race point of view, you have straight away, guys need to attack to get back time. We wanted to mix it up, without making it too difficult."
Local organizers produced an Aussie-only place-holder event for two years during the COVID lockdown, but now the race is back on the WorldTour.
"Everyone is stoked it's back. I was worried that when COVID hit that it wasn't going to get its funding," said winner Jay Vine. "We saw races go out of business in the States. It is very good that we have a WorldTour stage race going on down here."
Despite the turmoil wrought by the pandemic, O'Grady said there was never any danger that the race might have been another pandemic victim.
"The support from the sponsors was absolutely incredible. It was the opposite effect, we've had new sponsors getting involved," O'Grady said. "There was never any danger of the race going anywhere."
O'Grady was more than pleased with his first edition, and promises more innovations
"Getting the race back was so important. The guys and girls came out guns a-blazin', and we wanted to make the back-end of the stages a little more challenging," O'Grady said. "We've been wrapt how the races unfolded."
Plans are already underway for 2024 and the race's 25th anniversary.
O'Grady smiles and says he has a few more surprises up his sleeve.