Tall boys: How the peloton's tallest racers use height to their advantage
From super-sized seat posts to XL frames, the peloton's giants see racing from a different point of view: 'I have a very good overview.'
Photo: Alex Broadway/Getty Images
Heading out the door? Read this article on the new Outside+ app available now on iOS devices for members! Download the app.
Cofidis rider Max Walscheid is used to towering over the peloton, but even he admitted he did a double take when Mathias Norsgaard of Movistar saddled up next to him in the bunch at the recent Saudi Tour.
Walscheid is a solid 6-foot-5, and the German is among the tallest riders in the elite men's peloton. Yet Norsgaard tops him out by an inch or so.
"I was surprised in the race the other day because this guy was even taller than me," Walscheid said with a laugh. "I am not used to that."
In a sport where weight is paramount, and the peloton is often full of pint-sized climbers and leaned-down GC contenders, riders like Walscheid and Norsgaard ply their trade at the other end of the performance spectrum.
As the giants of the peloton, they quite literally stand out in the crowd.
The 29-year-old Walscheid is usually the tallest rider in any race he starts — except when Norsgaard is there — and he's been the tallest rider in the Tour de France the past few editions.
Racing a few inches taller than the rest of your rivals can have its upsides and its disadvantages.
"I am more powerful, so I have more power output, which makes it easier in the flats and in crosswinds," Walscheid told VeloNews. "But unfortunately I need to carry this weight uphill."
Paying the price on the climbs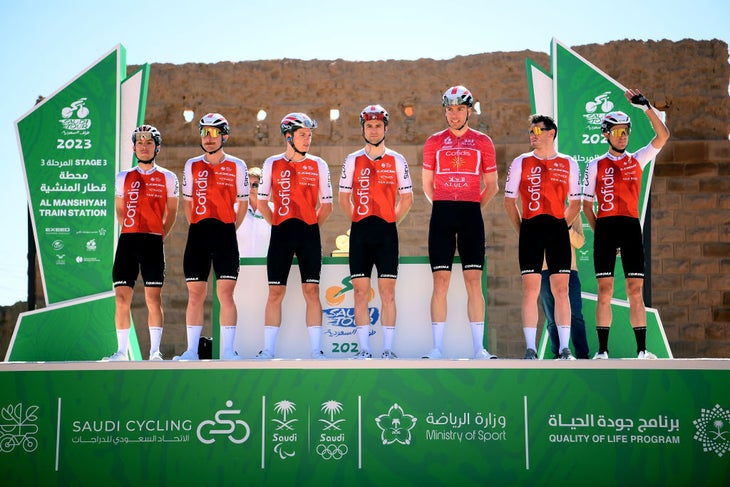 Walk around the start line of any bike race, and there are seemingly plenty of riders challenging Walscheid for his crown these days
Team DSM is often loaded with tall, lithe Dutch and German riders, while Jonas Rutsch (EF Education-EasyPost) clocks in at 6-foot-4.
Uno-X brings an entire squad packed with upstart Norwegians and Danes who could stand in for a decent lineup for a college basketball team.
Uno-X rookie Søren Wærenskjold, who won stage 3 at the Saudi Tour, also stands tall at 6-foot-3.
Bigger riders can produce bigger power, and when the conditions are right, the results can be impressive. Wærenskjold roared to victory and even Walscheid was in awe.
Another rider in the big boys club is Norwegian rider Vegard Stake Laengen, At 6-foot-4, he's been riding point for Tadej Pogačar in the past three editions of the Tour.
What's not to like about riding in his slipstream?
"For my teammates, it's a big advantage because they can stay on my wheel," Laengen said. "For me, it's a disadvantage because I have to produce more energy, but us big guys, we can produce more watts. On the flat, it's good to be big, but when you have the climbs, you pay for it."
John Degenkolb knows what it's like to ride behind the peloton's giants. He raced behind Walscheid at the former Sunweb team, and he's still riding the slipstream of his oversized teammates at Team DSM.
"For sure, it's an advantage behind one of the bigger riders," Degenkolb said. "Walscheid is sometimes too big, I am sometimes having to look underneath him. If you have a tall guy in front of you, it gives you more shelter and more slipstream.
"I think it can have its disadvantages," Degenkolb said. "When you see in a team time trial, then sometimes it's ineffective to have such taller riders. It's better to have all the same size and to be more efficient as a team."
Conor Dunne (2.04 m) y Samuel Dumoulin (1.59 m). El irlandés estuvo ayer en una de las fugas de #Richmond2015. pic.twitter.com/oqKWe7PDd6

— Respira Ciclismo (@RespiraCiclismo) September 28, 2015
By most measures, ex-pro Conor Dunne is considered the tallest pro in the modern era, coming in at a towering 6-foot-8.
A few years ago, ProCyclingStats analyzed the numbers and found the average weight of riders on the elite men's WorldTour was 68.8kg (151lbs) and their average height was 1.81m (5-foot-9).
After Samuel Dumoulin retired a few years ago as the smallest rider at 5-foot-2, Laurens Huys of Intermarché-Circus-Wanty appears to be the shortest WorldTour rider in 2023 at 5-foot-3.
The perfect wheel to follow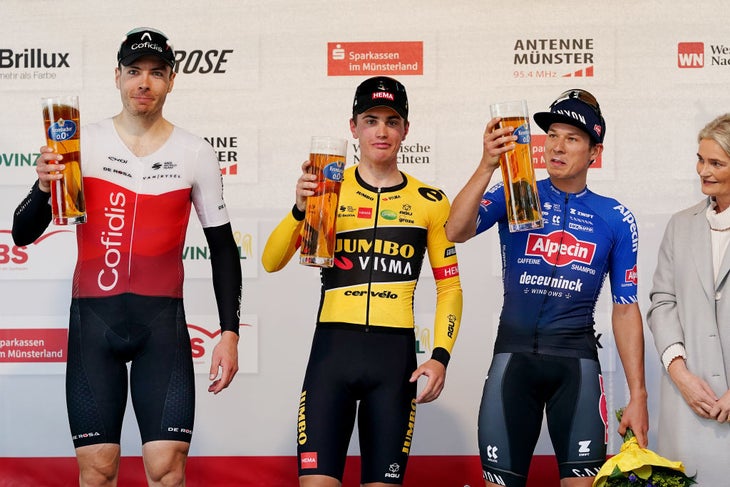 Taller riders are typically slotted into helper roles, like Laengen, who's chaperoned Pogačar in three straight Tours. In fact, he's the only rider who's been with Pogačar in all three Tours the Slovenian's raced.
Walscheid also uses his height as an advantage in the sprints, time trials, and some of the cobbled classics. Versatility is key to staying in the game.
"I know I will never win in the mountains," said the German, who's won 12 races in his career, none of them mountaintop finales. "I can do well in the sprints, the cobbled classics, or at least the ones that are flat. I want to improve my time trial, and I can help the leadout."
Tall riders can win grand tours. Bradley Wiggins at 6-foot-3 is the tallest Tour de France winner in history, while five-time Tour winner Miguel Indurain and Chris Froome come in only slightly shorter.
In the argy-bargy world of the peloton, Walscheid said smaller riders often get spooked when his hulking mass powers up next to them in the bunch.
"I have the feeling that riders are a little bit offended when you ride next to them because someone is there who is 50 percent heavier, so you need to be a little bit careful not to scare someone," he said. "In hectic situations, riders are getting more aggressive toward the taller riders because they feel like that we want to fight them off."
One disadvantage: No bike swaps possible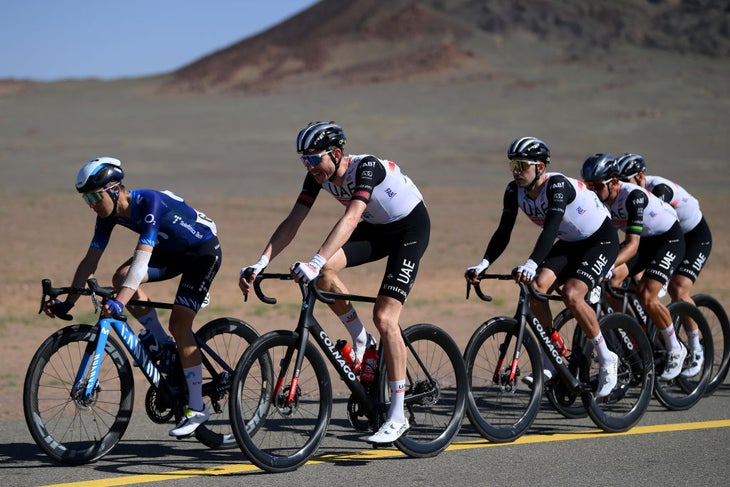 The UCI also keeps tabs on the peloton's tallest riders.
Why? It's due to rules that limit the horizontal distance between the center of the bottom bracket and the tips of the extension bars on time trial setups. The rules state that cannot be longer than 75cm, and because one size does not fit all, the UCI allows exceptions for riders taller than 1.90m.
Perhaps somewhat surprisingly, none of the tall-sized riders say they experience any major difficulties or challenges with equipment.
Most riders say they can race on the XL-size frames being provided by their respective frame suppliers.
"I have the biggest bike that Colnago makes, and I am happy with the bike," said UAE's Laengen. "I've never had any problems with materials due to my height. If you were a bit taller than me, it could be an issue.
"I have a special seat post, maybe it is 88cm from the center to the top, but other than that, everything is the same as the others. I did cross-country skiing before in Norway, and there are a lot of tall guys in that sport because it's all arms and legs."
One downside: Tall riders cannot swap out their bike if a teammate has a mechanical, and they cannot ride one of theirs.
"That is a problem, I can only take my own bike, and I cannot give mine to anyone else," Walscheid said.
The giants like Walscheid curse flying economy in the many flights that top-level pros endure during a season, but there is one definitive upside.
For riders like Walscheid — who is also known for his ability to ride wheelies — the view inside the bunch is head and shoulders above the rest.
"I also have a very good overview. Maybe I can see the race a little better, especially in echelons, because in position 50 I can still see what is happening in the front, and that's a bit of an advantage," Walscheid said. "In the sprints, you are focused only on the rider in front of you, so it doesn't make that much of a difference.
"During the race, I can see what is happening that perhaps other riders cannot."