Team Tibco takes UCI license to Europe in 2010
Team Tibco is taking its 2009 National Racing Calendar overall title across the Atlantic in 2010. Tibco director Linda Jackson Jackson will use a two-month European campaign in April and May to prepare her riders for 2012 Olympic selections, which get underway in 2011.
Heading out the door? Read this article on the new Outside+ app available now on iOS devices for members! Download the app.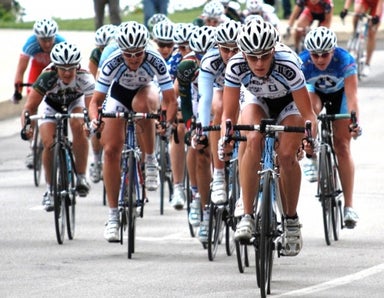 By Brian Holcombe
Team Tibco is taking its 2009 National Racing Calendar overall title across the Atlantic in 2010. Tibco director Linda Jackson will use a two-month European campaign in April and May to prepare her riders for 2012 Olympic selections, which get under way in 2011.
On the continent
For the first half of 2010, Jackson will keep six to eight riders stateside and send six riders to Europe for a campaign she hopes will include the spring classics and the Tour de l'Aude Cycliste Feminin.
Brooke Miller and Joanne Kiesanowski will be among those spearheading the European push.
"We'll have the one-day classics where we hope that Joanne and Brooke are going to be really strong," Jackson said. "I never go anywhere to just be there and be pack-fill. I want to go over there and have some results. We'll be looking to produce results in these races and factor in these races."
The European stint is right up the alley for Miller, who won a stage at the Tour de l'Ardèche in 2007. "My whole career focus is on Europe and international racing," Miller said. "Linda's focus is on developing riders that have the kind of ambitions that I have in terms of world and Olympic championships. The way to accomplish those goals is to go to Europe."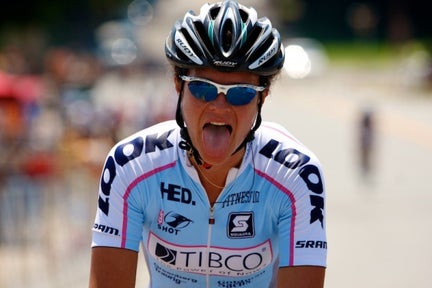 Miller, the 2008 U.S. criterium champion, should lead the team's European campaign following a 2009 season that she called disappointing. "Last year definitely felt like a slump," she said. "In the spring I was really having some health issues. I'm asthmatic and because I'm in the out-of-competition drug testing pool for USADA, the medication that I've been taking since high school, on and off over the years, I'm not able to take without a therapeutic use exemption."
When her TUE was delayed for two months, Miller, who was divorced in 2008 and lived in a friend's dining room and on the road for much of 2009, missed much of her base training leading into the season. Her asthma is not athletically induced and would strike at night, robbing her of her ability to recover. The asthma led to a sinus infection and then laryngitis for two months.
Miller will take a refreshed approach to the 2010 season, free of asthma-related health concerns and living with her boyfriend in Sebastopol, California. "Already I can tell you it's a world of difference to where I was last year right now," Miller said. "I was just really worn out from this nomadic and stressful — emotional — couple of years that had really taken its toll. I really just have this fresh start to the season this year."
Longtime U.S. national team supporter Chris Georges will direct the team in Europe and riders will be based in his Le Monastère hotel in Limoux, France. The team's preliminary European schedule includes the Ronde van Vlaanderen on April 4, the Unive and Novilon Eurocup Ronde van Drenthe on April 10 and 11, La Fleche Wallone on April 21, GP Stad Roeserare on April 25 and the Tour de l'Aude Cycliste Feminin May 14-23.
Meanwhile, back at the ranch
Veteran Meredith Miller, the 2009 U.S. national road race champion, will return in 2010 and should provide the backbone of Team Tibco's domestic program. Miller looks forward to working with young riders like Ali Starnes and new hire Amanda Miller in her eighth professional season.
"We will have a pretty young team in 2010," Miller said. "I really hope to pass down a lot of different qualities as far as being a leader and the experience that it takes to be a good teammate."
While Miller will don the stars-and-stripes jersey in 2010, the longtime domestique will not let her clothing dictate her role in the team. "I'll still be a team captain, but when we're going into races that are better suited to other riders, I am there 100 percent to be a teammate and support rider," she said. "If the opportunity presents itself in some races for myself to go after a stage win or criterium win, then so be it, but for me, I always want to be the most consistent rider so that I show up at every race able to help the rider that we've deemed the leader for the day."
With Miller in the captain's seat and Jackson at the helm domestically, Team Tibco will look to repeat its NRC overall team title from 2009, although Jackson maintains a one-race-at-a-time focus. "I want to be the No. 1 team again, but we want to win races first and that will come," Jackson said. "Our primary focus is to win every race that we go in to. That's always our focus."
Tibco ran away with the 2009 NRC team title, outpacing Alison Powers and Team Type 1 by nearly 400 points. With Powers' move to the new Team VBF for 2010, the race for the team title should tighten up. Jackson welcomes the competition and, in fact, would like to see more of it.
"What the North American women's peloton has suffered from in the past is just a few strong teams," she said. "We welcome the competition. I hope it's five or six strong teams up there and not just one or two."
Regardless of how many teams feature on the sharp end of the domestic women's peloton in 2010, Team Tibco should factor strongly in racing on both sides of the Atlantic.
Team Tibco Confirmed Roster for 2010:
Joanne Kiesanowski
Amanda Miller
Brooke Miller
Meredith Miller
Ali Rosenthal
Ali Starnes
(Full roster to be announced in early 2010.)