Travis McCabe Q&A: Starting 2017 with a win; how to sprint a tandem
Travis McCabe talks about his big early season win at the Sun Tour, WorldTour ambitions, shenanigans at El Tour de Tucson, and his goals.
Heading out the door? Read this article on the new Outside+ app available now on iOS devices for members! Download the app.
It didn't take long for Travis McCabe to get comfortable with his new team, UnitedHealthcare. At his first race of the season, last week's Herald Sun Tour in Australia, the 27-year-old American sprinted to one of the biggest wins of his five-year pro career in stage 3. Still Down Under, ahead of a trip to Malaysia for the Tour de Langkawi, McCabe took some time to discuss his career trajectory, racing style, and his hijinks at El Tour de Tucson.
VeloNews: How does Saturday's win at the Herald Sun Tour rank with your other major victories?
Travis McCabe: I'd say it's pretty far up there. For the beginning of the year, it's almost like last year where I started with a podium in San Luis and then coming here this year with the team and actually winning was even better. For wins, probably top three. It was up there and one of the better moments. With all the crashes it sucks. It was great. Really happy with it, I think the whole team was happy with it. All the guys rode really well. For the first race with the new team and learning how to race with the guys, it was great. [Tanner] Putt just taking care of me. It was one of the easier wins I'd say that I think I'll probably get all year.
VN: And in that sprint, you weren't intimidated by Mitch Docker's mullet/mustache combo?
[laughs] It's pretty awesome right now … No, I wasn't too worried.
VN: This was your first swing Down Under to Cadel's race and the Sun Tour, races that may not be familiar to Americans. What should we know about these races?
TM: Man it's hard. It's some hard racing for January. We came into it knowing that. … Sun Tour was a lot harder this year than last year because they added kilometers to it. Every day was what you'd expect, four hours, four and a half hours of racing. It was tough. Cadel's race was just brutal with the heat and it being a WorldTour race, it was my first WorldTour race. That one as a one day is just brutal for January. Fun, really cool atmosphere. Australian racing, I would say it's pretty similar to the U.S., a lot of support from the community, which is cool to see. I think coming here I was expecting it to be flat. Every day was rolling hills. We had a 30k climb the first day!
VN: A lot of riders in your position are trying to break through to the WorldTour. Is that a top priority for you right now?
TM: Oh yeah, that's the ultimate goal. I want to get to that level and see how I'd compete at that level. Cadel's race was the first race where I'd seen where I could be. I was pretty happy with it. It was really the first race of the year. I came off on the last lap, right at the steepest part of the first climb. I was a bit disappointed that I wasn't able to hang in the group. You kind of see what it takes. How much energy you have conserve. It's that next level up. It's motivation. For me the goal is to go to the WorldTour, obviously. That's what we're all dreaming of. At the same time, I'm pretty really happy with the UHC team and riding at the Pro Conti level now. It's kind of nice. If I was WorldTour we'd be off to another race just thrown into the season. We did Cadel's Race and Sun Tour and now we're waiting for Langkawi. So now we have these two weeks just staying in Melbourne, getting to explore the city, being down a notch is kind of nice. Not that we're on vacation, but we're able to see more of the world than to just be in a plane flying from one stop to the next. It's hard to beat the Pro Conti lifestyle right now.
VN: In terms of your characteristics as a racer, how do you see yourself fitting in now and in the future?
TM: I know I'm not a pure sprinter. I can't sprint with the Cavs, Kittels, and the Greipels. I do think have that next tier of sprinting, more of like a [John] Degenkolb-style rider. I think the punchy stuff, anything with like 10-, 15-minute climbs is good for me. I see kind of more that Simon Gerrans style, Degenkolb style, any race that is really hard and punchy. You lose those big sprinters, where it comes down to a sprint of 50, 60 guys. That's where Cadel's race was perfect for me. I thought I was going to make it, I had a chance. You learn from that, there's definitely still room for improvement. You have to race so smart here, at that level, you have to conserve every bit of energy until it really matters. That I'm still learning.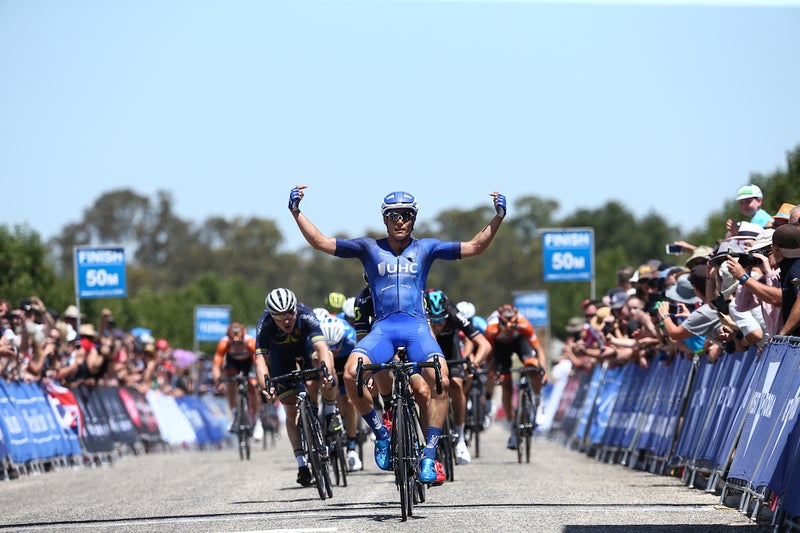 VN: Between you and Mike Woods, there seems to be a collegiate runner pipeline to the peloton.
TM: Same with [Matthew] Busche, he was a runner too when he first started, he was a steeplechaser. Woods is on a whole 'nother level. I was nowhere near where what he was doing when he was 18. He was a freaking prodigy. I ran in high school, one year in college, and then that's when I started finding cycling. Kind of hated running. You start riding, you kind of catch that bug.
VN: So no triathlon?
TM: No I can't swim. I tried. And then I was like I'd rather be really good at one sport rather than just decent at three of them. I mean now … Yeah, no. I don't think I could handle the workload. We have some pro triathletes in Tucson, and I see what those guys are doing, it's just insane.
VN: A few years ago, you told DrunkCyclist that you did El Tour de Tucson on an Eliptigo; surely you've topped that with even crazier shenanigans?
TM: The Eliptigo, that was hard to beat. If you can find a photo … I'm in daisy dukes and a neon florescent tank-top, a few beers in. Ah man, what have I done … Oh God.
That was pretty hard to top. That was spur of the moment. I've toned down a bit … No? Tanner's [Putt] like 'No it hasn't toned down at all.' Last year a friend of mine had shoulder surgery, so I did El Tour on a tandem with his 45-year-old wife. I did like three days of training for that. That was hard. That was not what I was expecting.
VN: Was it the long route?
TM: Yeah, 104 miles. We ended up second, we lost in a sprint to another tandem couple. That was nervous, trying to sprint with a 40-year-old woman on the back and trying to win it. … She knew what she was doing, but man that was pretty scary.
I can't say I've done anything too crazy the past year, unfortunately… Nothing yet, but it's still early.
VN: Is pro cycling too serious, or do we fans not have an opportunity to see you guys when you're more relaxed, not in "race mode?"
TM: I think the WorldTour level, it's really serious, those guys take it as a job. … I'm sure they love it and they enjoy it. We do ride pretty seriously. We don't loosen up that much. It's funny you have all the guys who say they're trying to change the sport, and I think they kind of are. You see some guys have more of a character, who are trying to do more, like Lachlan Morton with the "Thereabouts" and stuff — 'Yeah, we're just normal guys who want to ride way too long and way too hard.' It's too serious sometimes, most of the time. That's the problem, we're in this bubble, and we're not looking outside. All we're really doing is wearing spandex and pedaling circles.
VN: You still into Taylor Swift?
TM: Yeah I have the "1989" album, so that's pretty good.
VN: True or false: Kanye actually did make her famous.
TM: Oh man, I'm more of a Kanye fan now so I'm gonna say yes.
VN: Okay, one last serious question: What's one race you really want to win this year and why?
TM: They're two — one's California, I think the Santa Barbara stage — there are a couple stages that are good for me. [Amgen Tour of] California is the ultimate goal with the team. Winning a sprint too. It'd be nice to showcase that we have ability and the team to go against the WorldTour guys in the sprints. With [Greg] Henderson, with Putt, Adrian Hegyvary, and with all of the climbers. We have a strong leadout team, It'll be hard to beat us.
After that more personal goal is national championships. Third last year, second in 2014, it'd be nice to get that win finally. I don't know what the Knoxville course is going to look like, but if it's anything like it's been the last three years, I think I'll have a good chance of winning it. I had a great team last year to race with, but I think now we'll have more of a presence. We can take more control of the race. Those are the two big ones.