Villalobos heads to WorldTour with EF Education First
After his impressive ride at the Tour of Utah, Mexican rider Luis Villalobos is headed to the WorldTour with EF Education First-Drapac.
Heading out the door? Read this article on the new Outside+ app available now on iOS devices for members! Download the app.
Mexican rider Luis Ricardo Villalobos, the revelation of this year's Larry H. Miller Tour of Utah, is set to make his WorldTour debut in 2019. EF Education First-Drapac has signed the 20-year-old to a three-year contract less than a month after Villalobos won the best young rider's jersey and finished eighth overall at the Utah race.
For 2019, Villalobos will ride with his current team Aevolo during the spring months, and then join EF in the summer.
In an official statement sent to VeloNews, EF Education First stated, "Luis will continue his development with Aevolo for the first half of 2019. Then, if all goes well, he will join us on the WorldTour for the second half of 2019."
Villalobos said he had a WorldTour offer from Dutch team LottoNL-Jumbo, but chose the American EF squad because of the team's commitment to his continued development. He said Aevolo director Michael Creed also helped him navigate the opportunities that he had for the WorldTour.
The EF deal "was very good for my development and to help me mature both for my body and mind," Villalobos said. "It was a better, long-term opportunity and less pressure when climbing to the WorldTour."
Villalobos's jump to the WorldTour marks an important milestone for Mexican cycling. It has been nearly 20 years since a professional cyclist from Mexico has stepped from the lower ranks directly into cycling's top echelon.
A family legacy in cycling
Villalobos comes from a cycling family. His father, Juan Francisco, rode professionally in Mexico with the Canel's Turbo squad, and also competed abroad. He finished second at the 1993 Vuelta a Mexico to French legend Laurent Fignon. Family commitments and cycling politics kept him from pursuing a career in the sport's top echelon.
"He suffered a lot in Europe, 'con hambre (with hunger)' he would say," Villalobos said about his father. "He didn't want for us to go through the same thing he did, he wanted us to get an education, he never wanted to take us out on the bike."
Luis Villalobos took up cycling and showed early promise. At age 17, he finished fifth overall at the Tour de l'Abititi and captured Mexico's junior national title in the road race and individual time trial. The next year, he raced in Europe with the Mexican national team, scoring top finishes in development races.
Villalobos came of age with a strong group of advisors, which included his father and his trainer, sports doctor Jesus Rivera. He grew up in Lagos de Moreno in the state of Jalisco, a mountainous region that has produced other Mexican cyclists. He still lives in the area with his girlfriend and his 11-month-old son, not far from his parents. He works with a sports psychologist to help him deal with the stresses of being a professional cyclist.
Pro cyclists occasionally jump to the WorldTour too early in their careers and struggle with the increased level of racing, as well as the isolation that often accompanies the move. Villalobos said his eyes are wide open to the potential pitfalls of his step up, thanks to the advice from his father.
"I always try and remain focused on what's ahead, thanks to my father's experience," Villalobos said. "My dad is always telling me, 'You need to be the same when you're on top winning or on the bottom. You can't change your way of being.' That is something that we need to work on, especially as Mexicans, because we never see them on top."
Juan Francisco Villalobos says he is extremely proud of his son. So familiar with the pressures that come with racing professionally, he spoke with his son calmly after the queen stage in Utah, though he had been in tears just hours before.
"It was a great emotion that we lived that afternoon," Juan Francisco Villalobos said. "Luis prepares for that day by day, he looked for it without stopping and now he has arrived, thanks to God. Now he must continue to work hard."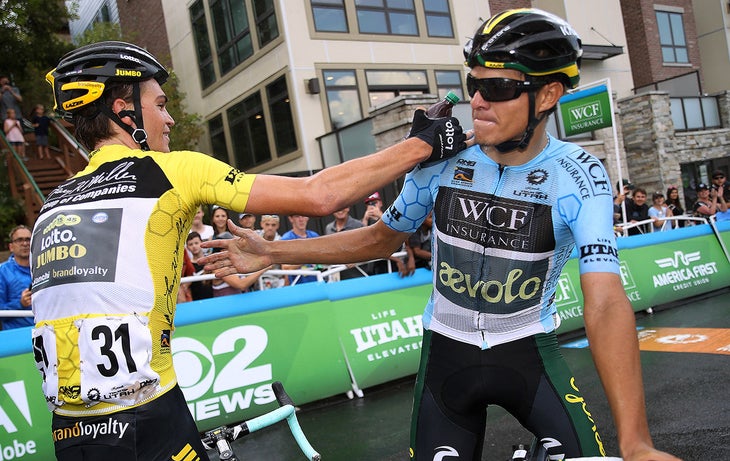 Turning heads in Utah
Villalobos wasted little time in asserting himself at the Tour of Utah. During the race's second road stage he surged to the front of the pack on the climb to Mt. Nebo, initially dropping seasoned WorldTour riders such as Tejay van Garderen (BMC Racing), Joe Dombrowski (EF Education First-Drapac), and others. Villalobos eventually settled into a group containing the race's protagonists and finished fourth on the stage, 32 seconds behind winner Sepp Kuss (LottoNL-Jumbo).
Creed, Aevolo's director, said he was not surprised by Villalobos's ability, but rather by the timing of his peak. Creed predicted Villalobos would break out at the Tour of the Gila in May.
"He rode really good the first day at Gila but then he got sick. I felt like that should have been his breakout, to be honest," Creed said. "I was preparing them to be racing really hard for 15th and 20th on Nebo. So that's what we were going for, but when we came around, we didn't see Luis, and then when we finally got around the barrage and we saw him, it was incredible."
Creed said he received texts from WorldTour directors after the result on Mt. Nebo. The directors had questions about the young Mexican talent.
"I couldn't recommend [Villalobos] enough. I am only slightly cautious because he's so young," Creed said. "Yeah, it is pretty crazy, he's only 20 but in a lot of ways with his maturity and his attitude, he does seem a lot older."
So not to add pressure ahead of Utah's queen stage, which climbed to Snowbird Resort, Creed did not tell Villalobos that WorldTour directors were watching him. Villalobos, however, had lofty ambitions. Before the start of the race, he told reporters that he wanted to see a Mexican rider on the podium. Villalobos finished eighth in Snowbird, 1:23 behind Kuss, and again alongside WorldTour riders.
The next day, on the climb up Empire Pass, Villalobos again turned in an impressive ride. He finished eighth and solidified his victory in the best young rider classification.
"Everything was going through my head," Villalobos said after the race. "All the sacrifices that we make as cyclists and that I have made, and what we have suffered, maybe not suffered, but it was all worth it at that point and you think, I can do this. You start to dream or to think about it, and then you're there, and you can't believe it. You can't believe that it happened this way."
Clarification: An earlier version of this story stated that EF Education First will begin paying Villalobos starting in January 2019. The team has clarified that it will begin paying Villalobos once he joins the team later in the season.