Women's Olympic long team nominations
Thirteen women were nominated to the Olympic long team Thursday
Heading out the door? Read this article on the new Outside+ app available now on iOS devices for members! Download the app.
Thirteen women were nominated to the Olympic long team Thursday. The final US Olympic team will be selected from that pool.
Riders can be nominated automatically for international ranking or achieving outstanding results in major international events, such as the overall victory at the 2011 Giro Toscana that Megan Guarnier (Mountain View, Calif./Team TIBCO) snagged an automatic nomination for.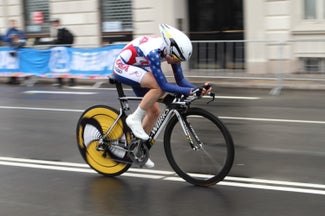 Amber Neben (Irvine, Calif./HTC-Highroad) went to the Beijing Olympics and is a world time trial champion. She secured a spot automatically with a top-25 international ranking.
After a career on Wall Street, Evelyn Stevens (Dennis, Mass./HTC-Highroad) has automatically qualified for the long team due to her domestic results. She won the 2011 USA Cycling elite women's time trial national championship, resulting in a spot on the team.
Another domestic result got Robin Farina (Charlotte, N.C./NOW and Novartis for MS) on the team. Thanks to her 2011  national championship, the bike shop owner and coach will be considered an Olympic candidate.
The men's team follows a different selection process and will not name a long team. Instead, all riders will be considered who have achieved significant international events in 2011 and 2012.
Nine discretionary nominations were made for riders who performed competitively at international events or that are considered likely to medal in this, or future, Olympic Games. These riders are 2008 Olympic time trial gold medalist Kristin Armstrong (Boise, Idaho/Team Exergy 2012), 2011 USA Cycling national racing calendar champion Janel Holcomb (San Diego, Calif./Colavita-Forno d'Asolo), Theresa Cliff-Ryan (Cedar Springs, Mich./Colavita-Forno d'Asolo), Andrea Dvorak (Crozet, Va./Colavita-Forno d'Asolo),  Kristin McGrath (Durango, Colo./Team Exergy 2012), Amanda Miller (Fort Collins, Colo./HTC-Highroad), Shelley Olds (Gilroy, Calif./Diadora-Pasta Zara), Carmen Small (Durango, Colo./Team TIBCO) and Lauren Tamayo (Asheville, N.C./Team Exergy 2012).
Complete women's road long team
Kristin Armstrong (Boise, Idaho/Team Exergy 2012)
Theresa Cliff-Ryan (Cedar Springs, Mich./Colavita-Forno d'Asolo)
Andrea Dvorak (Crozet, Va./Colavita-Forno d'Asolo)
Robin Farina (Charlotte, N.C./NOW and Novartis for MS)
Megan Guarnier (Mountain View, Calif./Team TIBCO)
Janel Holcomb (San Diego, Calif./Colavita-Forno d'Asolo)
Kristin McGrath (Durango, Colo./Team Exergy 2012)
Amanda Miller (Fort Collins, Colo./HTC-Highroad)
Amber Neben (Irvine, Calif./HTC-Highroad)
Shelley Olds (Gilroy, Calif./ Diadora-Pasta Zara)
Carmen Small (Durango, Colo./Team TIBCO)
Evelyn Stevens (Dennis, Mass./HTC-Highroad)
Lauren Tamayo (Asheville, N.C./Team Exergy 2012)