Same day as the men or something different? What race format is better for the women's peloton
The Tour of Flanders, Paris-Roubaix, and Liège-Bastogne-Liège take different approaches to their men's and women's races. What works and what doesn't?
Heading out the door? Read this article on the new Outside+ app available now on iOS devices for members! Download the app.
Same day as the men or something different?
That's the question many organizers have to ask themselves when they put on both men's and women's races.
Over the last decade, a growing number of organizers have both men's and women's events in their portfolios, many of which are publicized under the same or similar branding.
On the 2023 calendar, we have men's and women's Tour of Flanders, Paris-Roubaix, Tour de France, Ronde van Drenthe, Liège-Bastogne-Liège, Strade Bianche, Vuelta a España, and many more. Each event takes a different approach to hosting its respective races, even if it's put on by the same organizer.
In most cases, the women's race is the newer counterpart that is being slotted in around the men's event. The men's event is usually given the prime spot while organizers figure out where is the second-best slot to maximize the exposure for the women's event — at least most of them do.
Is there a right or wrong way to do it, or does it even matter whether they're on the same day or different days?
Cycling's biggest organizer ASO has a few different approaches to their races. Paris-Roubaix Femmes avec Zwift, which turned three this year, is a rare one-day women's race that gets its own day.
Meanwhile, Liège-Bastogne-Liège is held on the same day, while the Tour de France Femmes last year overlapped with the end of the men's event before branching out on its own. Its predecessor, La Course, used to take place on a random day in the middle of the men's Tour de France.
Ronde van Drenthe has long held its races on separate days, and it is the women's race that is the far bigger event. The Vuelta Femenina used to take place entirely during the men's Vuelta a España, but this year it has its own slot due to an overly busy calendar in August and September.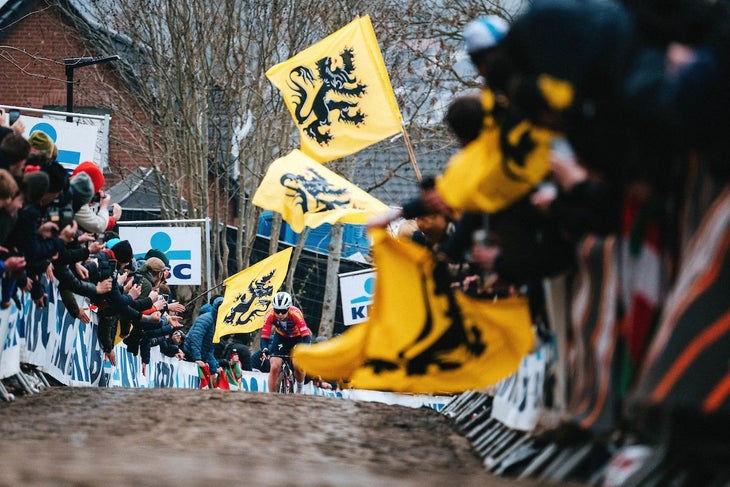 Flanders Classics, another major organizer, holds all of its respective men's and women's races on the same day but has been trialing a system where the women's event finishes after the men's. Previously, the women's races would finish several hours before the men — something that is still common with other events such as each of the three Ardennes classics.
"I think both works," Lotte Kopecky told CyclingTips when asked whether she preferred racing on the same day or a different day to the men.
Kopecky has twice won the Tour of Flanders, and both of her victories have come at races that were after the men's edition.
Except for Liège-Bastogne-Liège, she's ridden every other race mentioned in this article so far.
"As a Belgian, I like it being on the same day," Kopecky said of the Tour of Flanders. "I think it's a good thing. Now our final only maybe the last 40 kilometers is on television. But if the men's race is after, then there's maybe nothing on television."
There are some major benefits of having the races on the same day, including bumper crowds, cost saving on race support, and potentially bigger TV audiences. Viewing figures have grown every year since the schedule was tweaked — this year saw the women's Tour of Flanders blow past the 1 million mark in TV viewers in the Flanders region.
The new later finish to the Flanders Classics races also means that it's possible for the same journalists to cover both races.
The downsides
There are some downsides, too. After hanging around for hours to see the men charge through, some spectators want to see the conclusion of the race on the television and have disappeared to watch that by the time the women come through. It can also hamper TV coverage, as we saw with Omloop Het Nieuwsblad where only the final 26km were broadcast.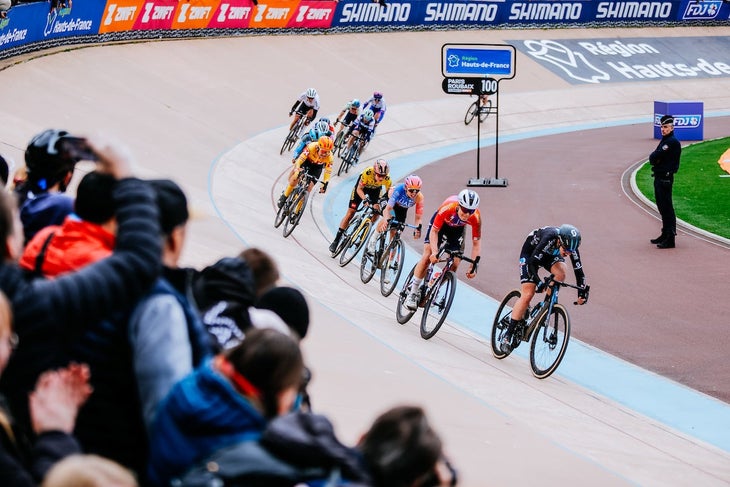 Paris-Roubaix's set-up is largely due to logistics — the cobbled race is just too complicated to run two events on the same day — but it gives us an insight into what is possible when a major women's race is allowed to ride on its own two wheels.
The different-day scenario is easier to manage for those press or photographers that do attend, but it is less cost-effective and sees some media organizations target just one race.
While the spectator support is somewhat smaller than it might be if it passed through before the men's event, there are good crowds along the route while both the start and finish have good turnouts without relying on the men's race for a boost.
"Flanders has always been run on the same day and Belgium has done such a good job of running two races simultaneously," Paris-Roubaix winner Alison Jackson told CyclingTips.
"People love bike racing, and they want to see bike racing and they want to watch the full race so at Paris-Roubaix it's cool that we have our own day and there are fans that turn out for both. This race has such a storyline, so you've got to watch it straight up from kilometer zero, so I think it's important to have two different days."
There haven't been any viewing figures published for Paris-Roubaix, but the Tour de France Femmes last season showed that women's races are able to bring in big figures on their own terms. The eight-day race averaged 2.5 million viewers per day on French television with a peak of 5.1 million on the final day, a 45.6 percent audience share.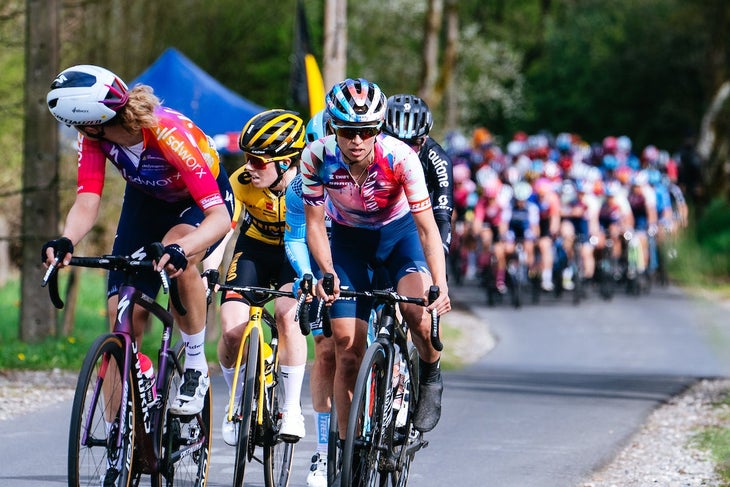 While most riders seem happy with the current balance of same-day and different-day schedules, there has been a resounding thumbs down to the way some of the women's races were organized over the past week at the so-called Ardennes Classics.
Amstel Gold Race followed the more traditional path with a 10:15 am start and a finish shortly after 2 pm. However, the alarm clocks were on early for Flèche Wallonne and Liège-Bastogne-Liège with both starting at 8:35, meaning breakfast at around 5 am.
It made sense for Flèche Wallonne due to the finishing circuit it uses. The women finished on the Mur de Huy around midday with the men due over it for the first time just under two hours later.
However, it made no sense for Liège-Bastogne-Liège with the men not due through Bastogne until midday. Did the women really need to leave 3.5 hours earlier? Perhaps it's time for Flèche Wallonne to take a leaf out of the book of Paris-Roubaix, while Liège-Bastogne-Liège could look to the Tour of Flanders for notes.
The early starts don't even earn the women more than the minimum coverage mandated by the UCI for Women's WorldTour races with around 45km of each race broadcast on television.
So, what's the moral of this story? Maybe it's that it isn't the day you do it but how you do it that still really matters. It's possible to make both work but it's also possible to get it wrong.