Coaches Panel: Base training
Should base training consist of only long, easy miles?
Heading out the door? Read this article on the new Outside+ app available now on iOS devices for members! Download the app.
I am a 40 year-old category 3 road cyclist and have limited training time due to work and family commitments. Is long, easy miles the only way to do base training?
-Steve (Chicago)
Eddie Monnier answers:
Steve,
Certainly not. There are a variety of factors to consider, which include the length of the athlete's target events, the amount of time available to an athlete to train and recover, the athlete's preferences in types of training, how long they've been active in endurance sports, how long their end of season break has been, seasonal factors if the athlete lives in an area with a real winter season, etc..
First, let's review the purpose of base training. For endurance cycling — that is, anything longer than the kilometer track event — the primary energy system is the aerobic energy system and the intent of base training is to cause physiological changes that develop the aerobic energy system's capacity. Examples of the physiological adaptations sought during base include increasing mitochondrial density (think of mitochondria as the energy factories within cells), increasing plasma volume and cardiac stroke volume, achieving greater efficiency, among others.
Training for endurance sports can be simplified to three variables: frequency, duration (which we can collectively refer to as volume) and intensity. Typically, volume and intensity are inversely related. In a traditional approach to the season, the athlete would ride longer miles and low intensity during base training (typically, 10-16 weeks) and then decrease volume and increase intensity for more race-specific training as the competitive season nears.
A pro cyclist who will be competing in 4-6 hour races regularly needs to put in long miles. A category 4 racer whose longest event is a 45-minute criterium needs (and should have) substantially fewer. I have seen riders spend countless hours at very low intensity (e.g., low "zone-1"), likely an intensity too low to provide much benefit. In some cases, their coaches told them to stay below 70 percent of their functional threshold heart rate (FTHR, the average heart rate one can sustain during a 30-60 minute all-out effort). In my experience, this is not effective for endurance building.
Although I am a strong proponent of training with power, for endurance training heart rate is generally sufficient (however, the power information is very useful retrospectively, whereas for intervals I use power prescriptively). I believe that the largest gains for endurance are achieved when accumulating significant time at 20-30 beats below your FTHR. So if your FTHR is 165-170 beats per minute, then 135-150 beats per minute would be the prime target for quality endurance rides.
For some athletes who live in cold weather climates, base training equates to hours of droning along on the wind trainer. How many times can you watch Lance give Jan the stink eye as you watch the same Tour de France stages over and over and over? For these athletes, I often try to limit their trainer workouts to 2-3 per week and tend to keep them shorter albeit at slightly higher intensity (e.g., 45-75 minutes at 15-20 beats below FTHR or various intervals structured to deliver a similar workload). Once their weather is suitable for outdoor training, we try to break outdoors for some longer rides.
And just to make the point that there are a lot of paths to success, particularly with athletes who have had a long break (6 weeks or more), I may have the athlete do a short block (three weeks) of high intensity training to try to improve their power at VO2max before doing the base periods.
Happy Riding,
Eddie
Submit your question to the coaches panel by emailing coachespanel@competitorgroup.com
---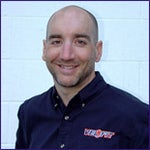 Eddie Monnier is a USA Cycling licensed Elite Coach (Level 1, the highest certification achievable), a USA Cycling Certified Power Coach, a bike fitter, a category 2 road and track cyclist, and oversees the NOW-MS Society Elite U25 Development Team. Although he lives in Santa Monica, California, he coaches athletes from all over through his Velo-Fit, LLC coaching business. You may reach Eddie at eddie@velo-fit.com.