Life as a Bike Jockey: Hurts So Good
Massage can do a competitive cyclist's body good, but Judy Freeman says a good sports massage is a bit different than what non-cycling folks get.
Heading out the door? Read this article on the new Outside+ app available now on iOS devices for members! Download the app.

The competitive cyclist's vocabulary can sometimes cause small communication breakdowns with non-cycling folks.
For example, I once asked a friend to "feed" me at race as I came through on my laps. Not realizing I was talking about handing me water bottles, she kindly replied yes and asked if she should have a sandwich ready to go or if I would be stopping to eat.
Telling a cycling civilian that I'm going for a massage can cause some disconnect as well. "Must be nice" is a common reply. It's as if I were going to a day spa where harps and chirping crickets play on CD while scented oils are rubbed into my tired legs.
Reality, however, is a dude with a shaved head named Jeff and The Kings of Leon. And if I'm coming in after a good crash or big training block, well then I'm also getting a treatment where I'll tap out if the pain gets to be too much.
The Right Tools for the Job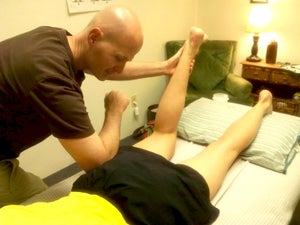 Don't get me wrong; a soothing massage that uses light pressure has its own benefits. It's just that as an athlete who trains six to seven days a week, I choose sports massage to keep me rolling and recovering from injuries.
I've been going to Jeff Staron for sport and orthopedic massage for about four years now. Jeff works on Olympic-level athletes to office employees suffering from repetitive movement injuries like carpal tunnel syndrome.
Jeff uses 85 percent trigger point therapy in his massage. Trigger points (areas that cause sensations in other parts of the body) can serve as road maps to other locations that contribute to a problem. By releasing the trigger point, you can alleviate the root of the pain and then work out other affected muscles.
Cyclists, for example, often get tight hip flexors. This can contribute to, among other things, lower back pain, sore glutes and tight hamstrings. If not addressed, outcomes can range from soreness to reduced power output to possible overuse injury.
Hurts So Good
But here's the catch, when the body has a super tight or injured muscle, it does something of a lockdown to protect itself. Muscle fibers that should be running smoothly knot up instead. To work those out Jeff applies pressure to the knotted area.
This is where chirping crickets and harps turn to screech owls and band saws, as the discomfort can get intense. But some people feel that's a good thing.
I talked with Tim Rieger, another client of Jeff's who runs marathons. Tim is out of Ohio but comes to Boulder, Colorado for the training and massage therapy. With eyes on the 2012 Olympic trials, Tim will log up to 120 miles a week in his training season. So in effort to see that his body keeps up with the demands he puts on it, he gets maintenance massage to remove any muscular glitches before they create bigger issues, which makes him less prone to injury.
Tim says he doesn't mind the momentary pain because, in his experience, that pain is what makes his legs feel better on his next run.
Whine and Machismo
GOOD FOR RABBITS
A 2008 study by Ohio State University researchers found that Swedish massage helped to speed muscle strength recovery time and decrease muscle damage and inflammation in rabbits. This suggests post-activity massage would have positive benefits for humans as well.
Though a 2004 study of cyclists by the British Journal of Sports Medicine didn't find conclusive evidence that massage aided recovery time, it did report the cyclists felt less fatigue. I'd imagine the cyclists might have also reported increased feelings of self-worth knowing that they were getting treated on par with rabbits.
— Judy Freeman
It's not that Jeff's approach is based on a "No Pain, No Gain" credo. It just happens that pain leads to the gain for many of his clients. Jeff determines how deep to work on an area depending upon the issue or if that individual is about to go into a race. You can need time to recover from some intensive massage work before the muscles feel "fresh" again.
Still, most times the discomfort is kind of amusing in an absurd way (think the chest-waxing scene from The 40 Year Old Virgin.) And I don't think I'm the only one who thinks so. As a joke, another client left a bottle of tequila in the office for pre-massage shots of courage. You got to celebrate the pain at least in part to pass the time.
Meanwhile, in the case of injury massage can also help deter scar tissue build-up and increase mobility. Jeff says that appropriately applied massage following an injury is the best time to promote healing. However it's also when people want to work the least with an injured area.
Mo' Money
If money weren't an issue, Jeff would recommend daily massage for a competitive athlete. For an individual training up to six to seven days a week, this could help prevent muscle imbalances, gross inflammation and/or injury in addition to possibly help speed up recovery from activity.
Self-massage, such as using a foam roller, and the always-a-favorite ice bath can help out between visits.
I get a massage about once a month. It usually comes after a big training block or before a big race. Sometimes I make an appointment after a good crash too — this comes admittedly more often than I'd like.
Ask Around
If you decide to get massage, Jeff recommends figuring out what is bothering you before your appointment. That way you can give your therapist the most effective direction. There are literally hundreds of muscles in the body, the better you can explain where the discomfort is greatest or what movements aggravate it, the better your therapist can help you with the issue.
And make sure to ask around first. Get a recommendation for a therapist from someone who understands what you need. There are many different styles of massage all having their own focus, technique and benefit. It's best to make sure you're speaking the same language.
Thanks to Jeff Staron of Staron Sport & Orthopedic Massage in Boulder, Colorado for contributing to this piece. To schedule an appointment with Jeff call 303.379.8000.

Judy Freeman is a pro mountain biker out of Boulder, Colorado. In 2009 she represented the U.S. at the World Championships in Canberra, Australia. For 2010, she'll be racing for Kenda/Felt Mountain Bike Team. Other sponsors for 2010 include TrailMaster Coaching, Hayes, Manitou, Voler Apparel, Pearl Izumi, WickWerks, KMC, SDG, Crank Brothers, Uvex, Pika Packworks, Smith Optics and Mighty Good Coffee.