Go Fast, Go Light
New book, "Racing Weight," is the first to help endurance athletes train for weight-loss using healthy and effective methods.
Heading out the door? Read this article on the new Outside+ app available now on iOS devices for members! Download the app.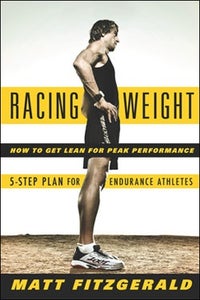 A 2009 study found that three out of four endurance athletes are concerned about their weight and half are dissatisfied with how much they weigh.
Yet these same athletes ranked weight loss dead last when asked about their motivations for participating in endurance sports.
Now there is a weight-loss book for endurance athletes. Racing Weight: How to Get Lean for Peak Performance by certified sports nutritionist Matt Fitzgerald. The book offers the first comprehensive and science-based approach to weight management for cyclists, runners, triathletes, swimmers, rowers and cross-country skiers.
Racing Weight is now available in bookstores, bike shops and online at VeloGear.com.
Endurance athletes pursue weight loss as a means to better workouts and faster racing. Fitzgerald's own efforts to reach his racing weight for distance running led him to write the book. Fitzgerald is the author of numerous books on endurance sports and weight loss. He has contributed to Bicycling, Men's Fitness, Men's Health, Outside, Runner's World, Running Times, Women's Running, and other sports and fitness publications.
Using Racing Weight, endurance athletes can find and attain their fastest body weight and composition. The Racing Weight program offers five strategies based on the latest advances in the science of weight management. After finding their ideal off-season and racing weights, athletes will learn how to improve their diet quality; balance their intake of carbohydrate, protein, and fat; time meals and snacks; manage appetite; and train for lean body composition.
Racing Weight is grounded in the science of healthy nutrition and exercise physiology and, among other issues, explodes myths about fat and weight gain, protein and muscle building, macronutrient ratios, calorie counting, glycemic index, and weight gain during the holidays and off-season.
Athletes will learn the truth about sports drinks, supplements, and recovery nutrition. The book includes daily food logs from 14 elite pro athletes and 21 healthy recipes from nutritionist Pip Taylor.
In addition to his writing, Fitzgerald is a featured coach on Training Peaks and Active.com. He is a certified sports nutritionist (CISSN) licensed by the International Society of Sports Nutrition. He lives and trains in San Diego, California.