Review: The Sufferfest indoor training videos
Real race footage, good music and workout cues to help distract from indoor boredom
Heading out the door? Read this article on the new Outside+ app available now on iOS devices for members! Download the app.
"Fear is the path to the dark side. Fear leads to anger. Anger leads to hate. Hate leads to suffering." So says Yoda.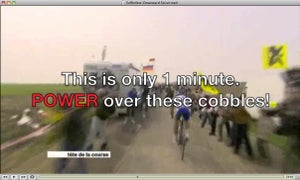 Are you scared of failure? Of losing?
I am. That fear is what sends me onto the back porch in the middle of winter, into sub-freezing temperatures with only a few thin layers' protection, mounting up my rollers in a vain attempt to avoid my least favorite, but utterly inevitable, spring-time activity: losing. Enter The Sufferfest, a series of training videos so sublimely evil one can't help but grow angry, boil with hate, and finally embrace the suffering.
The Sufferfest has six videos in all, each with a specific focus — everything from super short high-intensity efforts to long threshold sessions. I used and was abused by The Downward Spiral, The Hunted, and Sufferfest's latest addition, Local Hero, over the course of a month and a half. Local Hero, set at the 2010 Road World Championships, was my personal favorite.
Tolerable is about as good as it gets riding inside, and the Sufferfest videos get you there better than anything we've used. Real-world race footage from the likes of Paris-Roubaix, the Tour de Suisse, and worlds combined with helmet-cam footage from amateur races put you right in the action. Add a good soundtrack and easy-to-follow text cues (preceded by some familiar noises to get your attention, like a gunshot to start intervals) and it's almost fun. Almost.
The Sufferfest training videos
MSRP: $10.99-11.99
Pros: real-world video, great soundtrack, easy-to-follow text cues, superb workout
Cons: you still have to ride inside
The scoop: the most entertaining and effective training videos we've come across
Buy them at:TheSufferfest.com
Videos are 45 to 85 minutes, and always start and finish with some nice easy riding for warm up and cool down. The aforementioned text cues are spread throughout and spell out interval (or rest) time and intensity. Sometimes they're just motivational, or humorous. In Local Hero, you play the lone road worlds competitor from the nation of Sufferlandria, a nation you must not let down. Anything to trick ourselves into doing the workout, right?
Intensity levels are given on a scale out of 10, so you do need to have some ability to gauge and assess your efforts. I overshot the first workout significantly and barely finished it — if done correctly the videos provide a painful but not overwhelming ride, definitely hard enough to keep boredom at bay.
The footage itself is, for the most part, high quality. The pro race footage is mostly what we've all seen on TV, shot from a following moto. I actually enjoyed the helmet cam footage shot at local races more, finding it much easier to trick my head into forgetting I'm not actually going anywhere. The video quality has increased from video to video.

The Sufferfest series is available for download online. Each video is less than $12 for individual use and the files are large, nearly 2 GB, so make sure you have a fast connection or lots of time before downloading. You can also order a backup CD for $11.95.
For those of us stuck inside, even occasionally, the $12 is more than worth it. The Sufferfest series is more entertaining than anything else I've found, and the variety has kept me coming back for more, albeit a bit begrudgingly.