The training app that does it all? 'Optimize' balances power and HRV for full-circle solution
FasCat Coaching creates Optimize to bring training and recovery metrics together – is it a big breakthrough or added noise?
Heading out the door? Read this article on the new Outside+ app available now on iOS devices for members! Download the app.
You've got your training data in one app. Your sleep and heart rate variability info on another. Oh, and maybe you've got your blood glucose levels tracked somewhere too.
Too many numbers in too many places?
The Boulder-based FasCat Coaching launched another app that they hope can help with that – Optimize.
"There's so much great data around, but it's all siloed in these apps, with all these different gee-whiz graphs and visuals," FasCat founder Frank Overton told VeloNews.
"With Optimize, we want to give users a simple, easy-to-understand data visualization of what they should be doing in their training. We want to simply answer the question for the athletes, 'am I on track?'"
Also read:
The recently launched platform draws power, HRV, and sleep data from gadgets like Wahoo, Whoop, Garmin, and Oura to bring together the two sides of the physiological equation – training and recovery.
Optimize's algorithms convert all the variables into what FasCat believes is effectively a coach in people's pockets.
It gives you training plans, and it advises you on how to adjust them.
"Training plans and charts before all presumed you were training well and recovering well," Overton said.
"But now we're looking at how you trained, and if you recovered. Where does that balance out? Are you 'optimized'?"
Moving the needle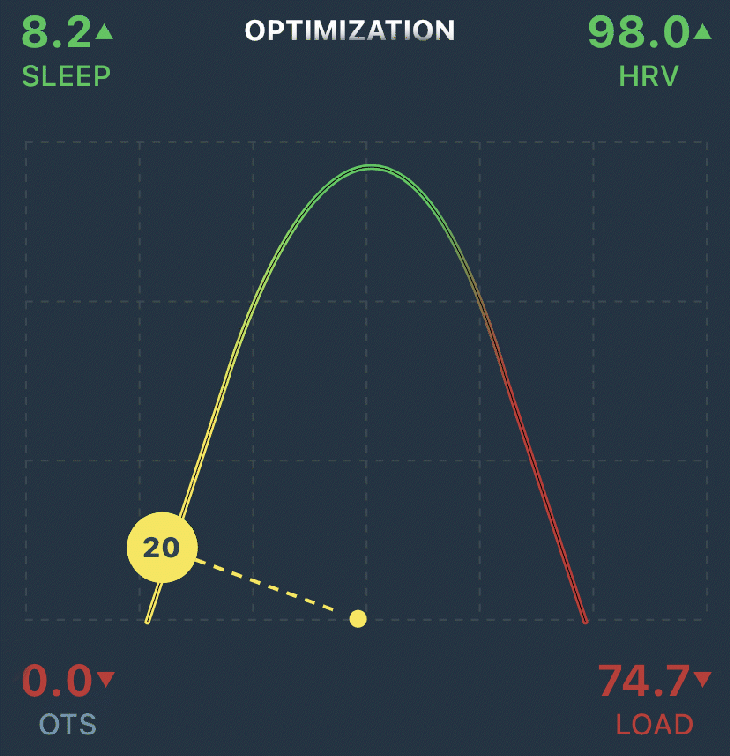 Overton and FasCat are hoping to pounce on the surging popularity of wearables like WHOOP and the craze toward heart rate variability tracking.
The Optimize platform's driving feature is a "needle" graph that shows a rider's balance between training stress (measured in watts) and recovery status (measured with HRV and sleep).
The position of the needle gives a user an indication into how to proceed with a FasCat training program provided on the app. Advised actions include training more consistently, taking a rest, or following the pre-set plan.
At present, the user is required to figure out exactly how to adjust their plan according to that recommendation. In the future, FasCat hopes to see the app's coaching calendar auto-adjust to reflect the needle's numbers.
Further updates could also include the onboarding of data from continuous glucose monitors like Supersapiens to help enhance Optimize's new "Optimized Training Stress" metric of athletic load.
Another layer of complexity, or a new 'big thing'?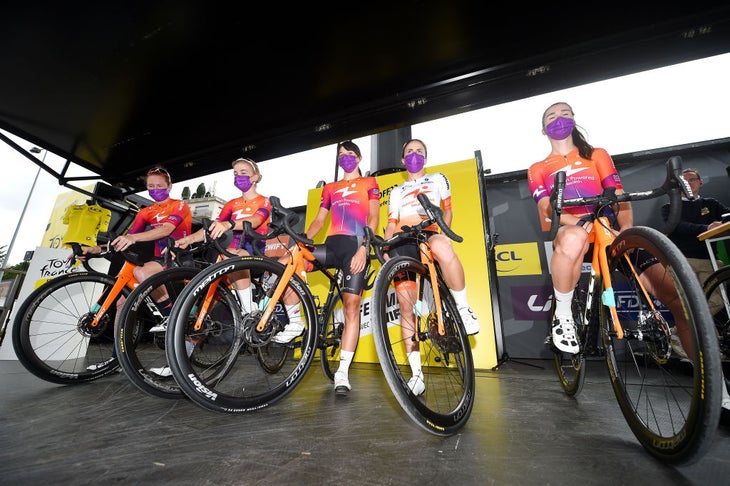 So, is Optimize the next big breakthrough?
Overton has a rich palmarès after helping create the "Performance Manager Chart" central to the leading Training Peaks software and developing the "Sweet Spot" model of training.
More recently, Overton's FasCat training business began working with Women's WorldTeam Human Powered Health as sport science partners. The squad this season will use Optimize alongside its in-house training staff.
But is another app that's reliant on information from other apps the answer to the complex physical and psychological riddles around training, resting, and when to do one or the other?
Age-old methods of training on feel continue to carry weight, even in the WorldTour.
EF Education-EasyPost medic Dr. Kevin Sprouse recently told VeloNews that sometimes "body knows best" – even more so than the most advanced of apps.
"Any time you track something longitudinally, and pay very close attention to it, there's a risk that the data outweighs the subjective feel," Sprouse said.
"We've seen the same with power meters –  you can ask a rider sometimes how their training was and they just give you power data rather than how they were feeling. HRV does have the same danger."
However, Overton believes the long-term weighting of his algorithms should give the truest indication possible of a racer's recovery status, and eliminate erroneous "scores" based on short-term calculations.
VeloNews has not yet tested FasCat's new platform and so the jury's out over its useability and reflection of a rider's "feel." But if it winds up to be as big as Overton hopes, maybe we should try it out, soon.
"Wearables are in their infancy. It feels like we are with wearables now like where we were with power meters 20 years ago," Overton said.
"It's all about getting that data into the platform, and then helping athletes picture it visually. We know it's going to need continuous work, but that full view of training, that's the future of what we're building."
Optimize subscription includes unlimited access to FasCat's library of training plans, workouts, meal plans, and recipes. Find out more here.