Unified Front: Aero integration hits the mainstream
Unified Front: Aero integration hits the mainstream
As aero integration has become more sophisticated, the design philosophy has begun to seep into all types of bikes. Here's what you should know about what's out there and how it affects your ride.
By Dan Cavallari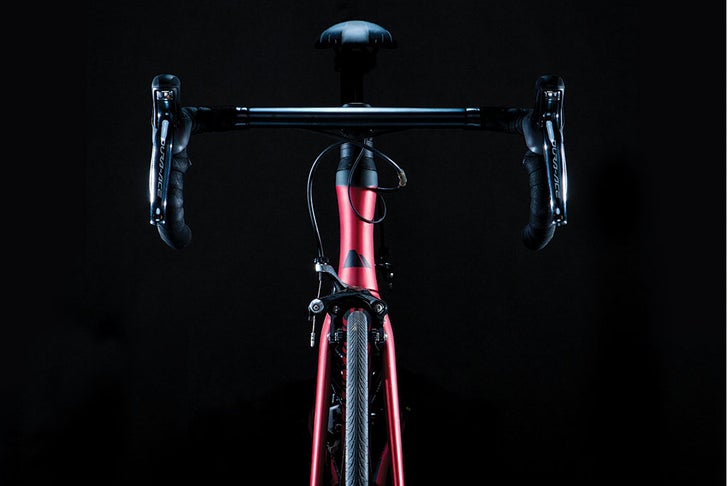 For a while, it looked like bike manufacturers had spent the past 30 years completely obliterating the idea of the do-it-all road bike. The 1980s saw radical designs for the dedicated time trial bike. And pretty soon, road bikes started splintering into climbing bikes, crit bikes, endurance bikes, and, most recently, aero-road bikes.
Each new sub-category sacrificed some qualities in order to gain others — comfort for stiffness, stiffness for weight, aerodynamics for handling. Things have gotten so specific that not only do pros have different bikes for different races, they often switch within a race. Bike changes before the first sector of cobbles at Paris-Roubaix have been commonplace for years. Alberto Contador caused a stir this year with mid-stage bike swaps at both the Giro and Tour — using one for flat lead-ins on climbing stages and another for when the roads turned up.
So this might sound odd, but the all-around bike is making a comeback. After three decades of chasing individual ride characteristics as far as they could — think Trek's featherweight Emonda or Specialized's cobble-killing Roubaix — bike engineers are reassembling them into unified platforms. These bikes, at their core, are largely based on what we have come to call aero-road.
Two things have allowed this to happen. The first is a big advance in frame design. Early aero-road bikes were notorious for being laterally soft, vertically rigid, and heavy — the exact opposite of what you want in a bike. New designs have fixed this. Weights are flirting with UCI limits, the bikes are laterally stiff enough to get sprinters like Mark Cavendish across the line, and they're figuring out how to make it all comfortable.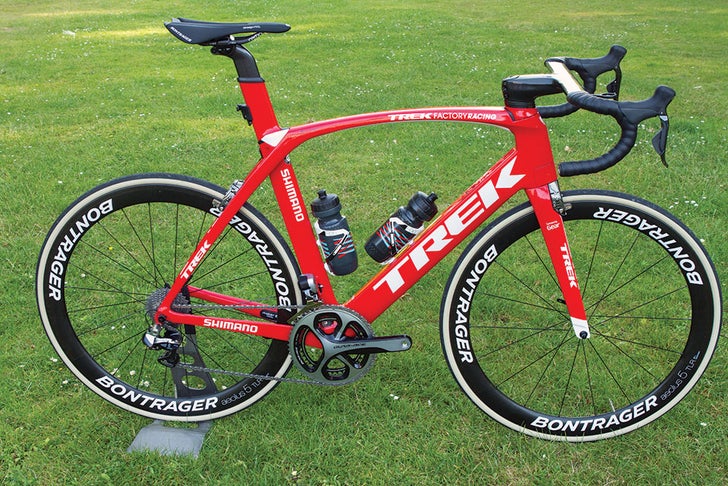 "Comfort and aerodynamics are something of an inverse relationship," says Mio Suzuki, an analysis engineer at Trek Bikes. Suzuki is responsible for the computational fluid dynamics (CFD) testing that ultimately led to the redesign of Trek's new Madone. "If we go aero, we need to sacrifice ride quality. So we really needed to nail each area of the bike as much as possible to combine comfort and ride quality."
Bike designers haven't just integrated different ride characteristics. They've integrated everything. This new crop of do-anything aero-road bikes features things like one-piece handlebar-stem combinations, internal routing for cables and wires, and proprietary brakes shrouded within frame tubes.
Depending on whom you ask, integration is either the best way forward or a total mess. When designers don't have to worry about their frames playing nice with components from other manufacturers, they can create total packages that deliver precisely the ride characteristics they want. On the other hand, integration is a nightmare for people who work on their own bikes. (Professional mechanics aren't always big fans, either, but they get paid by the hour, so there's an upside for them.) And the integrated cockpits don't allow for the sorts of position adjustments we're used to.
Still, according to Chris Yu, a Stanford aeronautics Ph.D. who heads up aerodynamics and racing research and development for Specialized, integration is here to stay. And the truth is that, when it comes to racing, aero-road bikes are most people's best bet for the one-bike quiver. "The magnitude of benefit that legitimate aero designs offer is massive, more so than most people expect," Yu says. "For the vast majority of riders and race situations, aero is vastly more important than weight."
Here's what you need to know about where bike design is headed and what you should look for in your next ride.
Cockpit
A one-piece bar and stem lends a certain aesthetic simplicity to any bike, but there's really nothing simple about it. Combining stiffness, comfort, and aerodynamic performance in a major point of contact between bike and rider, all while keeping the component light enough to be practical, is a tall order for any engineer. Early iterations were too heavy, and many were uncomfortable. New designs have largely moved past these shortcomings with better carbon construction and redesigns based on rider feedback.
"By integrating the handlebar and stem, we eliminated the gap that the traditional handlebar and stem leave," Suzuki says. "Hiding the steering tube that might stick out from [above] the handlebar was important. These are cylinders, which are the worst shapes you can have on a bike, in terms of aerodynamics."
Adjustability is still a problem, however. The one-piece system means the handlebar position can't be changed. Though most allow for a bit of vertical adjustment using spacers, rotation and fore-aft adjustment aren't possible. The brake hoods can be repositioned, but only so far, given the angles and curves of these bars.
Specialized has taken a stab at correcting this. The company's new Venge ViAS features an integrated system with two bolts running from the faceplate of the stem to the stem itself, through the handlebar. Instead of a one-piece bar-stem, the Venge has an integrated two-piece system that allows for a bit more adjustment while preserving the aerodynamic benefits.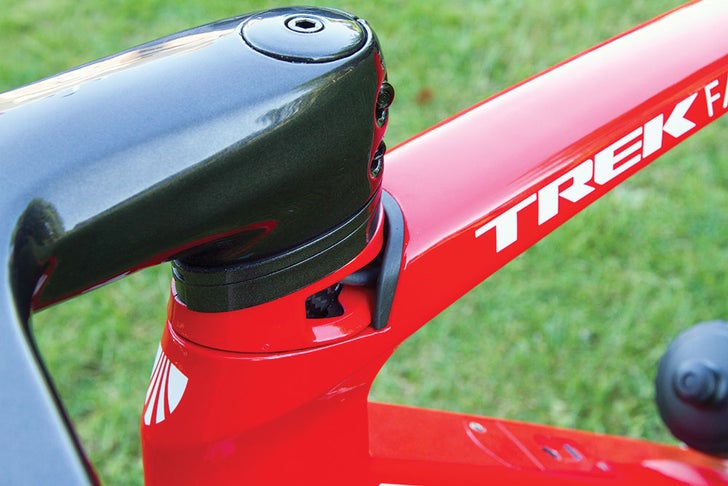 Routing
Internal routing has become standard on just about all road bikes. There's certainly something to be said for the uncluttered lines that result, but since cylinders (think cable housing) are horrible in the wind, there's a big aerodynamic upside to hiding them, as well.
Of course, if you've ever worked with internal routing, you know the problem: Running cables from the shifters, through the bars, into the frame, and back out can try your patience. The batteries and junction boxes of electronic shifting have only made things more difficult.
Canyon Bicycles designed its handlebar-stem to house a Di2 junction box underneath, and the battery hangs inside the seat tube. Trek integrated the Di2 junction box into a slot in the down tube and hid the battery inside the down tube.
"We didn't perform that much CFD on cables, but at the wind tunnel we experimented with a variety of cable routing configurations," Suzuki says. "We found a significant reduction in aerodynamic drag if we hid the cables from the front of the bike. Anything you can hide at the front end of the bike is most beneficial."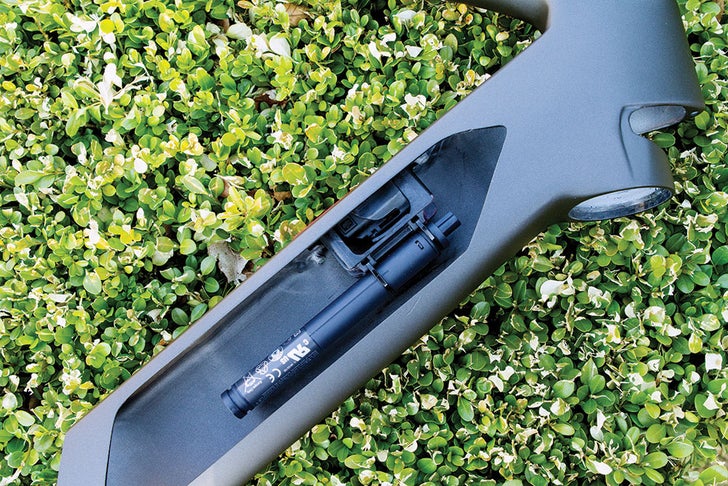 Brakes
Most mechanics dread bottom bracket-mounted rear brakes, and for good reason: They're a pain to adjust, and the aerodynamic gains are questionable. The wind can see that brake even if the rider can't.
New designs involve proprietary brakes that integrate into frames and fork sections to present a clean surface to the wind. Like aero offerings of the past, however, braking power is still a struggle. Pros who hurl themselves down steep mountain passes have balked at squishy linear-pull brakes.
How do you create a brake that's aerodynamically optimized?
Trek's new front brake design on the Madone features fly-out panels, called Vector Wings, that allow the brake to turn uninhibited; when the handlebars are straight, the wings sit flush with the brake, creating a smooth path for wind.
"We use a center-pull brake to eliminate a side arm and reduce drag," Suzuki says. "And in order to hide the cable and housing, we developed the Vector Wing."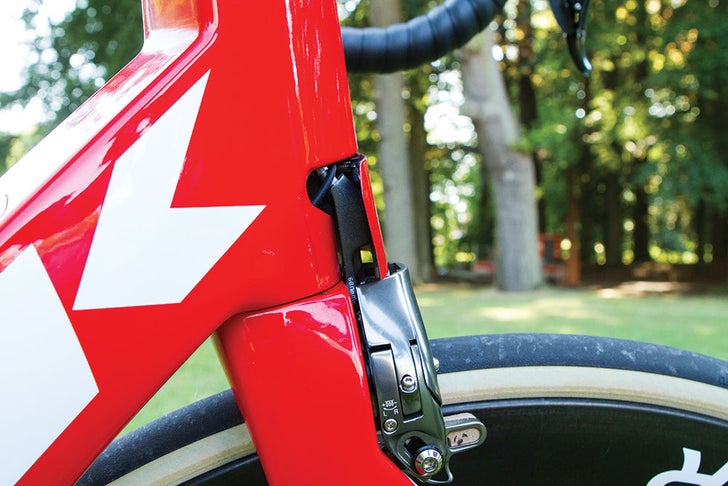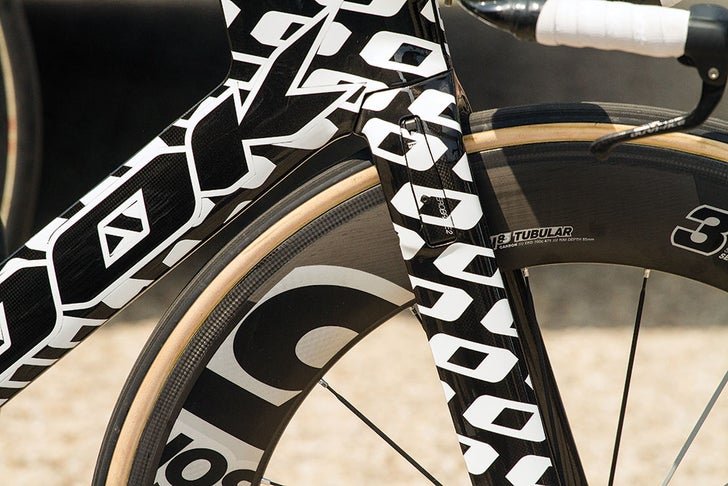 Frame
Aero frames have a well-earned reputation for being brutally stiff. A Kamm-tail or airfoil design may shave tenths of seconds off your PR, but the flat surfaces and right angles might also compel you to book another massage session to un-kink your back.
Major bike brands are starting to address this with designs that incorporate vertical compliance. Perhaps the most drastic approach comes courtesy of Trek, with its new Madone frame featuring an IsoSpeed decoupler. The rider benefits from vertical compliance for long-term comfort; however, this particular decoupler offers a hidden feat of engineering: within the aero-shaped seat tube is another tube that flexes independently of the frame. The frame stays plenty stiff for jump-forward peppiness, and the seatpost can flex to absorb the bumps.
This article was originally published in the September issue of Velo magazine.